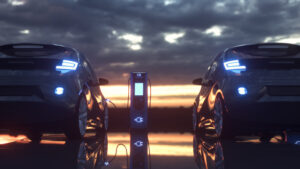 Electric vehicle (EV) registrations shot up by 60% in the first quarter of 2022, accounting for a record 4.6% of all new vehicle registrations in the U.S., according to financial data firm Experian.
According to Automotive News, Experian reported that 158,689 new EVs had been registered in the first three months of the year. Four of the top 10 spots were taken by Tesla models, with Hyundai and Kia accounting for three spots between them, and Ford, Nissan, and Volkswagen one each.
According to Experian, there were 113,882 new Teslas registered, a jump of 59% compared with the first quarter of 2021. Kia was in second place, with 8,450 registrations of its subcompact Niro EV, followed by Ford, with 7,407, a 91% surge for the OEM.
Hyundai accounted for 6,964 registrations, with nearly all of those its Ioniq 5 compact crossover. The OEM had sold just 2,072 EVs in the first quarter of 2021. Registrations for the Nissan Leaf rose 23% in the quarter, to 4,401, while there were 2,926 registrations of Volkswagen's new ID4 compact crossover.
Also notching new registrations were Polestar, with 2,384; Rivian, with 701; and Lucid, with 308. General Motors, which halted its assembly line to deal with battery issues, saw just 479 registrations of its Bolt subcompact, compared with 9,099 a year earlier.
The U.S. Department of Energy (DOE) has reported that the sales of new light-duty plug-in electric vehicles (PEVs), including EVs and plug-in hybrid electric vehicles (PHEVs), nearly doubled from 308,000 in 2020 to 608,000 in 2021.
According to the DOE, EV sales accounted for 73% of all plug-in electric vehicle sales in 2021. EV sales grew by 85% from 2020 to 2021, while sales of PHEVs more than doubled, with an increase of 138% over the previous year.
"The rapid growth in plug-in electric vehicle sales from 2020 to 2021 is remarkable in the context of overall light-duty vehicle sales, which increased by only 3% during the same period," the DOE said.
Figures from the Argonne National Laboratory show that 72,899 PEVs (56,028 BEVs and 16,871 PHEVs) were sold during March 2022 in the U.S., up 37.5% from March 2021. PEVs captured 5.85% of total light-duty vehicle (LDV) sales in March.
In total, the agency said, 190,428 PHEVs and BEVs have been sold in 2022. In total, 2,531,206 PHEVs and BEVs have been sold since 2010.
Not all of those EVs are evenly distributed across the U.S., of course. The DOE's Vehicle Technologies Office recently released maps showing the plug-in electric vehicle (PEV) share by state in 2021, and the overall share of the nation's vehicle fleet.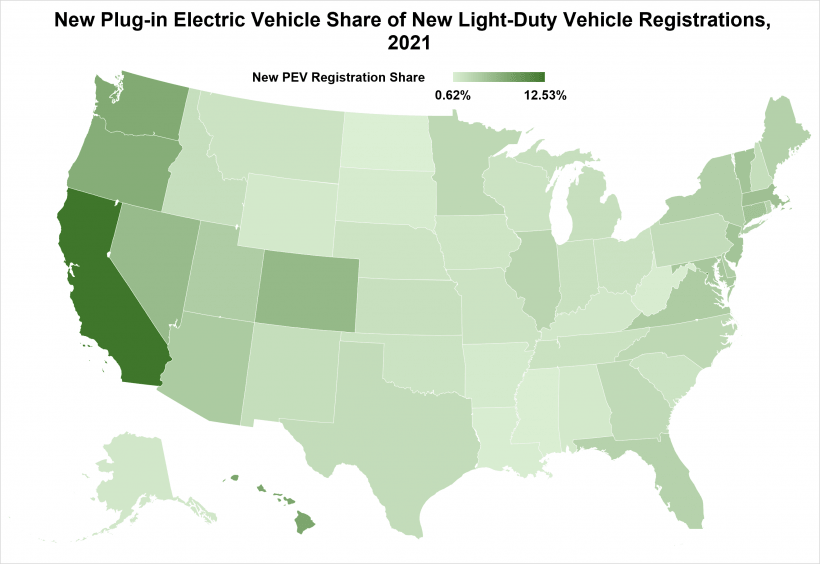 As Inside EVs reports, California continues to lead the U.S. in the adoption of PEVs, which made up 12.5% of its new LDV registrations in 2021. In some areas, including the District of Columbia, Hawaii, Washington, and Oregon, PEV share was above 7%, while in other states it was below 1%.
According to the Veloz Electric Vehicle Market Report and the California Energy Commission, plug-ins exceeded 16% share in California in the first quarter of 2022, Inside EVs reported.
Cumulatively, as of the end of 2021, EVs had replaced 2.5% of the vehicle fleet in California. In a small number of other states, that number might approach 1%, the website said.
"It's a clear indication that it might require decades to switch entirely to plug-in electric cars. Nonetheless, let's hope it's possible before 2040, as many automakers would like to end or limit internal combustion engine vehicle sales by 2030," the site said.
More information
I-CAR's electric vehicle resources
https://info.i-car.com/electric-vehicles
Alternative Fuels Data Center maps and data
https://afdc.energy.gov/data/search?q=electricity
Images
Featured image provided by Dmitry Larichev/iStock
Share This: