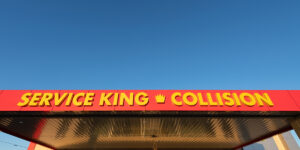 Moody's finds Service King in limited default over failure to make interest payment
By on
Announcements
Moody's Investors Services has found Service King in "limited default" over its failure to make an April 1 interest payment on its unsecured notes, in spite of an agreement the collision repair chain has reached with its lenders to temporarily postpone payments.
The bond credit rating company announced that it has added a limited default (LD) designation to Midas Intermediate Holdco II, LLC's ("Service King") Caa3-PD probability of default rating, changing it to Caa3-PD/LD.
It called the company's current capital structure "untenable," and predicted that Service King would move to restructure its debt in the near term.
Neither Service King nor investment management company Blackstone, which owns a majority stake in the company, responded to requests from Repairer Driven News for comment before our publication deadline.
"The LD designation reflects Moody's view that Service King's continued failure beyond the grace period to make its interest payment that was due on April 1, 2022 on its unsecured notes is a limited default despite the company having entered into a forbearance agreement," Moody's said in its May 6 announcement.
Service King invoked a 30-day grace period after missing the April 1 interest payment, Bloomberg reported last month, citing unnamed sources.
The corporate family rating remains unchanged at Caa3, reflecting the company's "weak liquidity," and the outlook remains negative, Moody's said.
The limited default designation will remain until Service King resolves the missed interest payment, it said.
Moody's said Service King is continuing to make payments in kind on the interest it owes on the $775 million first-lien term loan it took out in December 2020. Typically, payments in kind are additional securities, issuance of additional debt instruments, or increases in the principal of existing debt.
It noted that Service King is facing "springing" maturities that would begin on June 1 in the event that more than $135 million remains outstanding on its loans.
"Moody's views Service King's current capital structure as untenable given the company's high financial leverage, weak coverage, and overall weak operating performance," the company said. "Given these factors, Moody's expects Service King will likely execute a debt restructuring over the near term."
Bloomberg reported last month that Service King was nearing agreement on an out-of-court resolution of its debt burden ahead of a July bond maturity.
Citing unnamed sources who are familiar with the situation, Bloomberg said the company has been suffering from "rising costs and labor shortages," like the rest of the industry. It said that the plan calls for bondholders led by Clearlake Capital Group to take control and inject $100 million into the company.
Moody's said its negative outlook highlights the risks in the event the refinancing or debt restructuring is not completed before the "practical" maturity date of June 1.
"Ratings could be upgraded once the company executes a refinancing of the October 2022 note maturity under reasonable terms," it said. "Ratings will be downgraded should the company fail to make its contractual principal payments on time, should the company file for bankruptcy, or should Moody's lower its recovery estimates."
Fitch Ratings said Service King's failure to resolve the missed interest payment represents "the first automotive default since The Hertz Corporation's bankruptcy two years ago."
Earlier this month, Service King announced that it was actively hiring to fill hundreds of positions, including body tech, painters, shop assistants, parts managers and more.
The company promised "market-leading wages, competitive health benefits, 401K retirement plans and paid time off," as well as a number of other benefits.
Analysts have found that capacity within the collision repair industry has fallen by as much as 18% from pre-pandemic levels, primarily because of labor shortages.
Service King has declined requests from Repairer Driven News to discuss the challenges the company faces.
Based in Richardson, Texas, Service King operates 335 locations in 24 states and the District of Columbia.
More information
Report: Service King nears out-of-court deal to ease debt burden
Images
Featured image provided by Service King.
Share This: