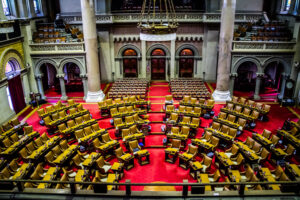 New York considers eliminating requirement for pre-insurance vehicle inspections
By on
Insurance | Legal
New York lawmakers are considering a bill to amend an insurance law that, in its current form, has resulted in motorists losing the collision coverage they paid for.
The bill, S6028, would eliminate a requirement that insurers conduct inspections of passenger vehicles before issuing a policy covering physical damage. The bill is currently under consideration by the Senate's Insurance Committee.
Under current law, motorists who have been in an accident can find that they've lost coverage because the required inspection has not been performed, according to the bill's primary sponsor, Sen. Neil D. Breslin (D, IP, WF, 44th District).
"In this situation, the insured has purchased coverage and paid the premium, but will not be covered if his or her auto sustains physical property damage simply because the auto was inadvertently not inspected," Breslin, the chair of the Insurance Committee, wrote in a memo attached to the bill.
The law was enacted in the 1970s to combat insurance fraud by eliminating policies written for "phantom" vehicles. Today, "Technology advances and vehicle tracking systems such as VIN etchings has made it much more difficult for persons seeking to engage in insurance fraud," Breslin said.
Breslin's office told Repairer Driven News that insurance companies, along with agents and brokers, have reported customers losing coverage because an inspection had not been done.
The bill, called the Auto Insurance Consumer Relief Act, is co-sponsored by 11 Democrats and six Republicans. It would amend the current provision of Section 4311 of the insurance law by striking the material in brackets, and adding the wording in all caps:
(2) The inspections provided for in this section may be dispensed with
or deferred [under circumstances specified in regulations of the super-
intendent. Such circumstances may include but are not limited to, the
insuring of a new automobile, the insuring of an automobile whose
inspection would constitute a serious hardship to the insurer, the
insured or an applicant for insurance, and the insuring of an automobile
for a limited specified period of time] BY AN INSURER.
If passed by the Assembly and signed by Gov. Kathy Hochul, the changes would take effect Jan. 1, 2023.
A6877, a sister bill sponsored by Assemblyman Ken Zebrowski, D-Clarkstown, passed in the Assembly on March 30 by a 118-30 vote.
Edward Kizenberger, executive director of the Long Island Auto Body Repairmen's Association and the New York State Auto Collision Technician Association (LIABRA/NYSACT), told RDN that the bill would have little impact on the collision repair industry.
"Other than bringing potential new customers into a facility that may do Carco or photo inspections for verifying existing damage for insurance companies, the proposed change really does not affect us," Kizenberger said. Carco is a leading provider of vehicle pre-insurance inspection services.
The bills have the support of the Business Council of New York State, which said that the current law places "an unnecessary burden on both insurer and insured."
"Under existing law, drivers who want to obtain comprehensive or collision coverage must visit an inspection site in person within 14 days of their policy's effective date," the council said in a statement. "Should an insured party fail to get to an inspection site for any reason, coverage must be canceled. With time and resources short for many families, this requirement can become more than a simple inconvenience, it can become a major disruption."
It said that new technology used for fraud detection makes inspections unnecessary, and that waiving them "only works to save the public time, money and affordable coverage."
More than 20 other organizations have also written in support of the bill, including the New York Insurance Association, the National Federation of Independent Business-New York, and the Associated General Contractors of New York State.
More information
Images
The chamber of the New York State Assembly. (Cheri Alguire/iStock)
Share This: