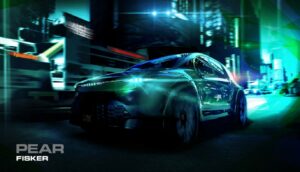 Fisker Inc. has confirmed it will produce its second all-electric vehicle, the PEAR, at a Lordstown, Ohio factory that Foxconn recently purchased from Lordstown Motors Corp. (LMC). LMC also plans to collaborate with Foxconn to build its all-electric pickup truck, the Endurance, at the factory.
Production of Fisker PEARs will begin in 2024, according to a joint news release from Fisker and Foxconn. Commercial production of the Endurance is slated to begin during the third quarter of this year with the first deliveries expected in the fourth quarter, according to LMC.
Hon Hai Technology Group, better known as Foxconn, and Lordstown Motors announced last week that they had signed contract manufacturing and joint venture agreements for product development and completed the purchase of the Ohio factory.
A Foxconn news release states the company plans to collaborate with automotive OEMs to offer 400 LMC employees at the factory in Ohio that will become Hon Hai employees "exciting and challenging opportunities to develop their career paths in the field of electric vehicles." Foxconn didn't specify whether that's all of the workers employed there or not. Neither Foxconn nor Fisker returned requests from Repairer Driven News for more information by the publication deadline.
Ohio will be Hon Hai's "important electric vehicle manufacturing hub in North America" in the future, the release states.
Fisker said the "expected" base price of the PEAR is below $29,900 before incentives. The company says it designed and engineered the vehicle "to reduce parts for rapid, simplified manufacturing" and it will be built on a new proprietary architecture. The new platform will "underpin two additional models Fisker will introduce at a later date," the company said.
"Both the Fisker and Foxconn teams are fully engaged and expect to build a minimum of 250,000 Fisker PEAR units a year at the plant after a ramp up period," the joint release states.
"The PEAR will be a revolutionary electric vehicle that won't fit into any existing segment," said Fisker Chairman and CEO Henrik Fisker, in the release. "The exterior design will feature new lighting technology and a wraparound front windscreen inspired by a glider plane glass canopy, enhancing frontal vision. Our engineering group is working on new features and high-tech solutions for the PEAR that will change how we use and enjoy a vehicle in the city."
Production of the Fisker's first EV, the Ocean, is slated to begin on Nov. 17 in Austria.
Foxconn said its joint venture with LMC, called MIH EV Design LLC, will use Foxconn's Mobility in Harmony (MIH) Open EV Platform to co-design and develop EV programs for the global commercial vehicle market. Foxconn invested $55 million and gave LMC a $45 million loan "to support its initial capital commitment," according to an LMC news release. Foxconn owns 55% of the new company and LMC owns 45%.
Vehicles developed by MIH EV Design are planned to be built for purchase in North America at the Lordstown, Ohio plant, and at other Foxconn contract-manufacturing locations worldwide.
"The objective is for OEM users of Foxconn's flexible MIH platform, manufacturing footprint, and supply chain to achieve production scale at lower volumes and with a shorter time to market," LMC said. "The joint venture also leverages Lordstown Motors' strong engineering and product development capabilities globally and provides LMC a scalable vehicle development platform in North America, accelerating EV development, reducing product development costs, and increasing the breadth of LMC's product portfolio over time."
And "sharing expertise and integrating resources," Foxconn said, will "help the OEMs in the supply chain to effectively and efficiently reduce Time to Market and Time to Cost, achieving the benefits of scale."
"With its expertise in hardware software integration and production management of electronics manufacturing, Hon Hai will leverage Lordstown team's automaking experience and bring the electric pickup truck 'Endurance' into mass production," Foxconn said. "The collaboration between Hon Hai and Lordstown is a classic example of [a] joint effort between startup electronic vehicle manufacturer and information & communications service provider."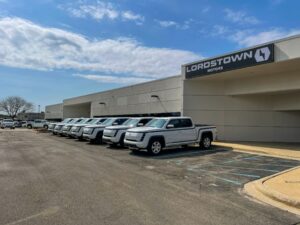 One of Lordstown Motors' conditions when selling its Ohio factory to Foxconn was that the parties enter into a contract manufacturing agreement for the Endurance, which is the automakers' flagship vehicle, according to the LMC release.
Foxconn will assume manufacturing operations at the Lordstown, Ohio plant immediately with no interruption, and LMC will "retain a presence" in Lordstown, according to LMC. The company will also have engineering and technical centers and corporate staff in Farmington Hills, Michigan, and Irvine, California.
The Detroit News reported in 2020 that LMC is "gearing the $52,500 Endurance toward fleet customers from municipalities to utility companies." A page dedicated to information about the Endurance on LMC's website doesn't say how much it will sell for, but notes that it is designed to be "smarter, safer and more productive for work" with four in-wheel hub motors to reduce the number of moving parts and improve vehicle control.
MarketWatch reports LMC "had been dogged by concerns it could have run out of money if the sale had fallen through" and that company shares "rallied more than 30% after the announcements." As of Monday afternoon, they were down 7.1%, according to MarketWatch.
IMAGES
Featured image: The Fisker PEAR all-electric vehicle. (Provided by Fisker)
Pre-production Lordstown Endurance electric pickup trucks being tested at the Lordstown Motors facility in Farmington Hills, Michigan. (Provided by Lordstown Motors Corp.)
Share This: