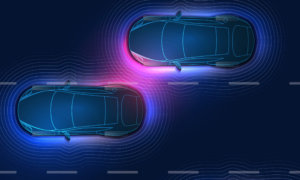 AAA survey: Consumers want better ADAS, not AVs
By on
Technology
A large majority of consumers want auto manufacturers to focus their efforts on improving existing advanced driver assistance system (ADAS) features, rather than on developing self-driving cars, according to a survey by AAA.
At the same time, AAA said, ADAS features performed inconsistently in its most recent round of testing, resulting in crashes with a foam car and a dummy cyclist.
In a consumer survey conducted online and over the phone, AAA said, 77% said they were more interested in improved vehicle safety systems, versus 18% interested in autonomous vehicles (AVs).
The survey, conducted on January 13-16, used a probability-based panel to represent the U.S. household population overall, AAA said. A total of 1,107 interviews were conducted among U.S. adults 18 years of age or older.
AAA said the survey had a margin of error of 4%.
"You can't sell consumers on the future if they don't trust the present," Greg Brannon, director of AAA's automotive engineering, said in a statement. "And drivers tell us they expect their current driving assistance technology to perform safely all the time. But unfortunately, our testing demonstrates spotty performance is the norm rather than the exception."
AAA said its round of ADAS tests, the third it has conducted, found inconsistent performance across a variety of makes and models. The three vehicles tested were a 2021 Hyundai Santa Fe with "Highway Driving Assist," a 2021 Subaru Forester with "EyeSight," and a 2020 Tesla Model 3 with "Autopilot."
A head-on collision occurred during all 15 test runs for an oncoming vehicle within the travel lane, AAA said. In those tests, the speed of the test vehicle was 25 mph, and the simulated oncoming vehicle 15 mph.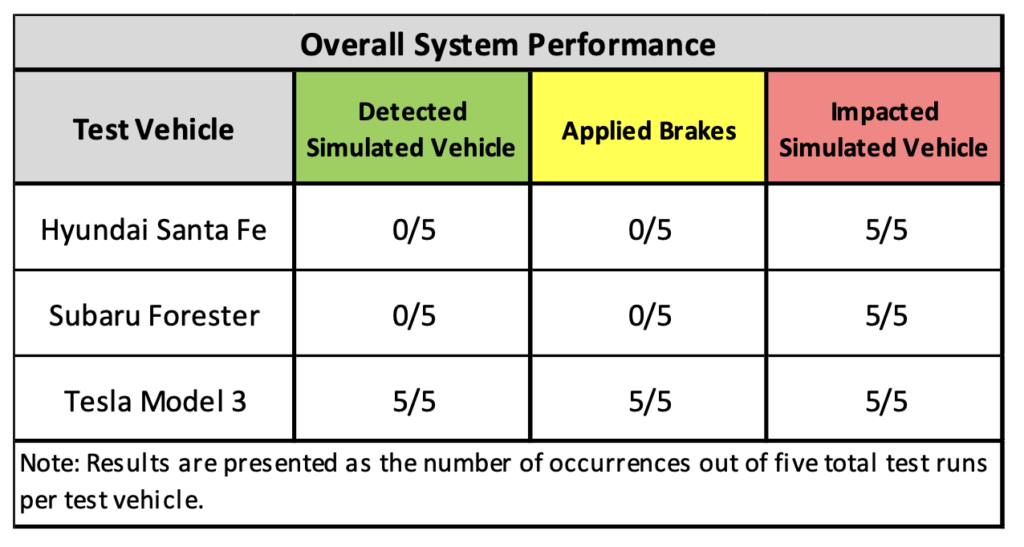 "It is acknowledged that these speeds are significantly lower than commonly encountered speeds on rural two-lane highways. Due to constraints related to the potential of significant vehicle damage and maximum impact speed for the target vehicle, common speed limits (up to 55 mph) were not simulated. However, researchers theorize that evaluated speeds represent a best-case scenario in which ADA systems will have more time to respond in comparison to a similar situation with higher speeds seen in a naturalistic environment," AAA's report said.
One vehicle, the Tesla, significantly reduced speed before a crash on each run. However, "It is important to note that the oncoming vehicle test was performed at unrealistically low vehicle speeds; at higher speeds characteristic of rural two-lane highways, it is unlikely that evaluated ADA systems would provide meaningful mitigation in the absence of driver intervention," the report said.
Performance when both vehicles were traveling in the same direction was a different story. For a slow lead vehicle moving in the same direction in the lane ahead, no collisions occurred among 15 test runs, AAA said.
It said that none of the vehicles provided an AEB warning for these same-direction runs, "indicating that ADA systems appropriately responded to the target vehicle."
The Insurance Institute for Highway Safety (IIHS) has said that AEB reduces the potential for front-to-rear crashes by some 50%.
Tests with a dummy cyclist showed similar results. When the cyclist crossed the travel lane of the test vehicle traveling 25 mph, a collision occurred for 5 out of 15 test runs. When the cyclist was traveling in the same direction in the lane ahead of the test vehicle, there were no collisions.
AAA said the tests, conducted on a closed course, showed ADAS vulnerabilities in "edge-case" testing, such as one car approaching another vehicle head-on. In routine situations, such as one vehicle following another, the technology "performed as expected."
Previous testing by AAA found that ADAS struggled when encountering a disabled vehicle partially in the roadway, and when a lead vehicle changed lanes to reveal a stationary vehicle ahead.
The association said the results reinforce its position that semi-autonomous vehicles should be equipped with robust, camera-based driver monitoring systems to make certain that the driver is always looking at the road and ready to take control.
"While it may be encouraging that these driving systems successfully spotted slow-moving cars and bicyclists in the same lane, the failure to spot a crossing bike rider or an oncoming vehicle is alarming," Brannon said. "A head-on crash is the deadliest kind, and these systems should be optimized for the situations where they can help the most."
AAA also found that consumers' interest in ADAS technology remains steady and that drivers are most interested in features that they perceive to have been designed for their safety.
At the same time, consumers expressed a deep distrust of fully self-driving vehicles. AAA found 85% "are fearful or unsure of self-driving technology, a level that has remained steady for the past several years. When transporting their children or loved ones, 85% also said they would not be comfortable with using a self-driving vehicle."
Twelve percent incorrectly believed that they could buy a Level 3 self-driving vehicle today, and 53% weren't sure if they could.
Since 2016, AAA has surveyed consumers about driving assistance systems and self-driving cars to track sentiment regarding emerging vehicle technology.
More information
Images
Featured image provided by AAA
Chart of test results provided by AAA
Share This: