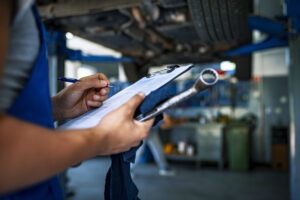 Mercedes, Kia, Hyundai & Rivian issue safety recalls; 3 of the 4 may directly affect repairers
By on
Announcements
Three recalls – one each from Mercedes-Benz, Hyundai, and Kia – involve malfunctions that could not only lead to owner-involved crashes but could also affect collision repairers who take vehicles for test drives.
A voluntary stop drive recall of 292,287 Mercedes-Benz 2006-2012 model year ML, GL, and R-Class vehicles urges owners not to drive them because issues found in the braking systems may cause the brakes to fail. Recalls of the 2021 and 2022 Kia Forte and Rio and the same model years of the Hyundai Accent have to do with unsecured steering columns.
Mercedes, in a news release about its recall, states "the function of the brake booster might be affected by advanced corrosion in the joint area of its housing."
The OEM confirmed there had been no crashes, injuries, or deaths related to the issue as of May 12, but advised affected owners to stop driving their vehicles.
"Following extensive analysis, Mercedes-Benz AG determined that moisture may wick under a rubber sleeve installed around the brake booster housing," the release states. "Following extended time in the field and in conjunction with significant water exposure, this condition could result in corrosion in the joint area of the brake booster housing, thus contributing to a vacuum leak at the brake booster.
"In this case, the brake force support might be reduced, leading to an increase in the brake pedal forces required to decelerate the vehicle and/or to a potentially increased stopping distance. In rare cases of very severe corrosion, it might be possible that a strong or hard braking application may cause mechanical damage in the brake booster, whereby the connection between the brake pedal and brake system may fail. In such a very rare case, it would not be possible to decelerate the vehicle via the brake pedal. Thus, the risk of a crash or injury would be increased. The function of the foot-activated parking brake is not affected by this issue."
The following models have been recalled:
2007 AMG R63
2007-2009 GL320
2010-2012 GL350
2007-2012 GL450
2008-2012 GL550
2007-2009 ML320
2006-2011 ML350
2010-2011 ML450
2006-2007 ML500
2008-2011 ML550
2007-2009 R320
2006-2007 R500
2007-2011 AMG ML63
2006-2012 R350
2008 R550
Mercedes-Benz USA will offer complimentary towing to its OEM workshops. The rubber brake booster sleeve will be removed and the brake booster housing inspected to determine if any parts need to be replaced, according to Mercedes.
"Vehicles that show advanced corrosion will have an additional test performed to ensure the functionality of the brake booster. Vehicles that pass the additional test may be driven for up to two years but must return for an additional repair. Vehicles that do not pass the additional test will require a brake booster replacement."
Before the issue occurs, the driver might notice a change in the brake pedal feel and/or hear hissing or airflow noises when using the brake pedal, according to Mercedes. Mercedes says notification letters are expected to be mailed on May 27.
A chronology report on the National Highway Traffic Safety Administration's website under campaign number 22V315000 states Mercedes' initial investigations began in July 2021 "based on an individual field report from outside the US describing an instance in which a customer allegedly experienced a reduced brake force support."
"No damages or personal injuries were reported. Parts of the affected vehicle were requested for further analysis. MBAG determined that, in the analyzed case, the function of the brake booster was impaired and corrosion of the brake booster housing was observed. Starting in August 2021, further analyses was conducted regarding a potential failure mechanism, root cause and potential consequences."
A field study was conducted in September 2021 "to analyze the level of corrosion on brake booster housings in vehicles in different countries and regions worldwide." Corrosion tests were conducted from November through May 2 when Mercedes decided a recall should be announced. The recall was filed with NHTSA on May 5.
Vehicles not included in the recall don't have an aesthetic rubber sleeve around the brake booster housing, according to the recall report.
Hyundai and Kia
Two 2021-2022 Hyundai Accents and 30 2021-2022 Kia Forte and Rio vehicles have been recalled because "a bolt in the steering column may not be secured properly, which can cause the steering column to detach from the steering rack and result in a loss of steering control," according to the NHTSA recall notice.
Dealers will inspect and tighten the lower steering column u-joint retention bolt, as necessary, free of charge. Kia plans to mail owner notification letters on May 27. Hyundai plans to mail its notification letters on July 5.
A possible issue with the 2022 Kia Rio was first noticed on March 24 by Kia Mexico (KMX) during a test drive at a plant. On April 13, KMX investigated the noise issue and identifies the problem was due to low torque applied to the steering column U-joint bolt with a supplemental torque wrench at the vehicle assembly plant, according to the chronology report filed with NHTSA.
KMX notified both Product Quality and the Safety Office of Kia North America on April 21 that the issue could affect 2021-2022 Rios and Fortes.
Four days later, the Safety Office completed a review of field data and confirmed there had been no related complaints or warranty claims due to the issue. On April 28, Kia North America decided to conduct a safety recall.
Hyundai and Kia haven't reported any customer complaints, warranty claims, fires, injuries, or deaths related to the recalls.
A similar chronology occurred with a 2022 Hyundai Accent vehicle, also in Mexico, and all but two potentially affected vehicles were contained based on a review of manufacturing historical records.
A fourth safety recall, by Rivian, has to do with child safety seats. A total of 502 R1Ts are affected, which is about 10% of Rivian's total vehicle production to date, according to CNBC. While this doesn't directly affect repairers, shops that are working on R1Ts and notice child seats in them could let their customers know about the recall. Information about the recall on NHTSA's website says the pickup trucks may not deactivate the air bag when a child or child seat is in the front passenger seat.
Rivian Service Centers will replace the front passenger seat, free of charge. Owner notification letters are expected to be mailed July 1.
NHTSA provides a VIN lookup tool on its site to access information about recalls.
IMAGES
Featured image credit: ljubaphoto/iStock
Share This: