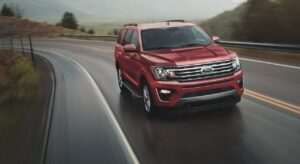 Ford recalls 39,000 SUVs over fire risk, advises that they be parked outdoors
By on
Announcements
Ford Motor Company announced Thursday that it is recalling 39,013 model year 2021 Ford Expedition and Lincoln Navigator vehicles and advising that the vehicles be parked outdoors and away from buildings, as it investigates the cause of several reported underhood fires in parked vehicles.
The recall affects 32,711 Expeditions and 6,302 Navigators produced between Dec. 1, 2020 and April 30, 2021. The vehicles were not produced in VIN order. To learn if the recall applies to a specific vehicle, contact Ford at 866-436-7332, or checks Ford's On-line Service Information (OASIS) database.
Information can also be obtained from the National Highway Traffic Safety Administration (NHTSA) Vehicle Safety Hotline at 888-327-4236 (TTY 1-800-424-9153), or at www.nhtsa.gov.
Repairers who have an affected vehicle in their shop will want to move it outside, if possible. Repairer Driven News asked Ford if any mitigating procedures should be taken with a vehicle that cannot be moved; the company had not responded by our publication deadline.
Ford notified its dealers today, and will contact owners by mail between May 23 and June 3. Ford's number for this recall is 22S36.
"Ford is treating this recall with a high sense of urgency and will communicate to customers – via FordPass and Lincoln Way app and mail – as soon as it finalizes the list of owners and addresses within the recalled vehicle population," the OEM said in a news release.
Ford has not issued instructions to stop driving vehicles under this recall and is not aware of any accidents related to this issue. One injury, an unspecified burn, has been reported.
"We are working around-the-clock to determine the root cause of this issue and subsequent remedy so that customers can continue to enjoy using their vehicles," Jeffrey Marentic, General Manager, Ford Passenger Vehicles, said in a statement. "We recognize the importance of staying in touch with our customers until we resolve this matter."
According to NHTSA, Ford's Critical Concern Repair Group (CCRG) opened an investigation on March 24 into eight reported underhood fires and one report of a melted battery junction box on 2021 Expedition vehicles.
CCRG found that six of the eight reported fires had originated in the back of the engine compartment on the passenger side, while two others had unclear origins.
Of the eight reported fires, six occurred while the vehicles were parked with the ignition turned off, and two others occurred while driving.
The OEM conducted an investigation throughout April, which included conducting vehicle inspections, supplier reviews, product design reviews, field and connected data analyses, and site visits with rental agencies, which own eight of the nine affected vehicles.
"To date, no fire cause or origin has been identified, but the fires are believed to have originated in the passenger side rear engine compartment vicinity," NHTSA said.
As of May 12, CCRG has been informed of 16 possibly related reports of underhood fires on 2021 Expedition and Navigator vehicles. Fourteen of those vehicles are owned by rental companies. Twelve of the incidents occurred when the vehicle was parked and turned off, one occurred while parked and on, and three occurred while driving.
Some customers reported a burning smell and smoke from the front passenger engine compartment, NHTSA said.
"Although Ford has not identified a cause for these reports, on May 13, 2022, Ford's Field Review Committee reviewed the concern and approved a field action to advise owners to park their vehicles outside and away from structures while Ford's investigation continues," the agency said.
More information
NHTSA's letter to Ford acknowledging safety recall
NHTSA Part 573 Safety Recall Report
Share This: