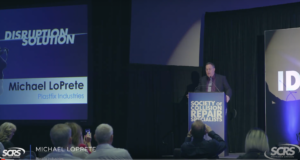 If you missed the IDEAS Collide Showcase presented by the Society of Collision Repair Specialists (SCRS) at the SEMA Show, you now have the opportunity to watch all eight presentations on the SCRS YouTube channel.
IDEAS Collide is a fast-paced event that allows a broad spectrum of innovators, both in and out of the industry, to present provocative and potentially game-changing ideas. All of the presentations have now been released.
The talks, which average around 10 minutes in length, address a broad variety of issues, including the opportunities and challenges presented by new technologies, the use of proper materials in repairs, the problem of "title washing," and ways to ensure the future of the repair industry.
Below are short takes on each of the presentations, intended only to whet your appetite for clicking on the link to watch. Why not set aside 10 minutes, or an hour or more, and dive in?
Ben Kaminsky – Modifying Vehicles in an ADAS World
What does a repairer need to think about when setting up an advanced driver assistance system (ADAS) testing facility? Ben Kaminsky knows – that's exactly what he's been doing, as the director of the ADAS Research and Development Center in the new, 45,000-square-foot SEMA Garage being developed in the Detroit area.
In the video, Kaminsky shares lessons learned and perceptions gained from the process and encourages body shops to have a plan for dealing with ADAS-equipped vehicles, which will triple in the nation's car parc over the next five years. "If you're not going to do [calibration] in your facility, where are you going to do it?" he asks.
Todd Korpi – OEM Recommended Materials for Aftermarket Body Repair
If a sealer, adhesive, coating, or other product is labeled "OEM approved," or its maker claims "equivalence" with the OEM product, it should be safe to use, right? Possibly not, says Todd Korpi, Global Key Accounts Director – Automotive OEM / Collision Repair Business at 3M.
Korpi discusses those terms, and guides repairers in how to ensure that they're using the correct materials for the job at hand. He also discusses how manufacturers like 3M work directly with OEMs, to make certain that their products meet specifications. Direct access to OEM repair procedures is the best source of information to repair vehicles, he says, as only the OEM fully understands how the vehicle is designed and how to properly repair vehicles back to pre-accident condition.
Danny Gredinberg – Don't contaminate your repair plan with outside influence
"I write in one program, but I get an estimate from another estimating system, and nothing jibes up, nothing matches." That's a complaint that Danny Gredinberg of the Database Enhancement Gateway (DEG) has heard all too often. The problem, he said, is that the three major estimating systems – CCC, Mitchell, and Audatex – each operate on its own logic, and "will never line up with each other."
The solution: using a single estimating system when developing and discussing repair plans with billpayers who may use a different information provider. Trying to translate data between two systems will only "contaminate the estimate with poor data." Gredinberg discusses how the choice of one system may affect the language used within the P-pages of included and not-included operations, and helps repairers understand the differences in all three estimating systems.
Pete Tagliapietra – What if AI were used to increase repair plan thoroughness?
Imagine a technology that could seamlessly connect a repairer with every bit of the information needed to complete a proper and safe repair through artificial analysis of photographs. That kind of capability is possible, with technology that's already in use, Pete Tagliapietra of Datatouch says.
Tagliapietra discusses technology advancements like computer vision, machine learning, and artificial intelligence (AI) could be combined to proactively deliver all the necessary OEM repair procedures for the actual damages to a vehicle before a repair estimate is created. Such technology is already supporting the insurance industry, and it can support repairers as well, he says.
Brandon Laur – Data Security & Digital Transformation of the Auto Claims Economy
How is a hacker most likely to get access to a shop's data? You might be surprised to learn that it's through a technician's unencrypted smartphone. Brandon Laur, Vice President, CCi Global Technologies, outlines the vulnerabilities that many shops face, and how to address them.
Laur discusses best practices collision repairers should consider, and suggests what to expect over the next 3-5 years for a shop to transform by leveraging tools that safely manage and protect its data. Here's one takeaway: If your shop isn't asking customers to acknowledge in writing that their information is being shared with third-party providers, it should be.
Sandy Blalock – Inaccurate total loss valuations create a lose-lose for everyone
Sandy Blalock, executive director of the Automotive Recyclers Association, examines the ways in which inaccurate vehicle evaluations have led to increased total losses, and how that's affected both the collision repair and recycled parts industries. According to CCC's 2022 Crash Course report, 20.5% of all damaged vehicles were declared total losses, meaning that body shops "missed out on the chance to repair one in five vehicles."
Blalock looks at the growth in "title washing," a practice she notes is both unethical and illegal, and notes that one in every 325 vehicles on the road in the U.S. has a washed title – a totaled vehicle that was bought at auction, repaired, and resold. She delves into the conditions that exist today that lead to unnecessary total losses, and invites the industry to consider potential solutions that would help consumers and professionals through better governmental models and industry practices.
Michael LoPrete – Collision Repair Solutions to Plastic Waste and Sustainability
The sustainability movement is big and picking up steam, and with laws and government regulations inevitably on the way, collision repairers would do well to get out in front of the issue, Michael LoPrete of Plastfix Industries says.
LoPrete notes that parts replacement, rather than repair, has increasingly become a best practice in the repair industry. He encourages repairers to think about how that practice contributes to the waste stream, and offers six challenges that body shops can begin taking on today. Need another reason to click? Just by watching, "you already will move into the upper 90th percentile on understanding what sustainability really is," LoPrete said.
Jake Rodenroth – What MUST the collision repair industry do to evolve?
Repairers stand to benefit from the development of new technologies, such as the development of tooling for 3-D printed parts and service manuals that use augmented reality, and should embrace these changes, Jake Rodenroth, North American Body Repair Program Operations Manager at Lucid Motors, says.
Rodenroth argues that new technologies have the potential to reduce the difficulty and stress of auto body repair, an important factor in attracting and keeping technicians. He also talks about the traditional "battleground" between OEMs and direct repair programs (DRPs), and why that needs to be addressed.
Images
Featured image: Michael LoPrete of Plastfix Industries speaks to the audience about plastic waste and sustainability during the IDEAS Collide Showcase presented by SCRS at the SEMA show. (Video capture via YouTube)
Share This: