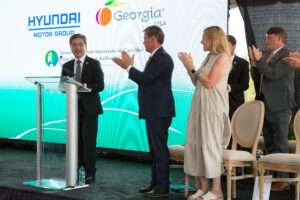 Hyundai to open EV, battery manufacturing plant in Georgia by 2025
By on
Announcements
Hyundai Motor Group plans to build its first U.S. electric vehicle and battery manufacturing facilities in Georgia creating nearly 8,100 new jobs.
The automaker isn't the first to decide to build EVs in Georgia. Construction on a $5 billion Rivian plant east of Atlanta is slated to begin this summer.
Hyundai announced on Friday ground will be broken in early 2023 for its $5.54 billion Bryan County, Georgia facilities. Commercial production is slated to begin in the first half of 2025 with an annual production capacity planned at 300,000 units, including a "wide range of full electric vehicles," details of which will be shared at later dates.
The battery manufacturing facility "will be established through a strategic partnership, which the details will be disclosed at a later stage" and "aims to establish a stable supply chain and build a healthy EV ecosystem in the U.S.," the release states.
Both facilities will be located on a 2,923-acre site, less than 50 kilometers from the Port of Savannah and near Interstates 95 and 16. Hyundai noted that its brand, Kia, has always called West Point, Georgia home to its U.S. manufacturing hub.
"The future of transportation is in the Peach State as we announce the largest project in our state's history – delivering high-quality jobs on the leading edge of mobility to hardworking Georgians," said Gov. Brian Kemp at the ceremony, according to a Hyundai news release. "Not only are we thrilled to welcome Hyundai to Georgia's coastal region, but it's incredible that within a year of Georgia's investment in the Bryan County Megasite, we are locating a world-class project here with a company with great Georgia history!"
Hyundai Motor Group Executive Chair Euisun Chung said the automaker is "excited to partner with the State of Georgia to achieve our shared goal of electrified mobility and sustainability in the U.S."
Hyundai noted that Georgia is the Southeastern leader for EV registration per 1,000 registered automobiles and chose to locate its facilities in the state to support those drivers and to "help accelerate the state's sustainable shift to electrification."
The EV plant is part of Hyundai's 2021 announcement that it would invest $7.4 billion by 2025 "to foster future mobility in the U.S., including production of EVs and offering smart mobility solutions."
Hyundai plans to become one of the top three EV providers in the U.S. by 2026 and has set a goal to sell 3.23 million EVs per year worldwide by 2030. To reach its 2030 goals, the automaker "plans to establish a global EV production network that will ensure a stable supply of EVs around the globe," the release states.
"We decided to build our first dedicated EV plant in the U.S. because America embraces change and drives innovation," said Hyundai President and CEO Jaehoon Chang, in the release. "This new EV plant is the future of our business, and It will help us meet the growing demands of our US customers who want leading edge design, safe, zero-emissions vehicles now and in the future."
The new plant will "boast a highly connected, automated, and flexible manufacturing system, which organically connects all elements of the EV ecosystem to realize customer value" and will be "a human-centered work environment with robots assisting human workers," according to the release. Renewable energy sources will power the facilities and emission-reduction technologies will be used.
The Georgia Automobile Dealers Association (GADA) has fought legislation that would let EV companies compete for sales with franchise dealers through a direct-to-consumer sales model. CEO Lea Kirschner previously told Repairer Driven News that any vehicle manufacturer can appoint a local independent dealer to sell its vehicles."
Tesla is the only EV manufacturer allowed by law to sell independently at its own dealerships to Georgians. Senate Bill 398, which no action was taken on during the 2021-22 legislative session, proposes to change state law again to allow EV manufacturers to sell their vehicles in Georgia as long as they have service and repair facilities in the state and a brick and mortar location in the U.S.
In an emailed statement on Friday, Kirschner called Hyundai's future factories "a win."
"This win is a testimony to Georgia's efforts to become the nation's best state to do business, its strong transportation infrastructure, and deep international partnerships," she wrote. "Hyundai and Kia are believers in electric vehicles and strong supporters of Georgia's franchise dealers. Georgia's 500 franchised dealers and their 35,000 dealership employees who support them look forward to partnering with Hyundai and Kia to deliver thousands of EVs to Georgians in the decades ahead."
IMAGES
Featured image: Hyundai Motor Group executives and Georgia state officials celebrate the announcement Friday, May 20, 2022 that the automaker will build electric vehicle and battery manufacturing facilities in Bryan County. (Photo provided by Hyundai)
Share This: