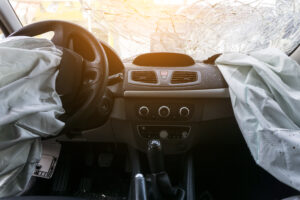 Air bag inflator OEM, 3 automakers accused of covering up defect, danger to vehicle occupants in class suit
By on
Legal
A federal class action lawsuit has been filed against three automakers, ARC Automotive, and other manufacturers that seeks a jury trial and damages for owners of vehicles with "tens of millions" of allegedly defective and unsafe air bag inflators.
The cause for the complaint stems from ARC Automotive's use of phase-stabilized ammonium nitrate (PSAN) as a secondary propellant in its toroidal stored gas hybrid inflators that can sometimes result in violent explosions and send metal shrapnel into the faces of vehicle occupants. Audi, Volkswagen, General Motors, and Ford are named in the lawsuit for their use of the air bag inflators in their vehicles. Joyson Safety Systems and Toyoda Gosei North America are also named because they manufacture airbag assembly modules that are used in the OEM defendants' vehicles.
The suit was filed Tuesday in the U.S. District Court for the Northern District of California.
The airbag inflator is a metal canister that contains highly compressed gas, with a secondary chemical compound propellant – in this case, PSAN – that heats the stored gas, which fills up the attached airbag cushion and causes it to expand, according to the suit. The diagram below shows the basic components of the driver airbag system: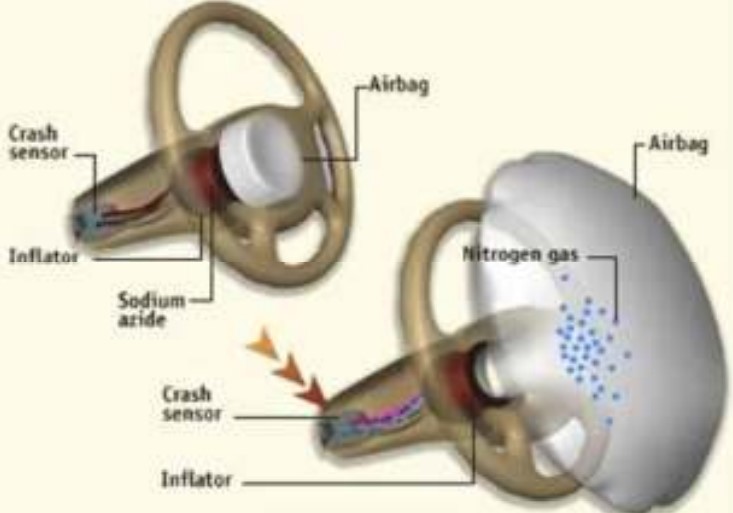 ARC's inflators "not only may fail in their purpose to protect the occupants during a crash but may actually cause significant injury or death in crashes that otherwise would have resulted in minor injuries," the suit states.
"…Most inflator manufacturers use a variant of guanidine nitrate as the fuel in their propellant in frontal impact airbag designs. Guanidine nitrate has been proven over the last two decades to be a safe and durable propellant chemical."
And guanidine nitrate offers "a marked safety increase over ammonium nitrate-based designs and do not explode in a shrapnel-like manner which can maim or kill vehicle passengers."
The suit claims the inflators are installed in vehicles manufactured since 2001 and people driving vehicles that contain them likely are unaware they're installed. Every vehicle make, model, and model year haven't been determined by the plaintiffs' attorneys yet but, so far, the following are known to contain the inflators, according to the suit:

"All ARC inflators at issue in this action are substantially similar and share a common, uniform defect: the use of ammonium nitrate, a volatile and unstable chemical, as the propellant," the suit states. "…It is well known in the airbag industry—and ARC itself has acknowledged—that ammonium nitrate is a dangerous propellant chemical that can overpressurize during airbag deployment, sometimes resulting in violent explosions of the metal inflator canister, which expels shrapnel into the occupant compartment."
The suit alleges there have been at least seven inflator ruptures – six drivers and one passenger – two of which led to deaths. Five of the ruptures resulted in "significantly limited" recalls of other vehicles that contained other inflators only from that lot. There have also been two ruptures during ARC testing, according to the suit.
GM has issued three recalls and Ford has issued one related to the inflator ruptures but the suit alleges both OEM recalls were "only a small subset of… vehicles containing inflators manufactured in the same lot as the ruptured inflators."
"The National Highway Traffic Safety Administration ("NHTSA") is currently investigating ARC's toroidal stored gas hybrid inflators. ARC is aware that its Defective Inflators are installed in millions of vehicles. However, ARC has concealed the defect from the public; namely, that its inflators contain a propellant made from volatile and unstable ammonium nitrate. ARC has not recalled any of the Defective Inflators. The airbag module manufacturers are also aware that ARC's inflators contain a propellant made from volatile and unstable ammonium nitrate but have concealed the defect from the public."
The plaintiffs named in the suit are John Britton, of Burlingame, California; Eva Jacinto, of Los Angeles, California; Celeste Felice, of Gibsonton, Florida; Francine Lewis, of Deer Park, New York; and Matthew Kakol, of Massapequa Park, New York. Each of them purchased one of more vehicles from the OEM defendants that, according to the lawsuit, contain ARC's inflators.
The suit is brought on behalf of a national class and state subclasses for all residents who currently own, lease, or leased a Ford vehicle in California, a GM vehicle in Florida, and a Ford or Volkswagen vehicle in New York.
"Plaintiffs and the Class are united by a community of interest in obtaining appropriate remedies, including injunctive relief, repair, or replacement of the defective vehicles or vehicle components, restitution, damages, and other available relief designed to redress Defendants' wrongful conduct," the suit states. "…Through this action, Plaintiffs seek to ensure that Defendants do not continue to reap economic gain at the expense and safety of unsuspecting consumers."
The suit seeks:
An order declaring the defendants' conduct to be unlawful;
An order compelling the defendants to make restitution to the plaintiffs and class members in an amount to be proven at trial;
Actual damages;
Statutory or other liquidated damages, as applicable;
Punitive damages;
Pre and post-judgment interest at the legal rate to the extent available;
Injunctive and other equitable relief;
An order prohibiting the defendants from engaging in the "unlawful, unfair, deceptive and fraudulent acts" described in the complaint;
An order that the defendants engage in a corrective advertising campaign;
An order of restitution and disgorgement of all profits and unjust enrichment that the defendants have obtained from the plaintiffs and class members; and
Attorney's fees, costs of this action, and out-of-pocket expenses.
Plaintiffs allege all of the defendants have been aware of the air bag inflator issue for years and that the airbag module defendants as well as the OEMs "aided and abetted" ARC "because they were aware that ARC manufactured driver and passenger toroidal stored gas hybrid inflator using ammonium nitrate and the potential dangers associated with such inflators."
"Nevertheless, the Airbag Module Defendants and OEM Defendants approved the design, ordered the production, and installed the Defective Inflators, thereby showing that they had the specific intent to facilitate the misconduct that ARC undertook," the suit states.
The lawsuit includes part of a 1995 patent application by ARC that was granted in 1998. The company noted ammonium nitrate "undergoes certain phase changes during temperature variations causing cracks and voids if any associated binder is not sufficiently strong and flexible to hold the composition together."
A July 2019 patent is also included that, according to the plaintiffs, states "with ammonium nitrate based generants becoming unacceptable for usage in automotive airbag inflator applications regardless whether they are used in pyrotechnic or hybrid type inflators, alternate or non-ammonium nitrate containing generants are highly desirable. Even in a hybrid inflator where the generant is stored in a high-pressure inert gas atmosphere making moisture intrusion nearly impossible, ammonium nitrate based generants are still considered unacceptable."
The suit notes that ammonium nitrate is volatile and becomes increasingly explosive when exposed to fluctuating temperature cycles and moisture. Researchers at Pennsylvania State University's High Pressure Combustion Laboratory found in 2012 that the propellant is susceptible to dynamic burning, which they said "'needs to be accounted for when designing or analyzing systems that subject the PSAN propellant to high pressurization rates,' because with or without countermeasures for moisture and temperature cycling, PSAN itself is too volatile," the suit states.
"Neither ARC nor the OEM Defendants notified the public which vehicles contain ARC inflators, that ARC's toroidal stored gas hybrid inflators contained PSAN-based propellant, and that PSAN-based propellant is dangerously defective. …despite knowledge of the dangers of PSAN-based propellants and the growing number of ruptures, neither ARC—which has not issued any of its own recalls for the inflators—nor OEM Defendants that fitted them into their vehicles have recalled all of the stored gas hybrid inflators using PSAN-based propellant. In fact, thus far, they have issued only very limited recalls following ruptures, a pattern that follows the devastating Takata airbag inflator recalls that went on for many years and needlessly endangered vehicle occupants."
The plaintiffs allege ARC's inflators are just as dangerous as those manufactured by the Takata Corp., which came under fire in 2014 for its use of PSAN-based propellant in its inflators that led to multiple ruptures over several years and tens of millions of inflator recalls as well as hundreds of injuries and 27 deaths, according to the suit.
NHTSA has been investigating ARC's inflators since 2015, first with a preliminary evaluation into 490,000 of the components that "may rupture during frontal air bag deployment resulting in metal fragments being propelled into the passenger compartment." And in 2016, upgraded the evaluation to an engineering analysis, which is a more in-depth, detailed investigation, according to the suit.
The suit includes part of an October 2016 letter to ARC from NHTSA that expresses the administration's dissatisfaction with ARC's response to its request for documents and information. A portion of what's included in the suit states:
"…beyond ARC's lax response to compulsory process, ARC's attitude and approach to the Agency's investigation remains troubling. Since this investigation was opened, ARC has on more than one occasion questioned the necessity of providing certain information, failed to provide documents in a readable format, appeared nonchalant in its approach to developing a testing plan or protocol, and has advocated for the closure of the investigation without possessing or providing a full understanding of the root cause for at least one of the underlying inflator ruptures. Additionally, a number of incidents involving ARC's product have been brought to NHTSA's attention by vehicle manufacturers and other suppliers. These incidents range from testing failures to recalls, and raise serious questions regarding the quality and integrity of ARC's air bag inflators."
The national suit class alleges common law fraudulent concealment and violation of the Magnusson-Moss Warranty Act against all defendants for the national class.
The California subclass alleges violations of the state's Consumer Legal Remedies Act and Unfair Competition Law against ARC, Audi, Ford, and Joyce Safety Systems as well as breach of implied warranty and express warranty and violations of the the Song-Beverly Act against Audi and Ford.
The Florida subclass alleges violations of the state's Unfair and Deceptive Trade Practices Act against ARC, Toyoda Gosei North America, and GM.
The New York subclass alleges violations of the state's general business law against ARC, Ford, Volkswagen, and Joyson Safety System; and breach of express warranty and implied warranty by Ford and Volkswagen.
The suit also argues that "by concealing the Inflator Defect, Defendants implicitly distorted and misrepresented the true value of every Class Vehicle such that every Plaintiff and Class member received a vehicle of different and substantially lesser value—one with a higher effective cost—than they reasonably believed they were receiving."
Attorneys for the plaintiffs didn't respond to Repairer Driven News' request for comment by the publication deadline. One of the attorney, Frank Melton, told the Associated Press, "You could have a ticking time bomb in your lap and you've got no way of knowing," in regard ARC's inflators.
GM and Audi were the only defendants to respond to RDN's requests for comment.
"GM is dedicated to the safety of our products and customers," spokesperson Daniel Flores said. "We will continue to work cooperatively with NHTSA regarding the performance of these inflators in the field. We take safety related complaints very seriously and make safety recall decisions based on data and facts available to us. The loss of life is tragic under any circumstance. We have no additional comment at this time."
Audi spokesperson Michele Lucarelli said, "Since this is open/pending litigation, we cannot provide comment at this time."
IMAGES
Featured image credit: 123ducu/iStock
Driver airbag system diagram and vehicle chart taken from Britton v. ARC Automotive complaint
Share This: