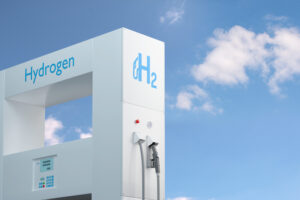 Oklahoma, California & automakers make push for hydrogen transportation, other zero emission options
By on
Legal
During Oklahoma's 2022 legislative session, which came to a close on Friday, legislators passed nine bills related to the production, use, and storage of hydrogen fuel as well as incentives for the use of private and commercial zero-emissions vehicles. And in The Golden State, advertising efforts are being made to gain additional funding for hydrogen fueling station development.
The California Hydrogen Coalition has launched an "aggressive" digital and television advertising campaign to win support in the state legislature for additional hydrogen fueling station development funding, according to the Associated Press. The TV ad promotes the use of hydrogen cars because they fuel up "in minutes" and travel further on that fill up than battery electric vehicles (BEVs) do on a single charge. The ad is aimed at helping meet Gov. Gavin Newsom's 2035 zero emission vehicle goals, the AP reports.
Several automakers are developing hydrogen fuel cell options, or have already put them on the market, including Renault, Hyundai, Honda, and Toyota.
Last week, Renault revealed an electric-hydrogen hybrid concept car fitted with a hydrogen engine, electric motor, battery, fuel cell, and a hydrogen tank, according to CNBC. In a statement to the news outlet, Renault Director of Design Gilles Vidal said the concept "prefigures the exterior design of the new Scénic 100% electric model for 2024." The company said the electric-hydrogen powertrain was "part of a longer-term vision, beyond 2030."
Hyundai's 2022 NEXO Fuel Cell is touted by the OEM as "the world's first dedicated hydrogen-powered SUV" and the automaker's "technology flagship." EPA-estimated range on one tank of hydrogen fuel is 380 miles, according to Hyundai. The first model year NEXO was the 2021.
Honda's 2021 Clarity has an EPA-estimated range of 360 miles and is the result of 20 years of research and development by the OEM, which touts the vehicle as being unique because the entire fuel-cell powertrain fits under the hood.
Earlier this month, Toyota signed an agreement with Air Liquide and CaetanoBus to help develop hydrogen systems in Europe for light and heavy-duty vehicles, which is an effort to "address the entire value chain of hydrogen mobility," ranging from the renewable or low-carbon production of hydrogen to refueling infrastructure, according to Yahoo News. Toyota currently offers two hydrogen fuel cell vehicles — the 2021 and 2022 Mirai. The 2022 model year Mirai has the highest EPA-estimated range of the three OEMs at 402 miles.
Oklahoma bills that were passed include:
Sen. Kim David (R-District 18), who co-sponsored three successful bills, said, "Oklahoma is an oil and gas state. We have a lot of natural gas," according to Transport Topics. "We are uniquely positioned for the blue energy side of hydrogen and once carbon sequestration becomes more economically viable to do, it will turn more green. The blue energy level of this is where I really see Oklahoma knocking it off the charts."
David co-chaired the Hydrogen Production, Transportation, and Infrastructure Task Force (OK H2 Task Force) tasked with researching and submitting a report on "the viability of growing the production, use, supply chain, and infrastructure for a hydrogen economy within the state and for energy export," according to the task force's report that was released in December. Within the report, it was noted that the H2 Task Force focused on low carbon or no carbon Hydrogen in its research and recommendations.
"The idea that H2 produced from renewable resources could also be stored and later converted to electricity, enabling the low cost and carbon free energy produced from wind and solar resources to become dispatchable," the report states. "Near to mid-term commercialization opportunities for hydrogen produced in Oklahoma lies in the industrial and transportation sectors. Utilizing hydrogen as a transportation fuel may be the first and most cost competitive sector for this developing low carbon energy solution."
The task force made the following recommendations:
A continued focus on growing a hydrogen energy economy;
Assuring hydrogen fuel is included within existing regulations and legislation similar to compressed natural gas (CNG) and EVs;
Readying infrastructure and supporting policies to champion FCEV heavy-duty transportation, fuel production, and as a backup power generation asset;
Aligning business and manufacturing "friendly" taxes and incentives to attract companies that reflect that full value chain within the hydrogen sector; and
Continue to investigate opportunities to collaborate with neighboring states and federal agencies to grow a competitive hydrogen economy.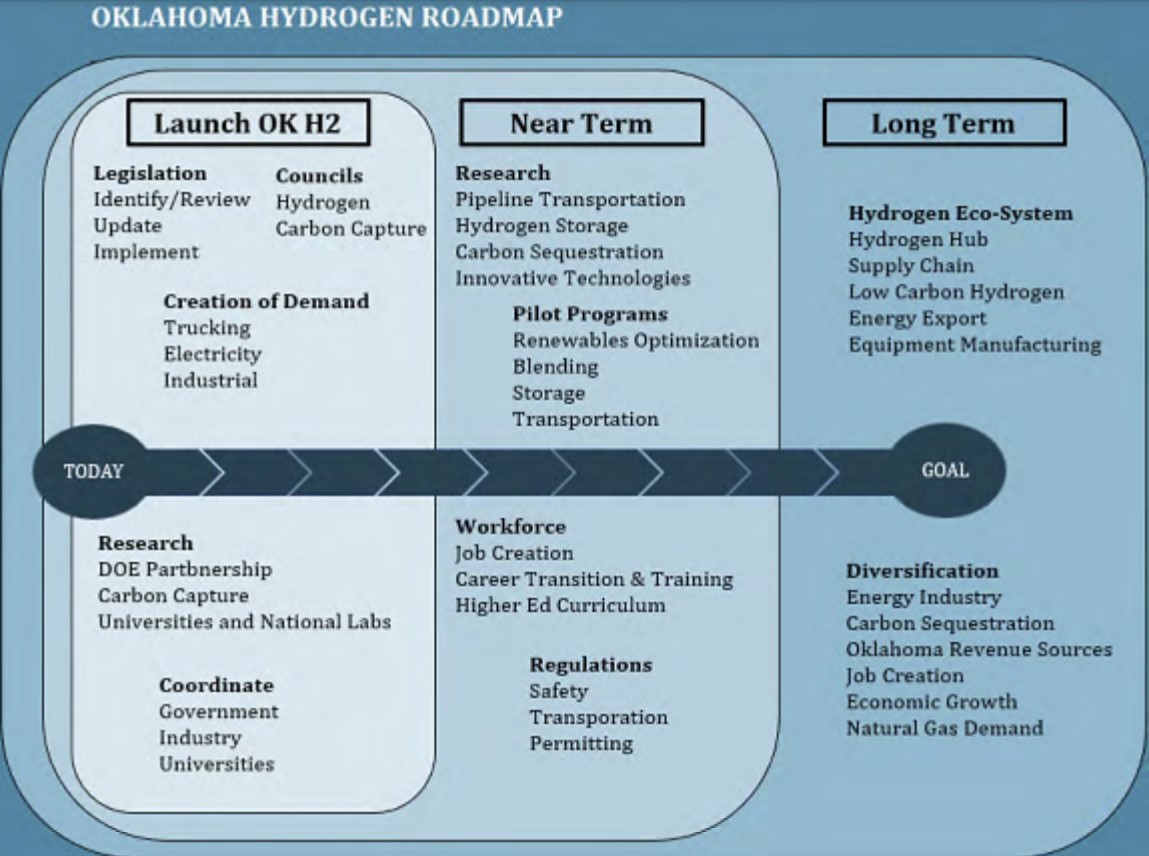 Sen. John Michael Montgomery (R-District 32), one of the senators involved in the "Republican-led" effort on the introduction and passage of the hydrogen bills said, according to Transport Topics, that he thinks the bills "should signify that we are interested and willing to invest in the hydrogen industry and want to be a partner.
"It's safe to say that we will be competing for becoming that hydrogen hub. We are excited about how this could pair off with our existing energy portfolio and optimistic about the potential for a reliable new form of transportation."
In March, Gov. Kevin Stitt touted on Twitter Oklahoma's partnership with Arkansas and Louisiana to "compete to establish a regional hub to develop and produce clean hydrogen."
"Oklahoma has been a pioneer in energy for over a century," he tweeted. "Developing hydrogen as fuel and manufacturing feedstock will keep us ahead of the curve. Our pipeline infrastructure and vast natural resources make us uniquely qualified to win this hub along with our partners. Now more than ever we need to embrace an "All of the Above" approach & work towards domestic energy independence. Big thanks to Sec. of Energy Ken Wagner for his leadership on hydrogen development in Oklahoma. I look forward to winning this hub!"
IMAGES
Featured image credit: jroballo/iStock
"Oklahoma Hydrogen Map" (Screenshot from "Hydrogen Production, Infrastructure, & Production Task Force Report & Roadmap")
Share This: