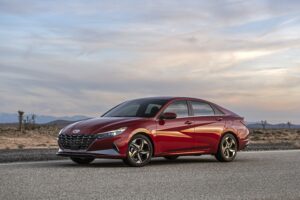 Hyundai has issued a safety recall for 239,000 vehicles equipped with seat belt pretensioners that could explode, possibly injuring occupants. Three injuries have been reported, two in the U.S. and one in Singapore.
The recall includes 2019-2022 Accents, 2021-2023 Elantras, and 2021-2022 Elantra Hybrids.
The recall, issued May 19, expands and replaces three previous recalls for the same issue. Vehicles repaired under the previous recalls will need to be brought to dealerships again for the new remedy, Hyundai said.
According to a letter to Hyundai from the National Highway Traffic Safety Administration (NHTSA), the seat belt pretensioners could explode upon deployment in the event of a crash. "An exploding seat belt pretensioner can project metal fragments into the vehicle, strike vehicle occupants, and result in injury," the letter states. The cause is under investigation.
Under the terms of the recall, dealers will secure the pretensioner's micro gas generator and delivery pipe with a cap to prevent "potential abnormal deployment."
The work is to be done free of charge, regardless of whether the affected vehicles are still covered under Hyundai's new vehicle limited warranty. Any out-of-pocket expenses incurred by owners in having the work done will be reimbursed by the OEM.
Hyundai said it expects to mail owner notification letters by July 15. Owners can contact Hyundai customer service at 1-855-371-9460. Hyundai's number for this recall is 229.
The recall expands and replaces NHTSA recall numbers 21V-796, 22V-069, 22V-218, and 22V-123 for Accent, Elantra, and Elantra HEV vehicles.
According to Hyundai's documentation, the affected pretensioners include part numbers 88810-J0600, 88820-J0600, 88810-AA500, and 88820-AA500. The components are manufactured by Samsong Industries of South Korea.
Hyundai has corrected the recall condition in production. Beginning May 16, vehicles built by Hyundai Motor Co. have been equipped with a vent valve on the micro gas generator pipe. Vehicles assembled by Hyundai Motor Manufacturing Alabama and Kia Motors Mexico adopted the cap as a production running change on May 23.
As repairers know, many OEMs require thorough inspection of seat belt systems, including pretensioners, every time a vehicle has been in an accident.
Images
Featured image: A 2021 Hyundai Elantra. (Provided by Hyundai)
Share This: