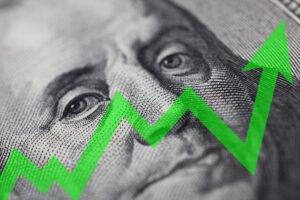 APCIA: Commercial insurance rates continue up due to inflation, COVID-19, natural disasters & cybercrime
By on
Insurance | Market Trends
The American Property Casualty Insurance Association (APCIA)'s latest report examines how and why commercial insurance rates for coverage that protects businesses against liability lawsuits, property damage, cyberattacks, and other risks continue to climb as inflation "skyrockets."
APCIA found that legal system abuse has also forced prices higher while losses in lines such as cyber insurance have increased as well.
"As a result, insurers are facing significantly higher claims costs in recent years," an APCIA news release states. "In many cases, insurers' claims costs and expenses are now higher than what is collected in premiums, which has led many insurers to increase rates on commercial policies to keep pace with losses and rising costs."
The report, "Commercial Insurance Rates Rising: What Business Owners Need to Know," states that the cost of claims paid out was more expensive over the last year when compared to 2020 due to inflation and "other developments," which made loss adjustment expenses increase 17.8% in Q3 2021 compared to Q3 2020. 
"Insurers and agents continue to look for ways to reduce costs while still meeting all obligations to policyholders, but as claims and other costs have increased dramatically insurers are under pressure to raise rates on a variety of insurance policies typically utilized by small businesses," said APCIA Senior Vice President of Policy, Research, and International Robert Gordon, in the release. "As a result, small and medium-sized businesses may see an increase in their insurance costs when they buy a new policy or renew a policy, even if they have not made a claim in the preceding year."
APCIA notes that a recent survey conducted by the Council of Insurance Agents and Brokers (CIAB) found that in Q4 2021, medium-sized businesses experienced an average increase in insurance premiums of 10.6% and small businesses faced an average increase of 6.3%.
The increase in costs for insurers can be seen clearly in the combined ratios, which represent claims and expense costs as a percentage of premiums, the news release states. According to APCIA, after three years of combined ratios at around 99%, preliminary estimates for 2021 suggest the property and casualty insurance industry's commercial lines combined ratio is at almost 101%, meaning insurers paid more in claims and expenses than they collected in premiums.
"U.S. P&C insurers faced an $11.3 billion net underwriting loss in third quarter 2021," Gordon said. "These trends are not sustainable."
While the Consumer Price Index increased to 8.5% in March compared to March 2020, APCIA says inflation in insurance claims has been rising even faster.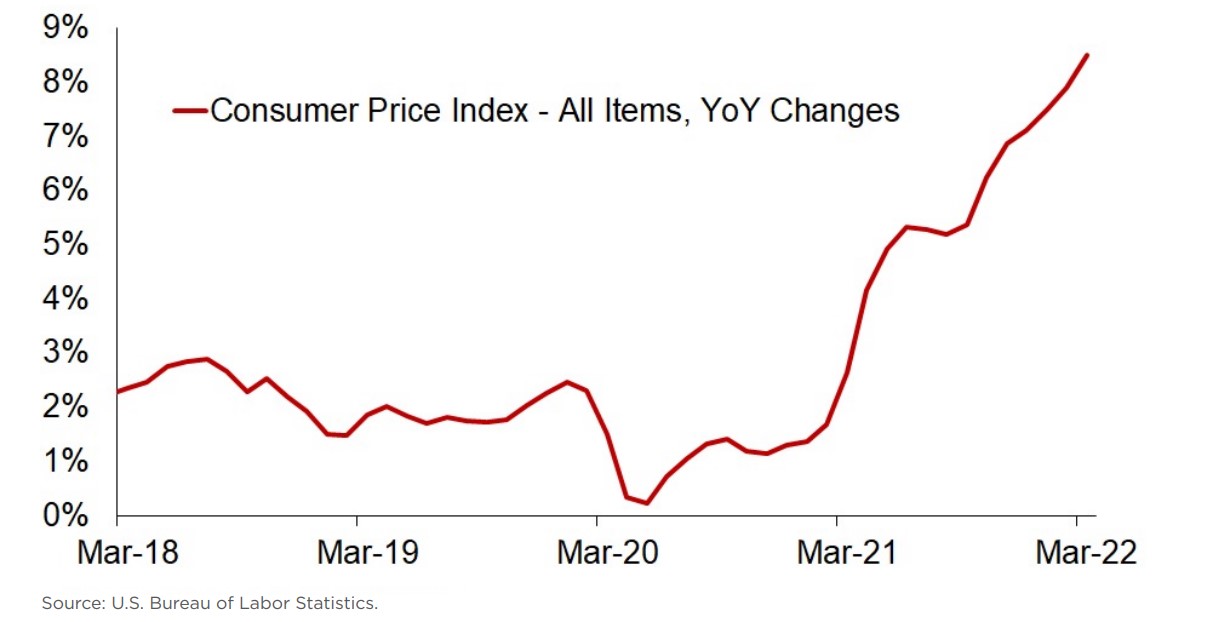 Legal system abuse — also called social inflation, according to the report, is driving insurance losses and costs higher along with inflation.
APCIA blames it on changes in laws encouraging more lawsuits and jury awards that "increasingly do not reflect logical conclusions or precedents."
"Jury decisions can be influenced by emotions, state and local laws or procedures, and plaintiff bar tactics," the APCIA report states. "In recent years, practices like third-party litigation funding – investment by hedge funds and other third parties in lawsuits in return for a share in the awards – have played a significant role in litigation abuse. The ever-increasing impact of litigation abuse can be seen in many areas. Examples include the cost of an event in which one death and no other injuries occur, and the cost of gender/sexual discrimination and harassment cases."
While APCIA calls jury verdicts "abuse" of the legal system, jury decisions and the final decisions made by judges are based on law, and just because they side with the plaintiffs and against insurance companies — for example, that they negligently underpaid claims — doesn't automatically equal abuse.
General liability insurance, in particular, is affected by lawsuit trends, including the number of large "nuclear" verdicts, and the P&C industry's incurred losses for general liability have increased more than 57% since 2017, according to APCIA.
"When lawsuits against insured businesses become more likely to lead to large verdicts, the cost of the insurance policy that covers those verdicts may increase, as well."
One of the highest costs small businesses may be seeing is commercial property insurance. APCIA attributes that to the increased cost of materials and labor for the reconstruction of homes and businesses due to the "ongoing impacts from the COVID-19 pandemic, such as supply chain constraints and shifts in demand for housing, which are continuing to affect overall supply and demand challenges."
For example, the price of construction materials increased 44.1% from December 2019 to December 2021 and some lumber prices were up 400% by mid-2021 contributing to "significantly higher underwriting losses," APCIA found.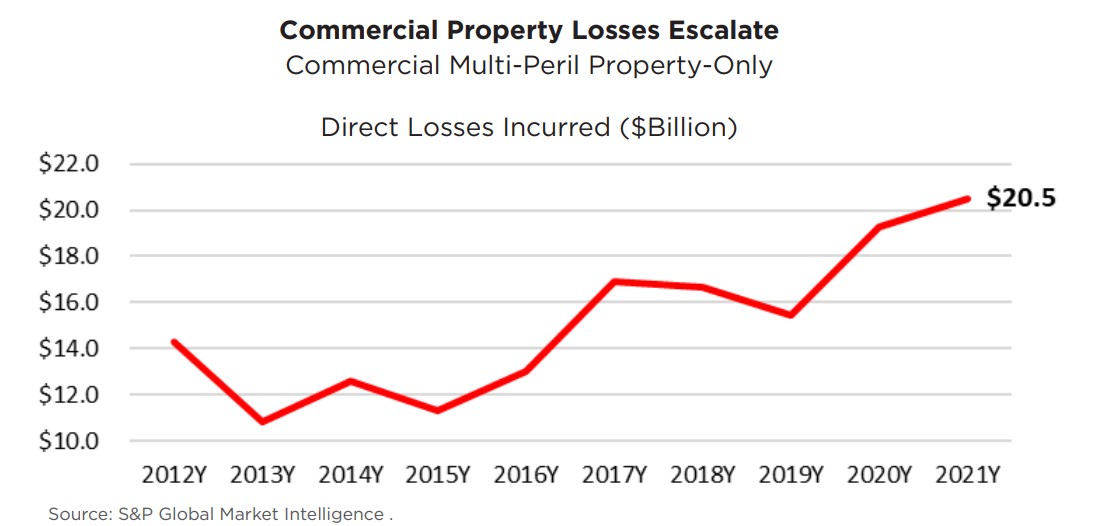 Natural disasters have also contributed to rising rates — a trend over the past several years. Last year was the seventh year in a row that there were at least 10 catastrophes in the U.S. that caused over $1 billion in insured losses with losses more than double the 20-year average in 2021, according to APCIA. It was the fourth most extreme catastrophe loss year globally.
Lastly, APCIA says cybercrime also is making rates go up as "cyber-related losses are growing exponentially" — an ever-increasing concern that should be on every business owner's mind. APCIA found that ransom payments frequently exceeded $1 million and the resulting costs for business interruption or data exfiltration increased claim payouts.
"The massive growth in ransomware attacks increased the 2020 loss ratios (prior to expenses) for stand-alone cyber policies by more than 50 percent, and the corresponding combined ratio was estimated at more than 100 percent. This trend is expected to have continued in 2021. The response and replacement costs associated with responding to a cyber incident are rising, as well. From forensic and legal experts to deal with the incident to the rise in ransomware demands, the costs to respond to a cyber intrusion are rising quickly."
APCIA noted in its report the growth of Ransomware as a Service (RaaS), which the association says is when organizations "offer to sell or rent sophisticated ransomware tools to less sophisticated gangs who use them to perpetuate the actual extortion, expanding the number of sources of ransomware attacks and making it more difficult to identify those behind the attacks."
IMAGES
Featured image credit: Aslan Alphan/iStock
Consumer Price Index Year over Year Changes (Sources: U.S. Bureau of Labor Statistics and APCIA)
"Commercial Property Losses Escalate" (Sources: S&P Global Market Intelligence and APCIA)
Share This: