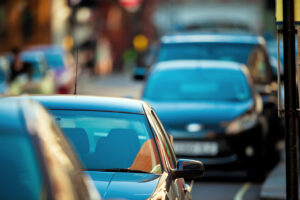 NYC councilman takes issue with auto body shops, others using on-street parking
By on
Legal
A New York City councilman has lodged his complaints against businesses, including auto body shops, for taking on-street parking away from the public through a piece of legislation that will prohibit commercial use of the spaces on city streets.
Councilman Robert Holden filed the bill on May 19 to prohibit vehicle repair shops, rental vehicle businesses, and vehicle maintenance shops from "parking vehicles on city streets as part of their business" for "dropping-off, picking-up, inspecting, storing, repairing, servicing or displaying a vehicle for sale, lease or rent." Holden tweeted, and the bill summary states, that it would also apply to gas stations but that isn't specified within the text.
In his tweet, Holden called the slate of 12 pieces of legislation that he introduced at the council's May 19 meeting "common-sense bills."
If passed by the council, violators would be fined between $250 and $400 per day per vehicle and the vehicles would be "subject to impoundment." It would take effect 120 days after becoming law. The bill was immediately referred to the council's Committee on Transportation and Infrastructure.
The New York Post reports that Holden said businesses taking up public parking has become a problem in major thoroughfares and residential streets in his district, including in and around Metropolitan Avenue in Middle Village and Maspeth.
"I'm talking about dozens of cars parked in the street — not just a few," Holden said, according to the Post. "…Residents can't find parking."
He also told the newspaper that he's complained about the issue to the city's Department of Transportation. The department told the Post they're reviewing the legislation.
The owner of No Limit Auto Body in Maspeth told the Post that, while he agrees "serial parking hogs should be punished," as the writer put it, he'll close his shop and move his services to New Jersey if the bill is passed because of his opposition to it and driving small businesses out of the city. Identified only as George, he said even though he rents space to park his vehicles, he still has to park some on the street.
IMAGES
Featured image credit: Nikada/iStock
Share This: