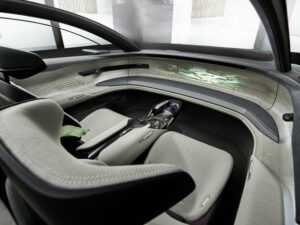 Audi study takes aim at 'myths' around autonomous driving
By on
Announcements
With the advance of self-driving technology have come widespread myths about autonomous driving. Audi has responded to some of those myths in a new 75-page study, SocAIty, produced with the help of a panel of 19 experts in academia, business, associations and politics.
"What will our transport and mobility landscape look like in 2030? This is the burning question for many experts, mobility users and companies alike," the study says. "Will all cars be self-driving? Will passenger and delivery drones crowd our skies? What will this mean for our cities or for rural regions?"
Here are a few of the conclusions drawn by Audi's panel of experts.
The rise of Mobility as a Service (MaaS) will not bring about the end of individual transportation.
Having access to a personal vehicle "will continue to offer an additional level of flexibility and comfort in the near future," not just for those who live in rural areas, but urban and suburban dwellers, too, the report says.
"Those who can will still be able to enjoy regular travel in their 'own' car in 2030 and beyond. In addition, the automotive will continue to be of symbolic relevance for individuality, freedom and status."
"[H]umans will in all likelihood remain in the driving seat in the majority of vehicles making up the individual traffic of tomorrow, above all outside of urban centers. The reason behind this is that the autonomous driving technology in private transport will not yet be fully scalable by 2030, meaning few vehicles will be able to offer Level 4 or 5 of autonomous driving," the report says.
Autonomous vehicles will not take away the fun of driving.
Just the opposite, say the experts: the technology will remove the drudgery of driving in traffic, but still allow drivers to take the wheel when they like.
"No manufacturer will prevent its customers from driving their own cars if they wish to do so," the study says. "In the future, vehicle owners will still have the choice of driving the car themselves or handing over control to the car during unpleasant situations such as stop-and-go traffic on the highway."
AVs are likely to take over in "big cities such as London, Paris, or Manhattan, San Francisco. It's very possible that part of the areas there, you can not drive your individual owned vehicles in there. You have to take the shared service," said Huei Peng, a  professor of mechanical engineering and director of Mcity at the University of Michigan.
AVs will not be just like current vehicles, just without a human driver.
While the exterior, where aerodynamics plays a large role, will not change significantly, interior design is likely to undergo a major shift, the experts said.
"Passengers' comfort will be a priority, which is why their seats will no longer necessarily face in the direction of travel in certain use cases. This freedom of interior design will offer those on board a wide array of options for individually customizable experiences: communication or relaxation, work or retreat. Space for passengers will be maximized by allowing everything that's no longer needed – the pedals, gearshift and steering wheel – to be temporarily retracted," the study says.
"Digitalization allows us to make mobility even safer, more personal and especially smarter. The goal is for our vehicles to seamlessly integrate into our customer's everyday lives. We're thus creating a true added value – by giving them back time for things that are important to them," said Oliver Hoffmann, Audi Board Member for Technical Development.
Legislation is not lagging advances in AV technology.
Rather than blocking development, governments around the world "are simply following the legally established principle that safety comes first," the study says.
"It is true that technological development in countries such as the USA or China seems to be progressing more rapidly than in Germany and Europe. However, it is also true that German lawmakers created a legal framework very early on that puts safety first in the development and introduction of self-driving technology," it says. In this respect, Germany is even considered a pioneer by international standards."
"More generally, and optimistically, the legal framework for autonomous driving moving forward does not necessarily represent an obstacle. Sooner or later, legislation will respond to new advances in technology, and we will see corresponding regulations in place accordingly," the study says.
It adds this caution: "If regulation fails to take into account the present and future state of technology, there is a major incentive for companies to focus first on their own profitability."
AVs will not free up parking spaces in big cities.
Self-driving cars will be more efficient users of parking spaces, but won't require less space, the experts say. With private vehicles in use for an average of just one hour a day, shared use could decrease vehicle density in metropolitan areas.
Self-driving cars are not a hacking liability.
The experts say that AVs will be no more vulnerable than cars driven by humans, although OEMs will need to improve cybersecurity as connectivity increases. Because "the impact of a hacker attack on a self-driving car's safety-related systems can be more serious," the study says, "manufacturers are constantly developing protective measures against cyberattacks and improving the protective mechanisms, both inside the vehicle and outside in the back end."
It adds that AVs "will increase road safety – in addition to better efficiency and greater comfort, a benefit for society as a whole."
"The industry is really taking this seriously now, but it's important for them to incorporate security from the initial design phase all the way through the process and through all aspects of the business," said Sam Abuelsamid, principal research analyst and Guidehouse columnist for Automotive Engineering Magazine.
AV technology cannot bring about the goal of zero fatalities.
Most of Audi's experts agree that zero fatalities, also called Vision Zero, is the right aim. However, unpredictability and human error make the goal of 100% safety unachievable, even with autonomous driving.
In fact, the experts said that approaches like Vision Zero can distort the reality of what the technology can achieve. "As described, current systems are only able to function without error in specific environments. In practice, this would require a total lack of entirely unpredictable situations, as current systems are not able to respond adequately to such unpredictability," the study says.
"…[T]his is not just a case of spontaneously occurring external factors, such as black ice or fog: the greatest cause of uncertainty, even in a fully autonomous vehicle, remains the human being. Without a complete penetration of traffic with autonomous vehicles and smart infrastructure, autonomous systems will still be confronted with the irrational and unpredictable actions of other (human) road users."
Expensive technology will not make AVs unaffordable to all but a few.
Though the costs of developing AV technology will affect product costs in the near and medium term, prices will fall once those costs have been amortized, the experts agreed. In addition, the technology should increase road safety and decrease accident severity costs, lowering repair and insurance costs, the authors say.
In cities, AVs may belong to "mobility providers," or shared by a number of owners, increasing efficiency and bringing down costs.
"I think that there will be more options in the future. It will be more fractured than it is today. And obviously there is more variety of modes available that are kind of just coming to the fore," said Pete Bigelow, a senior reporter for Automotive News.
More information
Audi SocAIty study
https://www.audi-mediacenter.com/en/publications/more/audi-socaity-study-1132
Images
Featured image: The interior of Audi's grandsphere concept vehicle. (Provided by Audi)
Share This: