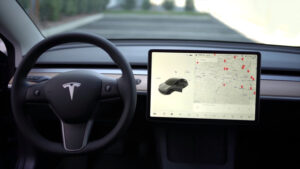 The National Highway Traffic Safety Administration (NHTSA) has given Tesla until June 20 to respond to an extensive list of questions in its investigation of an increasing number of "phantom braking" complaints.
According to the 14-page letter, dated May 4 but posted Friday on the agency's website, NHTSA is investigating 758 reports of unexpected brake application in certain 2021-2022 Tesla Model 3 and Model Y vehicles.
The letter, addressed to Tesla's field quality director and signed by the chief of NHTSA's Office of Defects Investigation (ODI), warns that the OEM could face penalties of up to $24,423 per day, and other actions, if it does not respond "promptly and fully."
Some Tesla owners have long complained about phantom braking incidents. NHTSA said in February that it had begun a preliminary investigation involving 416,000 vehicles after receiving 354 consumer complaints that Tesla vehicles had activated the brakes unnecessarily.
"The complaints allege that while utilizing the ADAS features including adaptive cruise control, the vehicle unexpectedly applies its brakes while driving at highway speeds. Complainants report that the rapid deceleration can occur without warning, at random, and often repeatedly in a single drive cycle," NHTSA said in February.
Automatic braking is an advanced driver assistance system (ADAS) feature included in Tesla's Autopilot, which allows the vehicles to brake and steer automatically within their lanes with driver oversight.
According to Reuters, owners said they have raised concerns with Tesla, which has dismissed the complaints, saying the braking is normal.
NHTSA's ODI launched a separate investigation into the Autopilot system in August, after identifying eleven crashes in which Tesla models struck emergency vehicles.
The phantom braking issue has led to at least one lawsuit against an insurer over reported hard braking issues that the owner claims never happened.
In a suit against State National Insurance Company, a Chicago Tesla owner claims that the carrier raised his premium based on false forward collision warnings that were reported by the vehicle.
The complaint, filed by Shawn Schneider in the Chancery Division of the Circuit Court of Cook County, Illinois, seeks class action status for all U.S. drivers who purchased usage-based insurance (UBI) for their Teslas from State National. It seeks unspecified damages.
The false reports have a significant impact on premiums, the suit claims, because forward collision warnings are weighed more heavily than three other factors in determining the Safety Score on the Tesla app.
State National Insurance is the underwriter for Tesla Insurance in several states, including Illinois. However, the suit does not mention Tesla Insurance.
Images
Featured image: The dashboard of a Tesla Model 3. (Aranga87/iStock)
Share This: