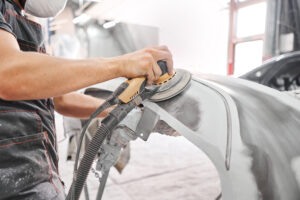 Contra Costa College (CCC) in California will offer a two-day collision repair and automotive services pilot program for high schoolers and recent high school graduates on June 21-22 from 9 a.m. to 12 p.m.
Called "CCC Automotive Camp," the no-cost program will include hands-on learning and shop tours for participants and is an effort to boost enrollment in the college's collision engineering apprenticeship program back to pre-pandemic levels. Automotive Department Co-Chair and Collision Repair Technology Professor Laura Lozano said it's also a chance to get the word out to high schoolers about the program.
Students will get the chance during the camp to learn about and have a try at welding, paint refinishing, and changing wheels. They'll also hear from current program students and graduates as well as industry professionals, including potential employers, about what it's like to work in the industry.
"We're hoping to make some more of these events available to the community and high schools to bring awareness to our program, our industry, the industry's technician shortage, and the [CCC] collision engineering program," Lozano said.
Students that just graduated from high school and decide they want to enroll in CCC's collision engineering apprenticeship program will be offered assistance with registration during the Automotive Camp. CCC hopes to fill 25 new slots in the program, Lozano said.
Enterprise Holdings and Ranken Technical College launched the program at four colleges last year "to address a paradigm shift in the transportation industry as it faces a major technician shortage," according to an Enterprise News release. "With nearly 80,000 new collision technicians needed between 2020 and 2024, according to the TechForce Foundation, demand is significantly outpacing a steadily declining supply of postsecondary collision technician entrants. Meanwhile, today's rapid pace of vehicle innovation and connectivity is adding demands on technicians to have expertise in not only car repair, but also technology and engineering."
Amber Alley, manager of Barsotti's Body and Fender in California and a member of CCC's collision repair advisory board, said now is the time for shops that aren't involved with local collision repair programs to participate.
"I personally think it's everything at this point," she said. "The traditional technical collision repair programs are not necessarily connected with what the shops need and what they want so a lot of times it's treated more like hobbyists. …This is a program where they're really committed to developing skills necessary for these graduates to build a career on."
Alley recently hired a current CCC collision engineering student full-time and hopes to hire a second student this fall.
It's evident, she added, that CCC takes input from shops seriously and is very connected with the local collision repair community. "It's only going to work if you have the shops supporting it and having a voice in it and making sure that it's going in the direction that we, the employers, need."
To register for the summer high school program, click here. To learn more about the collision engineering program visit contracosta.edu/classes/academic-departments/automotive-collision-repair.
Incoming high school seniors who are interested in the mechanical side of the automotive industry may want to check out Universal Technical Institute (UTI)'s free "Ignite" summer program, which covers how vehicles are designed and manufactured; how gasoline and diesel engines work; fundamental diagnostic, maintenance, and repair skills; computer management and control systems; steps to safely service hydraulic brakes; and information on career opportunities for qualified technicians.
The first sessions of the 2022 sessions began back at full capacity in Avondale, Arizona; Lisle, Illinois, and Orlando, Florida on Monday. Second sessions will begin on the Avondale and Lisle campuses on June 27.
Other program sessions and locations include:
Austin, Texas – Session 1: June 27 to July 15 and Session 2: July 18 to Aug. 5;
Bloomfield, New York – July 18 to Aug. 5;
Dallas, Texas – Session 1: June 27 to July 15 and Session 2: July 18 to Aug. 5;
Exton, Pennsylvania – Session 1: June 27 to July 15 and Session 2: July 18 to Aug. 5;
Houston, Texas – Session 1: June 27 to July 15 and Session 2: July 18 to Aug. 5;
Long Beach, California – Session 1: June 27 to July 15 and Session 2: July 18 to Aug. 5;
Mooresville, North Carolina – Session 1: July 18 to Aug. 5
Phoenix, Arizona  – Session 1: June 13 to July 1;
Rancho Cucamonga, California – Session 1: June 27 to July 15 and Session 2: July 18 to Aug. 5; and
Sacramento, California – June 27 to July 15.
Students can apply at UTI.edu/Ignite.
IMAGES
Featured image credit: Malkovstock/iStock
More information
CIC panel: Wages, public perception of collision repair industry contribute to tech shortage
Share This: