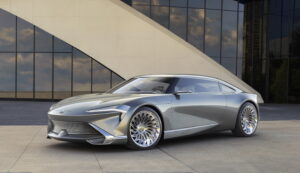 Buick announces all-EV lineup by 2030, makes vehicle connectivity services standard equipment
By on
Announcements | Technology
Buick has announced that it will fully electrify its vehicle lineup in North America by the end of the decade, and will introduce its first battery electric vehicle (BEV) for the market in 2024.
The OEM also announced that it is expanding vehicle connectivity with its current lineup, making three-year subscriptions to GM's OnStar and Connected Services Premium Plan standard equipment as of this month.
The transition to an all-EV lineup will be a major shift for Buick, which currently offers U.S. customers a lineup of four SUVs, all powered by internal combustion engines.
The first Buick EV launched in North America will be an SUV built on GM's scalable Ultium battery platform, Buick spokesman Stefan Cross told Repairer Driven News.
He said the SUV will carry the Electra name, followed by an alphanumeric designator not yet announced. All future Buick EVs will carry the Electra name, he said.
Cross said he could not offer details about the vehicle's architecture, but said it will be intended to appeal to "the premium SUV market."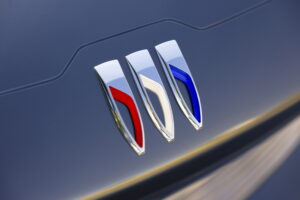 Buick last week unveiled its Wildcat EV concept, a coupe that indicates the OEM's future thinking, according to Rob Peterson, Buick's marketing manager.
"What this whole concept car does, is gives us a visual representation of how the brand is actually shifting as we evolve into electric vehicles," Peterson told the Detroit Free Press. "There's no better marketing than having a beautiful car out on the road. This concept is a start."
Peterson said Buick is likely to remain an all-SUV brand, even though the Wildcat is a coupe.
"There are no plans or commitment to bring back coupes right now, but never say never," Peterson told the Detroit Free Press. "Coupes might have a place in the future."
Buick becomes the second GM division to go all-electric. Cadillac has announced that it will transition to EVs by 2030, like Buick, and is planning to begin deliveries of its first BEV, the LYRIQ, this fall.
GM has said it plans to eliminate tailpipe emissions from all new light-duty vehicles by 2035, and to make its global products and operations carbon neutral by 2040.
Wildcat EV concept
As a possible sign of things to come, it may be useful to look at the Wildcat concept.
Buick says the styling was "developed to convey the all-new design language that will influence Buick production models for the foreseeable future." It includes a forward-leaning front-end that features a low-mounted, trapezoidal grille; blade-style taillamps faired into the sail panels; "semi-swing" doors, and a windshield that wraps around and flows into the side glass.
"The Wildcat EV concept represents the real design future for the brand," Sharon Gauci, executive director, Global Buick and GMC Design, said in a statement. "Buick has always been forward looking and this expression is a glimpse of where we're going, and the optimism we have for the limitless possibilities of an electric future."
"Our forthcoming products will adopt a new design language that emphasizes a sleek, dynamic and forward-looking appearance," Gauci said. "Our exteriors will incorporate fluid movements that contrast with tension to convey motion. Interiors will balance modern design, new technologies and attention to detail to evoke warmth and a rich sensory experience."
Naturally, as a concept vehicle, the Wildcat is brimming with technology. The interior features a sweeping touchscreen, with a complementing screen on the console, that offers access to the vehicle's infotainment systems.
Buick said the concept is a platform for futuristic features "such as artificial intelligence, biometrics and aromatherapy." It envisions technology that will keep track of the driver's heart rate and automatically adjust lighting, activate the massaging seats, and disperse scents to calm them down.
"Everything about the concept is intended to convey what's possible — in design, technology and the transformative experience of EV mobility," Buick said.
Connectivity services made standard
For the time being, repairers can expect to see more Buicks with what had been optional connectivity services. Beginning this month, all new retail Buick vehicles in the U.S. will include three years of OnStar and Connected Services Premium Plan.
Services such as remote key fob, Wi-Fi data, and OnStar safety services will be included as standard equipment on the vehicle and included in the Manufacturer's Suggested Retail Price.
OnStar includes automatic crash response, emergency services, the OnStar Guardian app, crisis assist, roadside assistance, and stolen vehicle assistance.
The Connected Services Premium Plan includes remote key fob, voice service, vehicle status, vehicle locate, remote personalization, and on-demand diagnostics.
Images
Featured image: Buick's Wildcat EV concept. (Provided by Buick)
Buick's new tri-shield badge will will be body-mounted onto the front fascia of Buick products starting in 2023. (Provided by Buick)
Share This: