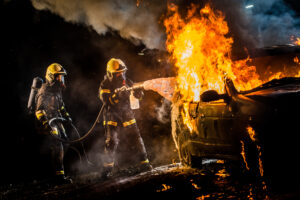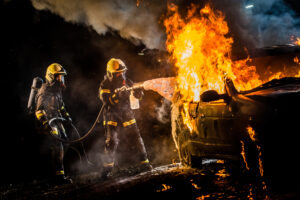 A West Virginia fire department has teamed up with the West Virginia University Fire Extension Service to train first responders in electric vehicle (EV) response — a task that only eight of 22 automakers have completed at the request of the National Transportation Safety Board (NTSB).
The Huntington Fire Department became the first career department to receive EV fire and incident training from the WVU Fire Extension Service, which is also the first to require all firefighters to take the training, according to the Associated Press.
This serves as a noteworthy reminder to collision repairers to follow OEM procedures to properly de-energize batteries and to avoid fire risk and thermal runaway. Honda, Hyundai, Mitsubishi, Porsche, Proterra, Van Hool, Volkswagen, and Volvo have updated their emergency response guides (ERGs) to include vehicle-specific information for fighting high-voltage lithium-ion battery fires in their EVs.
WVU Extension Fire Service and the National Alternative Fuels Training Consortium (NAFTC) at WVU teamed up to produce the free fire response online course called "Electric Vehicle Safety: An Awareness Level Training." It's sponsored by General Motors and includes a classroom component and demonstrations. Topics include identifying hybrid EVs and battery EVs at an incident site, assessing for actual or potential EV battery damage, de-energizing vehicles, avoiding thermal runaway, and extinguishing EV and hybrid electric vehicle fires.
"Rural places like West Virginia that have been slower to see electric vehicles on the roads are going to be seeing a lot more of them sooner rather than later," Trina Wafle, NAFTC director, said in a WVU statement. "We are proud to be part of this partnership to offer easily accessible awareness training."
Fire Extension Service instructor Tom Miller said the program was piloted by the National Volunteer Fire Council and requests are coming from fire departments across the country for the training, according to the AP. The training is available to all first responders in the NVFC Virtual Classroom.
EV fires may take between 3,000 and 8,000 gallons of water per passenger vehicle to extinguish and that number goes up with commercial vehicles, according to the AP. Lithium batteries used in EVs can also release toxic gases when they're on fire.
"We will refresh ourselves from time to time (on the training)," Huntington Fire Chief Greg Fuller said, according to the AP. He added that some of the firefighters who took the training are instructors and training may change as vehicles evolve.
Fuller said when EV or hybrid vehicles catch fire callers should let 911 dispatchers that those types of vehicles are involved and to avoid fires at home, he said home charging stations should be installed to the manufacturer's recommendations and by a licensed electrician, the AP reports. That should also be the case at collision repair shops that have chargers.
Matthew Kirby, a firefighter for more than 20 years who recently responded to a hybrid vehicle fire, told WVU his main concern in any EV accident is not knowing where the power cables are and if they are still energized.
"My biggest fear is they have a car wreck, and I have to cut the door off to get them out, and I have to cut a cable in front of me," Kirby said. "If I snip that cable, does that electrify the tools I'm cutting with and, in turn, electrify me?"
IMAGES
Featured image credit: simonkr/iStock
Share This: