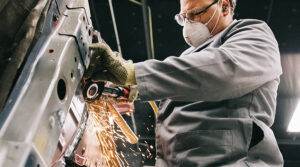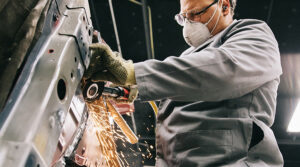 Toyota has issued a Collision Repair Information Bulletin (CRIB) reinforcing its position on some key collision repair topics, including the prohibition against the use of heat to straighten body and frame components, and proper welding techniques. The bulletin applies to all Toyota, Lexus, and Scion vehicles.
Toyota's updates serve as a reminder that repairers should check for the approved OEM procedure for every job, every time, regardless of manufacturer. The bulletin should not be considered all-inclusive or a substitute for training, Toyota cautions.
Because high strength sheet steel is used for structural body and frame components, it's important that heat not be used in repair procedures, Toyota said. Heat can change the crystalline structure of the steel, causing a significant decrease in strength, Toyota warned. Heat also damages the panel's zinc coating, reducing its resistance to corrosion.
Damaged door intrusion beams must be replaced, and not repaired, Toyota said. Beams are designed to absorb, channel and dissipate energy in the event of a collision, and will no longer perform as intended if repaired. Complete door replacement is called for when a beam is damaged, Toyota said.
For similar reasons, damaged bumper reinforcements must be replaced, and not repaired, Toyota said.
Generally speaking, body and frame deformations that cannot be returned to original shape by cold straightening – pushing, pulling, and hammering – are classified as kinks, according to Toyota. Components that are kinked must be replaced. Any deformation that can be addressed by cold straightening is classified as a bend.
Welded frame components are to be installed using gas inert arc welding/metal inert gas (MIG) techniques, Toyota said. It specifies the use of ER70S3 welding wire and encourages repairers to ensure proper weld setting and penetration with practice welds. Repairers must not weld over factory weld beads, and must clean affected repair surfaces and apply epoxy primer and matching topcoat, Toyota said.
The only approved welding technique is a butt joint without backing, Toyota said. It warned that using sleeves and inserts will interfere with crash energy management designs. Repairers are directed to ensure proper root-gap, weld settings, and penetration with practice welds, and to cut and join only in locations specified by the OEM.
Before performing any electric welding, technicians must turn off the vehicle's ignition and remove the negative connection to its 12-volt battery, Toyota said. Any ECUs within 18 inches of the weld site must be removed, and the main supplemental restraint system (SRS) computer connector must be unplugged. Toyota advises repairers to wait at least 90 seconds after these steps to begin welding.
For more information, visit the Toyota Technical Information System (TIS).
More information
I-CAR: How to Find Toyota/Lexus CRIBs 
https://rts.i-car.com/collision-repair-news/how-to-find-toyota-lexus-cribs.html
Images
Featured image provided by Toyota.
Share This: