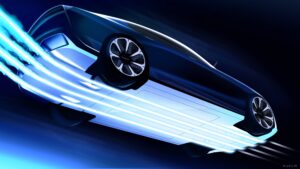 Stellantis upgrading 2 testing centers toward goal of improved EV, AV tech
By on
Technology
Stellantis has invested €33 million ($34.8 million) in its Auburn Hills, Michigan and Turin, Italy global testing facilities to work toward its goal of best-in-class electric vehicle (EV) performance and "the highest level" of autonomous driving technology.
The investment is part of Stellantis' "Dare Forward 2030" strategic plan, which includes the goal of a 50% reduction in carbon emissions from 2021 levels by 2030 and carbon net-zero emissions by 2038.
In Michigan, construction is underway to install moving ground plane technology, otherwise known as a "rolling road," to the facility's wind tunnel to simulate on-road travel. The $29.5 million upgrade will provide more accurate aerodynamics measurement and driving range readings of the battery electric vehicles (BEVs) that are tested by reducing wind drag benefits, according to a news release from Stellantis.
The rolling road enables measurement of ventilation drag, which is the resistance associated exclusively with wheels and tires in motion, and accounts for 10% of total, real-world aerodynamic drag. It is slated to be operational in 2024.
The Orbassano Safety Center in Italy has been "significantly upgraded" with a €5 million (about $5.3 million) investment to host four test tracks with four impact points and capabilities for testing of "mild" hybrid vehicles, plug-in hybrid vehicles, and BEVs and automated driving technology on passenger cars, trucks, and light commercial vehicles. Vehicles tested at the center can be certified to meet more than 175 international safety and technological standards.
"Our world-class tech hubs across the globe are doing the work today that will make tomorrow's Stellantis vehicles industry leaders in capability, performance, and safety," said Stellantis Chief Engineering Officer Harald Wester, in the release.
He added the OEM is looking at "a comprehensive view of the challenges" to consider solutions that will give them a front row seat in "the race to innovate and improve."
Orbassano's test tracks include a computer-driven camera positioning system with 13 moveable outboard camera locations over the impact point and include the capability for underbody high-speed video while up to five cameras can be mounted on board the test vehicle.
The impact zone of the test tracks is fitted with a Messring movable block for front and side-impact tests and Orbassano runs the same passenger-side small overlap test that is being used by the Insurance Institute for Highway Safety (IIHS).
The data collected from the testing is used in evaluating current vehicle designs and for future ones at Stellantis facilities around the world.
IMAGES
Featured image: An illustration is shown of what Stellantis' "rolling road" testing technology will look like. Belts enable wheel movement at all four corners of the vehicle while a fifth belt runs beneath the vehicle as if it were rolling over a roadway. (Credit: Stellantis)
Share This: