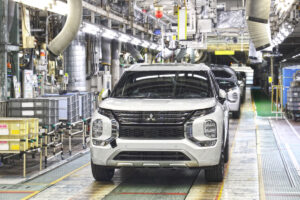 Mitsubishi said it has voluntarily recalled 56,080 model year 2022 Outlander vehicles over faulty software that might prevent the use of the rearview camera.
The recall affects Outlanders manufactured between Feb. 8, 2021 and April 8, 2022, Mitsubishi said. The OEM said it is unaware of any reports of accidents or injuries related to the issue.
Owners are to return their vehicles to the dealer to install new software for the Alliance In-Vehicle Infotainment (A-IVI) system.
"Due to external electrical noise or voltage fluctuation, the A-IVI may not receive an image signal from the rear view camera, potentially resulting in a black screen displaying on the A-IVI," the Product Safety Recall Report from the National Highway Traffic Safety Administration (NHTSA) states.
A spokesman for Mitsubishi told Repairer Driven News that a scan tool will not be able to identify a vehicle involved in the campaign.
Mitsubishi said it will notify its dealers by July 18 and will begin notifying owners on Aug. 1.
The OEM began investigating the problem on June 2, 2021, after receiving its first field report that the screen had gone blank while the vehicle was in reverse.
After analyzing further affected units, Mitsubishi Motor Corpo. advised Mitsubishi Motors North America to conduct a safety recall. To date, the OEM said it is aware of 10 field reports, eight of which were also warranty claims, from the U.S.
All vehicles produced after April 9, 2022 have A-IVI units with the new software, the OEM said.
This is the third recall for the Outlander this year and the largest. In May, 2,865 vehicles were recalled over an automatic seat belt locking retractor that could deactivate before the seat belts were fully retracted, which could result in an unsecured child restraint system.
In January, 16,616 vehicles were recalled to replace fuel pumps that were prone to failure.
Images
2022 Mitsubishi Outlander production at Mitsubishi's plant in Okazaki, Japan. (Provided by Mitsubishi)
Share This: