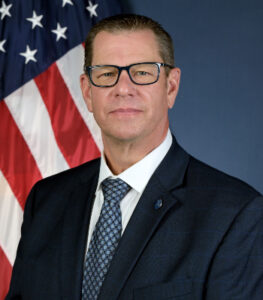 NHTSA administrator stands behind ADAS as way to prevent collision fatalities
By on
Technology
NHTSA Administrator Steven Cliff believes automatic emergency braking (AEB) along with other advanced driver assistance systems (ADAS) in all vehicles will greatly benefit safety.
He told Automotive News in a recent interview that "increasing the stringency" of automatic braking as well as mandating it in all vehicles once the systems meet compliance tests "are going to provide huge benefits to all drivers and other road users who might be impacted by crashes."
According to NHTSA, in 2020, 38,824 people died in vehicle crashes, many of which "were tied to human error." The agency's website states that "driver assistance technologies hold the potential to reduce traffic crashes and save thousands of lives each year."
In June during an update he provided on NHTSA's New Car Assessment Program (NCAP), Cliff said the agency's commitment to improving safety for all road users is "urgent because of what we see on our nation's roadways."
"Tens of thousands of traffic fatalities make up about 95 percent of all transportation-related deaths in this country, which is unacceptable."
Decreasing fatalities is twofold, he said — by changing the culture that accepts thousands of deaths as OK and through a collaborative approach, such as that laid out in U.S. DOT's National Roadway Safety Strategy (NRSS). The 42-page document focuses on five objectives – safer people, safer roads, safer vehicles, safer speeds, and post-crash care. The objectives correspond with the department-wide "Safe System Approach," which "incorporates the 5 Es: equity, engineering, education, enforcement, and emergency medical services," Cliff said. He added that NHTSA's NCAP is "an important component" of vehicle crashworthiness and safety.
In March, NHTSA filed a federal request for comment (RFC) on changes to its NCAP, which, in part, includes adding recommended advanced driver assistance systems (ADAS) and tightening test procedures and performance criteria for the four ADAS technologies it currently recommends — forward collision warning (FCW), lane departure warning (LDW), crash imminent braking (CIB), and dynamic brake support (DBS).
Cliff believes that when the four ADAS are combined "a significant proportion of all crashes, fatalities, and injuries" will be addressed. He also touted NHTSA's "first-ever" NCAP roadmap that outlines plans to update it in phases over the next several years.
The federal Infrastructure Investment and Jobs Act mandates that the Secretary of Transportation will "establish minimum performance standards with respect to crash avoidance technology… and "require that all passenger motor vehicles manufactured for sale in the United States on or after the compliance date… be equipped with forward-collision warning, automated emergency braking, lane-departure warning, and lane-keeping assist in all passenger vehicles."
IMAGES
Featured image: National Highway Traffic Safety Administration (NHTSA) Administrator Steven Cliff (Credit: U.S. DOT)
More information
NTSB chair: NHTSA's vehicle safety testing lags behind, 'fails consumers'
Share This: