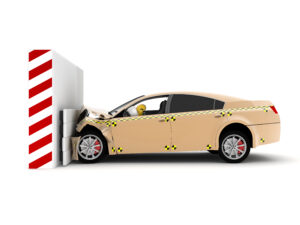 NTSB chair: NHTSA's vehicle safety testing lags behind, 'fails consumers'
By on
Legal | Technology
The National Highway Traffic Safety Administration (NHTSA)'s New Car Assessment Program (NCAP), also known as the 5-Star Safety Rating Program, that Americans use when shopping for new passenger vehicles "fails consumers" by not including collision avoidance and other safety technologies in the ratings and is approaching "near irrelevance," according to National Transportation Safety Board (NTSB) Chair Jennifer Homendy.
In March, NHTSA filed a federal request for comment (RFC) on changes to its NCAP, which, in part, includes adding recommended advanced driver assistance systems (ADAS) and tightening test procedures and performance criteria for the four ADAS technologies it currently recommends — forward collision warning (FCW), lane departure warning (LDW), crash imminent braking (CIB), and dynamic brake support (DBS).
"NTSB support for forward collision avoidance systems remains firm, as research and real-use data consistently show significant benefits in reducing the frequency and severity of rear-end crashes," Homendy wrote in a 13-page letter in response to NHTSA's RFC. "…The NTSB supports, whenever possible, harmonizing testing protocols with those used by NCAPs around the world."
Homendy criticizes the current U.S. NCAP for its "lack of progress" when compared to testing conducted by the Insurance Institute for Highway Safety (IIHS) and The European New Car Assessment Programme (Euro NCAP). For several years, both have included ratings of safety technologies, such as ADAS, in overall vehicle safety scores, she said. Homendy also notes that what NHTSA lists as "emerging technologies" are "far from novel technologies" and "most are currently available technologies."
"For about a decade, a vehicle's overall safety rating, as determined by various NCAP programs around the world and by the IIHS in the United States, has been based on the vehicle's crashworthiness and the presence and effectiveness of its various safety technologies," she wrote. "Yet, a top 5-star safety rating awarded by US NCAP can be achieved by a vehicle that has none of the basic collision prevention and other driver assistance technologies."
Homendy reiterated the importance of several recommendations NTSB has made to NHTSA over the past 10 years to improve its NCAP:
"NHTSA started the process of expanding NCAP with a 2013 RFC. In 2015, the FAST Act (Section 24322) required NHTSA to
promulgate a rule to ensure that crash avoidance information be included on the Monroney (window) label within 1 year. Seven years later, NCAP still does not rate any vehicle safety technologies, the Monroney label has not been modified, nor has
NHTSA proposed to do either of these things in the current RFC."
In 2015, "NTSB recommended that NHTSA develop and apply testing protocols to assess the performance of forward collision avoidance systems in passenger vehicles at various velocities, including high speed and high velocity-differential." The recommendation remains open with an unacceptable response.
"In 2016, NHTSA made a limited change to NCAP by adding AEB to the list of recommended technologies to help prevent or mitigate rear-end crashes, starting with model year 2018 vehicles. This change did not expand NCAP ratings or rate AEB systems. No other changes have been made to NCAP.
In 2018, NTSB "determined that automated pedestrian safety systems could reduce pedestrian injuries and that NCAP could serve as a mechanism to incentivize incorporation and further improvements of these safety systems. The NTSB issued numerous recommendations to NHTSA, including to develop performance tests for evaluating automatic pedestrian safety systems; vehicle collision avoidance technologies could reduce the frequency of crashes with motorcyclists." NHTSA said it would seek comment on NCAP upgrades but NTSB said over a year ago that the administration has "collected sufficient information to make the needed revisions to the NCAP, and we urge you to move forward with the upgrade." The recommendation remains open.
In 2019, the NTSB recommended that NHTSA incorporate into its NCAP the evaluation of vehicles to avoid collisions with bicycles. That recommendation also remains open.
Lastly, in 2020, NTSB "recommended that NHTSA expand NCAP testing of forward collision avoidance systems to include common obstacles …and identified potential deficiencies in the electric vehicle manufacturers' guidance to emergency responders. As a result, the NTSB recommended that NHTSA factor in the availability of a manufacturer's emergency response guide (ERG) and its adherence to international standards and recommended practice when determining a vehicle's NCAP score." NHTSA asked 22 OEMs to upgrade their ERGs and eight have done so.
"Today, safety is not only about crashworthiness, but incre​​​asingly about crash avoidance," Homendy said in a news release. "Yet many of these life-saving technologies the NTSB has been recommending for decades are not included in the 5-Star Rating Program. How is it possible that a car in the U.S. with none of the currently available collision-prevention technologies could get a top rating? It's unacceptable."
Repairer Driven News asked NTSB if Homendy thinks there should be a safety rating program for insurance carriers regarding vehicle collision repair coverage. Willingness to pay to restore safety features and functions in accordance with published OEM repair procedures has been a well-documented area of friction in the claims-settlement and repair process experience, oftentimes leaving consumers in a difficult position. We also asked if the NTSB has considered an assessment program for repaired vehicles to ensure they are safely fixed before going back on the road.
Spokesperson Keith Holloway responded that the questions "will probably be best answered by NHTSA."
"NTSB does not go too far into issues with insurance and vehicle repairs. NTSB does not track vehicle repair. NHTSA is the regulatory agency would probably have more information about the specific guidelines of that industry."
NHTSA told RDN that IIHS already has a program that carriers "use for similar purposes" for vehicles sold in the U.S.
"Many states also have laws and regulations governing the conduct of automobile insurance providers and their obligations to their customers. State laws and regulations generally address the safety of vehicles being returned to use after being repaired. For vehicles that are sold in the U.S., the Office of Enforcement at NHTSA has processes established and works with vehicle manufacturers to (1) ensure that new vehicles are certified to meet Federal motor vehicle safety standards and (2) address potential safety related defects, to reduce vehicle occupant fatalities and injuries. NHTSA's Office of Enforcement continually monitors complaint and other data to detect potential safety defects in vehicles and the effectiveness of remedies for defects that have resulted in a recall."
NHTSA also collects data on warranty repairs "to help detect defects and recall repairs to determine effectiveness."
"Beyond that, any vehicle more than a few months old will have been 'repaired' to replace parts that wear out or have a limited service life," NHTSA said. "NHTSA does not collect data on all repairs."
According to NTSB, the board issued its first recommendation to NHTSA related to collision avoidance technology in 1995 and since then has made over 25 more recommendations.
"Instead of taking proactive steps, NHTSA's main activities related to NCAP expansion have been initiated by Congress," Homendy wrote in her letter. "…NHTSA's vision statement says, 'NHTSA aims to be the global leader in motor vehicle and highway safety.' Although the US NCAP was once the global leader in rating vehicle safety, NHTSA's inaction in the last decade continues to fail consumers and threatens to reduce the US NCAP to near irrelevance.
"Even though the Monroney label, which contains only crashworthiness information, can easily be seen by consumers purchasing new vehicles, 63 percent of the public is unaware of NHTSA's NCAP website, where basic safety technology information is located. Although 64 percent of consumers who purchase new vehicles are extremely/likely interested in vehicle safety technologies, those consumers must still seek non-government sources, such as the IIHS, to obtain valuable rated vehicle safety information. The NTSB urges NHTSA to again become a global leader and incorporate ADAS, other advanced safety technologies, and pedestrian protection into its overall NCAP rating."
Homendy also said NTSB "has previously expressed the need to strive for the performance we want the systems to be able to reach, not merely evaluate the current capabilities of the systems" and urges NHTSA to create testing protocols for all of the ADAS it currently recommends "with higher speeds and increased complexities, to provide manufacturers with a standardized platform to evaluate advanced capabilities."
One positive note Homendy made was that NTSB is "encouraged" by NHTSA's proposal to increase the vehicle speed for pedestrian AEB from 24.9 mph to 37.3 mph and that "we believe that higher speeds should be part of the NCAP roadmap to future improvements." The board also agrees with NHTSA's proposal to include dark conditions in the testing program.
Require Collision-Avoidance and Connected-Vehicle Technologies on all Vehicles, Implement a Comprehensive Strategy to Eliminate Speeding-Related Crashes​​, and Protect Vulnerable Road Users through a Safe System Approach are on the NTSB's Most Wanted List of Transportation Safety Improvements.
IMAGES
Featured image credit: 3alexd/iStock
Share This: