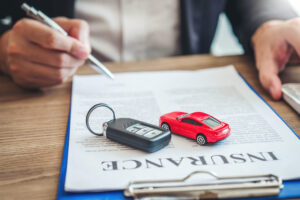 Embedded insurance, a way for carriers to sell policies to customers at the point of sale of consumer goods, is quickly evolving, with "billions of dollars of potential" in areas like auto, home, and business insurance, according to an executive with Swiss Re, the world's largest reinsurer.
"Historically, the insurance industry has spent a lot of resources and money trying to bring the customer to where insurance is sold. With embedded insurance, we reverse that – we bring the insurance where people live shop, and work," said Sebastien Bert, U.S. head of strategic partnerships, said during a recent Carrier Management webinar on insurance trends.
Embedded insurance is "digital-enabled, timely, smart, and seamless," Bert said. "When you need the insurance, it's easy to purchase and also easy to understand."
Embedded insurance is considered a way for consumers to manage risk at the time of purchase. It's been around for a number of years, he said, as in the purchase of travel insurance when buying an airline ticket, or a warranty for a new appliance. Now, that concept is being applied to much bigger segments of the industry.
"There are a number of public companies that are already doing this," he said. "In the auto space, you've got Tesla, and home, you have Porch, and in small business, you have Intuit and Toast. These are companies that we're keeping an eye on.
"As more and more public companies share out how this journey is going, I think it'll accelerate more interest within the broader ecosystem, for [more companies] to enter the space."
Bert predicted that it would take five to 10 years for embedded insurance to become a "significant portion" of the insurance industry. "Honestly, it's still a very small sub-segment of how insurance is distributed today," he said. "And it takes time for these partners to onboard insurance within their products and services."
Bert did not explain how embedded auto insurance would work with the dealer franchise model that's the norm in the U.S., but seemed to be suggesting that it could work for OEMs that sell directly to consumers, such as Tesla. He did not respond to a request for clarification from Repairer Driven News.
By relying on companies' existing relationships with their customers, rather than advertising, to sell their products, carriers could see significant savings, which they could use to make their products more affordable, Bert said in a Sept. 30, 2021 article on LinkedIn.
"If you think about how insurance is mainly sold today, the billions our industry spends on customer acquisition through intermediaries or direct to consumer marketing is jaw dropping. Try to think of another industry that puts up more commercials than insurance! Embedded players already have the customer in the door and with a certain level of trust so the cost to cross sell insurance is marginal," he said in the article.
According to a recent study by Dowling & Partners Securities LLC, auto insurers alone spent more than $10 billion on advertising in 2021, an increase of 3% from the previous year, despite concerns about rising claims costs.
Mobility services appear to be one area of opportunity. For instance, Swiss Re has partnered with Daimler, the parent company of Mercedes-Benz, to set up Movinx — a joint automotive and mobility insurance venture that will use data generated by highly automated vehicles to help insurers calculate risk.
Companies involved with embedded insurance range from those that are simply engaged in lead generation, to those that have purchased insurance companies and become carriers themselves.
From the carriers' perspective, embedded insurance allows them to become "more relevant and 'stickier'" with their customer bases, and offers a way for them to grow their products and services, Bert said during the Carrier Management webinar.
For insurtechs that have struggled with "distribution and customer acquisition and … getting proprietary data," embedded insurance offers a solution, he said.
"…[T]he insurance industry is very excited about this growing movement. It's a benefit to not only these new entrants that are coming in, but also for carriers, and reinsurers like ourselves," Bert said.
Bert appeared on Strategy Sessions, a monthly webinar series presented by Carrier Management that explores trends in insurance.
More information
"Embedded Insurance…the huge opportunity few are talking about," LinkedIn, Sept. 30, 2021
https://www.linkedin.com/pulse/embedded-insurancethe-huge-opportunity-few-talking-sebastien-bert?trk=public_profile_article_view
Morgan Stanley analysts: Tesla Insurance has potential to become a top-10 carrier
Images
Featured image by SARINYAPINNGAM/iStock
Share This:
Related