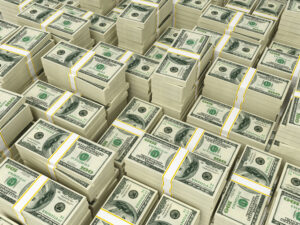 Auto insurers spent more than $10 billion on advertising in 2021, an increase of 3% from the previous year, despite concerns about rising claims costs, according to a recent study by Dowling & Partners Securities, LLC.
The report found that while many auto insurers were scaling back their ad spending, others – most notably Allstate – were spending more. The overall results were heavily influenced by GEICO, which cut back its spending by 4%, the carrier's first decrease since 2001, the study says.
Despite its cutback, GEICO led all auto insurers with $2.07 billion in advertising spending in 2021, or about one-fifth of the industry total, the study says.
"Advertising is an important component of the competitive landscape in personal auto, acting as a lever for managing growth which can be dialed up in times of favorable underwriting and scaled back in times of stress," the study says.
"With advertising a key non-rate 'tool' to turn on/off the growth spigot for direct writers during periods of price correction, other direct writers similarly significantly reduced spend in 2021. Until insurers return closer to rate adequacy and are ready to pivot towards growth, we expect advertising to continue to slow."
Historically, carriers' spending on advertising rose by 10% in 2020, on top of an 18% increase in 2019.


A "standout" among companies bucking the trend in 2021, Dowling & Partners said, is Allstate, which increased its advertising spending by 29%, and by another 9.9% in the first quarter of 2022. Allstate's spending in 2021 hit a record $1.3 billion.
The study quotes Glenn Shapiro, Allstate's president of property-liability, in a Q1 2022 call with investors: "A number of companies publicly talked about pulling back from marketing that left from the supply and demand curve of marketing costs that left it reasonable, and there was good economics on it, plus a lot of business gets sold in the first quarter."
The top 20 advertisers represented 93% of the total expenditure, the study says. While the companies in the top five – GEICO, Progressive, Allstate, State Farm, and Liberty Mutual – were unchanged, Allstate's 29% growth in spending moved it to third on the list, bumping State Farm to fourth.
State Farm decreased its spending by 8%, although the study notes that the figure is somewhat misleading. Managers and agents received some $1.4 billion to spend on advertising, which, if added to the $1.1 billion in recorded advertising expenditures, would place State Farm atop the list.

Progressive, the second-largest advertiser, cut its spending by 4%, to $1.87 billion. The reduction comes after several years of sharp increases; Progressive's spending was 74% of that of its rival GEICO in 2021, against just 36% in 2016.
USAA, number eight on the list, posted the largest year-over-year decline, down 44% to $283 million. Number 10 Nationwide had the second-largest decrease, down 10% to $166 million, the study says.
Rounding out the rest of the top 10 were number six, American Family, with a 14% increase to $376 million; number seven, Farmers, with a 2% decrease to $346 million, and number nine, Amica Mutual, with a 39% increase to $167 million.
The highest percentage increases were recorded by Allianz, which spent $29 million, or 130% more than in 2020, and NJ Manufacturers Group, which spent $95 million, or 127% more.
Allianz and Lemonade, the biggest spender among the insurtechs, were new to the top 20 list in 2021, the study says. They replaced Erie Insurance Exchange and the Auto Club of Michigan.
Dowling & Partners provided a copy of its study to Repairer Driven News and the material is used with their permission.
Perhaps it's worth noting that all five of the biggest spenders did poorly in the CRASH Network's 2022 Insurer Report Card, which asks repairers to rate carriers based on how well their "claims handling policies, attitude and payment practices ensure quality repairs and customer service for motorists." All placed in the bottom fifth of the list, with grades ranging from C to D-plus.
"The results show that many of the insurers getting the highest grades are smaller, regional insurance companies, ones that many consumers may not be familiar with because these companies do not spend billions of dollars per year on advertising," the Report Card says.
More information
Body shops rank insurers on ensuring high-quality repairs, service for motorists
Images
Featured image by solvod/iStock
Share This: