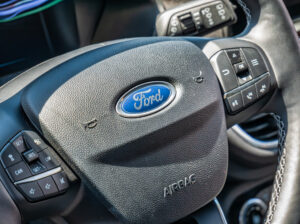 Ford has recalled 63,294 model year 2022 Broncos and Rangers for risk of windshield detachment in a crash.
The affected vehicles that were produced between December 2021 and April 2022 "may have inadequate front windshield adhesion to the vehicle body structure," according to the recall notice.
This points back to the importance of proper windshield adhesion, in general, but also for repairers such as the move by Ford earlier this year to create its own comprehensive certified glass installer network. Shops that want to be in the network will have to certify that they have the ability to carry out advanced driver assistance systems (ADAS) calibration and will undergo recertification every two years. Prior to that, in 2019, Ford stressed the importance of repairers getting glass installation correct, or ensuring subcontractor glass shops didn't botch the job.
The cause of the issue is unknown. Vehicles with the issue could exhibit increased wind noise or water leaks.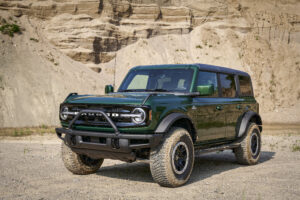 Owners will be notified by mail July 11-15 to take their vehicle to a Ford or Lincoln dealer to have their windshield removed and reinstalled using standard service procedures including camera calibration if required free of charge, according to the recall notice.
The updated windshield installation process was introduced into production on April 12.
The issue was first brought to Ford's attention on April 7 for the OEM's Critical Concern Review Group (CCRG) to review windshield installation control plan data from the Michigan Assembly Plant (MAP).
"On the previous day, a reported urethane concern from a customer's Bronco was reviewed. In expanding the search, data indicated that eight of 65 units did not meet Ford's internal adhesion control plan requirements. …From April 07 to April 13, 2022, additional Bronco windshield cutout tests were conducted and 16 additional units that did not meet Ford's enhanced internal threshold adhesion were identified."
Ford also found that the Ranger windshield installation process is similar to Bronco and so subsequent windshield cutout tests were completed on Rangers, which determined three of 14 didn't meet Ford's internal windshield adhesion threshold.
Ford Engineering and MAP began an investigation on April 21 into potential causes including ambient temperature and humidity, oven settings and variation, presence of contaminants such as silicone and fluorine, phthalate levels, clearcoat thickness, and more.
"While some evidence was found that could relate to each variable, no conclusions were reached," the chronology report states.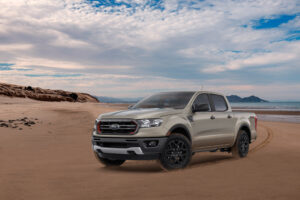 An expanded review of the plant's control plan data and more cutout data in May and June "identified bonding performance that did not meet Ford's internal requirements" on the vehicles that have been recalled.
"The level of windshield adhesion performance observed from the panel testing and vehicle glass cut-outs called into question whether the affected units would meet the 50% adhesion requirements" of the Federal Motor Vehicle Safety Standard (FMVSS) 212 Windshield Mounting, the report states.
Ford hasn't received any reports of accidents or injuries caused by the issue.
Ford also cautioned dealers in a bulletin that federal law requires them to complete the recall service before the new vehicles are delivered to buyers or lessees. Not doing so could result in a civil penalty of up to $21,000 per vehicle. However, Ford hasn't issued instructions to stop selling and delivering, or driving used vehicles under the compliance recall, according to the bulletin.
"Owners should contact their dealer for an appointment to have their vehicles remedied as soon as practicable. Owners can continue to safely drive their vehicles."
IMAGES
Featured image credit: Cristi Croitoru/iStock
2022 Ford Bronco (Provided by Ford)
2022 Ford Ranger (Provided by Ford)
Share This: