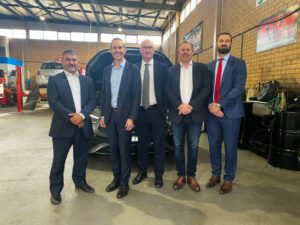 Australian 'right to repair' law guarantees data access to repairers, not part makers
By on
Announcements | Legal
Independent repairers in Australia now have access to all OEM information needed to diagnose, service, and repair vehicles under legislation meant to "establish a fair playing field" in the industry.
Under the Motor Vehicle Information Scheme (MVIS), which took effect July 1, OEMs are required to make service and repair information available to independent shops at a price that does not exceed fair market value.
Vehicle owners, members of the public, data aggregators, and tool and part manufacturers are not guaranteed access under the MVIS. Owners can rely on the basic service and repair information supplied by the owner's manual, the law says, while data aggregators and tool and part makers will continue to be able to negotiate agreements with the OEMs for access to the information.
The Australian government "expects these [negotiated] arrangements to continue as they increase convenience and choice for repairers," the law says.
The law was passed by the Australian Parliament on June 17 with no proposed amendments.
The MVIS is similar to the U.S. "Right to Repair" rules adopted under a memorandum of understanding (MOU) between the OEMs and representatives of the aftermarket industry in 2014.
"The law is a game-changer for thousands of independent workshops across the country who now have access to dealer level vehicle information for all brands sold in Australia, including software updates, wiring schematics, technical, security and EV information," said Stuart Charity, CEO of the Australian Automotive Aftermarket Association (AAAA). "This ensures workshops can compete in the market on a level playing field, and it future proofs their businesses."
The bill was filed in response to a 2017 study by the Australian Competition & Consumer Commission, which found that a voluntary commitment by the OEMs in 2014 had not resolved access issues.
"The AAAA has long fought for a law that gives independent workshops a fair go and motorists a choice of repairer. After more than a decade of campaigning, we are proud to see this law finally become a reality for the industry," Charity said.
The Insurance Council of Australia (ICA), an industry group, also welcomed the new law.
"As an industry that authorises around 1.4 million repairs annually, the vast majority of which are conducted by independent repairers, insurers are pleased to see the MVIS come into effect. It is critical that repairers have fair access to repair information to ensure a competitive repair sector," said Andrew Hall, CEO of the ICA.
The law protects information related to safety or security, making it accessible only to repairers or registered training organizations (RTOs) that have passed a background check. Personal information required for the check will be protected.
Under the legislation, "safety information" refers to the hydrogen, high-voltage, hybrid, or electric propulsion systems of a vehicle, and "security information" to mechanical and electrical security systems.
Unaddressed by the MVIS is access to telematics data, which is one of the focal points in the "right to repair" debate in the U.S. The Australian law specifically excludes "data automatically generated and transmitted by a scheme vehicle while it is being driven regarding driver or vehicle performance," GPS data, and "information only provided to a restricted number of selected repairers for the purposes of developing solutions to emerging or unexpected faults."
For instance, the law says, OEMs routinely work with "trusted technicians" to evaluate various repair methods. "The tested solution is scheme information when it is shared beyond these restricted repairers, i.e. it must then be offered to all repairers and RTOs," it states.
Also excluded is "commercially sensitive information about an agreement between the data provider and another person (for example, information in an agreement between a manufacturer and dealer about dealership obligations when conducting diagnostic, servicing or repair activities)."
There's also an exemption for information related to Level 3 and above self-driving systems.
Those who supply scheme information, referred to as "data providers" in the MVIS, to Australian repairers and RTOs are protected from certain civil claims.
The Australian Automotive Service and Repair Authority (AASRA), a new industry association, has been formed to administer the day to day operations of the MVIS.
The law sets out rules intended to ensure that all shops can access the needed information.
"If a data provider supplies, or offers to supply, scheme information to one or more repairers or RTOs, the data provider must offer to supply such information to all repairers and RTOs. An offer to supply must continue to be available until the data provider no longer offers that scheme information to any repairer or RTO," it says.
If practical, all repairers should be allowed to access any secure gateway that an OEM uses to provide information to "affiliated repairers," the law states. Otherwise, the information has to be offered in an electronic form that is "reasonably accessible" to all repairers.
"All repairers should also be able to enjoy the same functionality as, for example, affiliated repairers. If the information is not able to be provided in the same form as it is supplied or offered to other repairers, the information must be provided in electronic format to help ensure it will be in a form that is accessible," the law says. "For example, if information is provided to affiliated repairers as a searchable electronic document, this information cannot then be provided to independent repairers as a lengthy, hard copy document as this is neither the same form nor likely to be considered reasonably accessible."
The law generally requires OEMs to make the information available immediately, but does allow a delay of up to five days under certain circumstances.
More information
Images
Featured image: From left to right: John Khoury of the Motor Trades Association of Australia (MTAA); Andrew Leigh, member of Parliament; Tony Weber of the Federal Chamber of Automotive Industries (FCAI); Stuart Charity of the Australian Automotive Aftermarket Association (AAAA), and James Voortman of the Australian Automotive Dealer Association (AADA). The AAAA, FACI, AADA, and MTAA are represented on the industry association that will administer Australia's new right-to-repair law.
Share This: