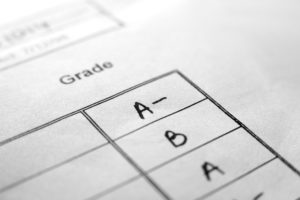 Slightly more than a third of the 93 auto insurers graded by collision repairers earned an overall grade of B or above, while none of the nation's 10 largest insurers received a grade higher than C+, CRASH Network reported in its annual "Insurer Report Card."
There was little movement from last year's survey, the authors said. Eleven of the 15 highest-graded insurers were repeats from 2021.
CRASH Network asked body shops to award each insurer a grade from A+ to F based on one question: "How well does this insurer's claims handling policies, attitude and payment practices ensure quality repairs and customer service for motorists?"
According to the authors, 1,153 shops in 49 states responded to the voluntary survey, which was conducted online in November-December 2021. Respondents were repair facility owners, managers, estimators, or other shop employees, who on average have 28 years of experience in the collision repair industry.
Shops gave letter grades to 144 different auto insurance companies. Only insurers that received a grade from at least 35 shops were included in the national ranking.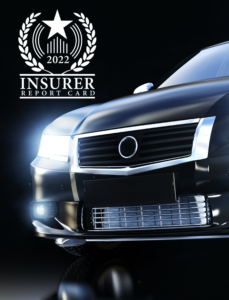 Insurers' grades were calculated by converting each individual letter grade to a numerical score, in order to calculate an unweighted average of all grades received. The final grade is the letter grade corresponding to an insurer's average score.
The shops' perspective "is unique given that most drivers go for years – a decade, on average – without interacting with their insurance company's claims department, but collision repairers do so every day," CRASH Network's John Yoswick said in a statement. "That gives them a front-row seat as to which companies do the best job taking care of policyholders – and which ones have some room for improvement. That's why we see the 'Insurer Report Card' providing helpful information for consumers as they consider which insurer to choose."
Some repairers added comments to their grades. "They criticized the insurers to which they gave lower grades using such phrases … as, 'cares more about costs than the quality of the repair,' 'pressures us to use cheap, low-quality parts,' 'slow claims processes,' and 'inexperienced adjusters,'" CRASH Network said.
Among those rising to the top 15 this year were Grinnell Mutual, whose grade improved from a B to a B+, and Wisconsin Mutual, which earned a B after not receiving enough ratings last year to qualify for a national ranking.
The survey found that shops that participate in an insurer's direct repair program (DRP) almost always give higher grades to that insurer than shops that don't. State Farm, for instance, got a B from program shops and a D from others; Allstate's grades showed a similar gap, at B- and D+. On the other hand, GEICO received a grade of C from its DRPs, not much different than the C- it received from other shops.
Many of the insurers getting the highest grades are "smaller, regional insurance companies, ones that many consumers may not be familiar with because these companies do not spend billions of dollars per year on advertising," the survey notes.
Among the 10 largest and best-known insurers, American Family and Travelers received the highest overall grades, at C+. USAA, Nationwide, Progressive, and Farmers each received a C; GEICO, Liberty Mutual, and State Farm were each graded C-, and Allstate trailed the pack with a D+.
The lowest grade awarded, a D-, went to regional insurer American Access, which does business in four states.
The report card lists insurers by state, and alphabetically, making it especially useful for consumers.
A free report with the 2022 "Insurer Report Card" findings can be downloaded at https://www.crashnetwork.com/irc.
Though the CRASH Network's survey has closed, collision repairers in Virginia, Maryland, West Virginia, and Washington D.C., still have time to take part in the regional survey being conducted by the Washington Metropolitan Auto Body Association (WMABA).
WMABA is asking shops to rate insurance company market behaviors in several categories. Responses will be accepted until March 31.
The survey is posted on the WMABA Website and also goes out to all regional members. It will be featured in Hammer & Dolly, and made available on the website in a consumer-friendly format.
"While WMABA stands on the customer being the vehicle owner, the involvement of the insurance companies in the process is something we hope will consistently improve. This survey will give repairers, consumers, regulatory bodies, or other interested parties a body of information to assist in future-facing decisions. Our hope is that this will be reflective of claims handling in our entire membership region," said Jordan Hendler, the association's executive director.
More information
CRASH Network 'Report Card': Body shops grade auto insurers' claims behavior during pandemic year
Images
Featured image: aker5000/iStock
Share This: