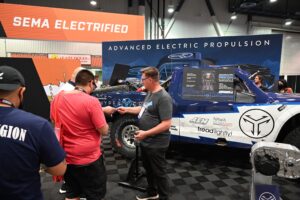 2022 SEMA Show to offer expanded EV exhibit area
By on
Announcements
The 2022 SEMA Show will include an expanded SEMA Electrified section featuring advancements in electric vehicle (EV) technology, organizers have announced.
Included in the special exhibit area, located once again in the Las Vegas Convention Center's North Hall, will be a curated collection of new products and solutions for EV platforms and conversions, SEMA said.
"Electric is still evolving and growing," Tom Gattuso, SEMA vice president of events, told Repairer Driven News. "As such, the SEMA Show helps show the industry what the trends are and what the future holds, and SEMA Electrified was created to meet the demand for a dedicated area where SEMA Show exhibitors could highlight their EV products and technology. The rapid growth of the EV market segment has created many business opportunities in the automotive aftermarket."
Sharing space in North Hall will be exhibitors in the mobile electronics and technology market segments.
Although EVs now make up just 1% of the passenger vehicles on US roads, sales and consumer interest are increasing rapidly, SEMA said. The organization said its market research has identified several areas of opportunity for the aftermarket, including providing parts and services for converting internal combustion engine (ICE) vehicles to electricity, building and modifying purpose-built vehicles, and accessorizing OEM EVs.
"SEMA is dedicated to helping its member companies identify those opportunities and adapt to the growing segment of the industry," show organizers said.
EV products and projects will not be confined to the exhibit area, but will be on display throughout the show, SEMA said.
SEMA Electrified debuted at the 2019 SEMA Show as a showcase of the latest electrification trends and technological innovations redefining the performance aftermarket, and has grown each year since.
Also returning to the SEMA Show is the Collision Repair & Refinish Stage, in Upper South Hall, where attendees can see free hands-on welding demonstrations and presentations by I-CAR, the Society of Collision Repair Specialists (SCRS) and OEMs. Top experts will be on hand to answer questions and lead interactive demonstrations on the collision repair industry.
SCRS will again be offering a full slate of Repairer Driven Education (RDE) seminars that will take place Monday, October 31 – Friday, November 4, during the show. The RDE series provides SEMA Show attendees with access to world-class education that speaks to the heart of issues faced in today's collision repair businesses. For 2022, SCRS has pulled together some of the most renowned industry experts to address challenges experienced by professional collision repair businesses. Sessions such as RD8 – How to Open and Operate a Successful ADAS Services and Calibration Business, RD12: Protecting Your Business Against Liability Exposure from Evolving Technology and RD20: The Importance of Wheel Alignment in ADAS Recalibration for Collision Centers all emphasize the role that advanced technology has in the future of collision repair.
The series includes the OEM Collision Repair Technology Summit, held Thursday during the SEMA Show. The Summit's three sessions feature distinctly different discussions between companies and individuals with rich histories of producing sophisticated advancements in the automotive and collision repair fields, and will tie in directly with the technological focus of the SEMA Electrified section. The event content will highlight architectural and technological developments in modern vehicles, with a focus on emerging trends that influence vehicle repairability and collision industry preparation – much like the 2021 Summit session on EVs featuring a panel of General Motors, Lucid Motors, and Rivian executives.
The IDEAS Collide Showcase, featuring 10 fast-paced, 10-minute presentations will similarly incorporate thought provoking IDEAS that may intrigue all SEMA attendees. Perspectives on Building an OE Centric Calibration Center, Modern Glass Replacement, and Making Safety Inspections a Non-negotiable Item are all topic areas that will have direct effect on repair centers work on EVs.
To learn more, or to register, visit www.scrs.com/rde.
The 2022 SEMA Show is scheduled for November 1-4. Registration is now open. For more details, visit www.semashow.com or www.sema.org, or call 909-396-0289.
Companies that would like to exhibit at the SEMA Show can call 909-396-0289 or write to sales@sema.org. Companies already registered to exhibit and that would like to showcase their EV products can contact Luis Morales, SEMA Director of EV Business Development, at 909-378-4856 or via email at luism@sema.org.
More information
2022 SEMA Show registration open, features SCRS lineup of seminars
Images
Part of the SEMA Electrified exhibit at the 2021 SEMA Show. (Provided by SEMA)
Share This: