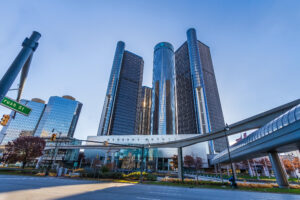 GM gives more detail on Michigan plants investment; CA lithium tax could delay EV timeline
By on
Market Trends
General Motors has provided details on the last chunk of funding it's investing in its Michigan assembly plants to produce more electric vehicles (EVs), EV batteries, and to expand assembly plant capacity, but Controlled Thermal Resources (CTR), a contracted partner of the OEM, sees a proposed California lithium production and extraction tax as putting a wrench in their battery production timelines.
In January, GM announced an investment of more than $7 billion in four Michigan manufacturing sites to increase battery cell production and EV manufacturing capacity, including $4 billion to convert its Orion Assembly plant to EV truck production and $2.6 billion from GM and LG Energy Solution through its Ultium Cells joint venture to build a new Ultium Cells battery plant in Lansing. GM now says the last part of the funding, $510 million, will be spent on two Lansing vehicle assembly plants, one of which will manufacture two "near-term" products. Four thousand jobs will be created across the state and 1,000 retained as a result of the investment, GM says.
The near-term products that will be manufactured in Lansing are the next-generation Chevrolet Traverse1 and Buick Enclave1 — both of which GM says will be assembled with globally sourced parts.
GM plans to have the capacity to build 1 million EVs in North America by the end of 2025 and one of its actions toward creating a "new and more secure" EV supply chain is its partnership with CTR to secure battery-grade lithium. CTR CEO Rod Colwell told Reuters the tax would cause him to miss his company's 2024 lithium delivery deadline to GM and would do the same for its 2025 deadline with Stellantis.
"Just the mere concept of this type of tax is having a chilling effect on development," Colwell told Reuters. "…If this passes, we will fight it or we will leave."
The Desert Review reports that the lithium tax is "widely supported" by all seven towns in California's Lithium Valley as well as Imperial County, environmental, and social justice groups. The tax was widely supported by all seven towns of the valley, the county, and environmental and social justice groups.
However, GM seems confident in moving forward with its all-electric future including building out EV and battery production capacity in Michigan. "Leveraging decades of manufacturing expertise, we are confident in our assembly production process," the GM news release states. "The critical piece we must invest in and win is battery production."
"We have been bold and clear about our goal to lead the EV transition – and leadership is not a moving target," GM Chair and CEO Mary Barra said on her LinkedIn page. "We are thinking differently, acting differently and working differently as we turn our aspirations into action."
GM's Orion plant expansion will include new body and paint shops and new general assembly and battery pack assembly areas. Electric truck production is expected to begin there in 2024. Orion Assembly will be GM's third U.S. assembly plant to be transformed for the production of Ultium-powered EVs, joining Detroit's Factory ZERO and Spring Hill Manufacturing in Spring Hill, Tennessee. The conversion will create more than 2,350 jobs and retain 1,000 current.
Production of the Chevrolet Bolt EV and EUV will continue during the plant's conversion to electric trucks. GM's $2.6 billion investment will build Ultium Cells' third U.S. battery cell manufacturing plant in Lansing, which will bring more than 1,700 new Ultium jobs to the Lansing area. Two facilities are currently under construction in Ohio and Tennessee.
Battery cell production is scheduled to begin in late 2024 and will supply battery cells to Orion Assembly and other GM assembly plants.
IMAGES
Featured image: GM Renaissance Center on November 10, 2020 in downtown Detroit, Michigan. (Credit: BSPollard/iStock)
Share This: