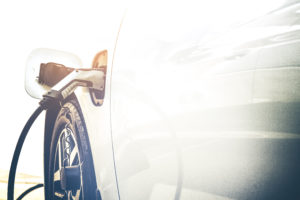 Both Ford and General Motors, in reporting strong 2021 fourth quarter and full-year earnings, said they'll continue to boost production of electric vehicles (EVs) this year and beyond.
Despite supply chain issues, Ford and GM had a solid year financially, with GM seeing record earnings. Ford ended the quarter with $12.3 billion in net income and had a full-year net income of $17.9 billion. GM saw a fourth-quarter net income of $1.7 billion and had a full-year net income of $10 billion.
President and CEO Jim Farley said Ford has taken EVs "mainstream" and is proud that customers see that, based on more than 275,000 combined reservations for the all-electric Mustang Mach-E SUVs, F-150 Lightning pickups, and E-Transit commercial vehicles. A Ford press release states the company was the No. 2 seller of EVs last year. Ford plans to double worldwide EV manufacturing capacity to at least 600,000 by 2023 and wants fully electric vehicles to represent at least 40% of its product mix by 2030.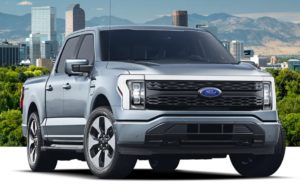 Ford has worked with LG Energy Solution to improve battery supply for the Mustang Mach-E and expanded capacity three times over the past 10 months. The release states that Ford is "relentlessly adding" to Ford+ capabilities for connectivity and EVs. Since October, Ford has launched VIIZR – a field-service tool for small-business customers built on the Salesforce platform, introduced Ford Pro Charging for commercial customers, begun a California initiative that allows plug-in EV owners to opt into carbon-neutral charging at home, made a five-year agreement with Stripe to scale "always-on," e-commerce capabilities for customers, formed Canopy – a joint venture with ADT for the security of customers' new and existing vehicles of all makes and created Ford Pro Intelligence – a cloud-based platform that powers digital services for commercial customer fleet support.
Ford sees a strong year ahead with "strong customer appeal" for the new Bronco, Maverick, E-Transit, F-150 Lightning, and the Mustang Mach-E.
In a letter to shareholders, GM Chair and CEO Mary Barra states the company "has been fundamentally reimagining every aspect of our business to prepare for an all-electric future" since 2017. After the successful financial results from the GMC Hummer EVs and BrightDrop EV600 cargo vans with the Ultium Platform, and based on results from the announcements of the Chevrolet Silverado EV, the Cadillac LYRIQ, and the Chevrolet Equinox EV, GM is "accelerating" its EV plan.
An investment announcement of $7 billion for a "massive expansion" of battery cell and EV assembly capacity in the United States was the most recent step. GM plans to manufacture 1 million EVs annually by the end of 2025. So far, one assembly plant – Factory ZERO – is dedicated solely to assembling EVs, which opened in 2021 on the city lines of Detroit and Hamtramck, Michigan. Plans are in the works to open four EV production plants in the U.S., Canada, and Mexico.
"Strong demand is driving the accelerat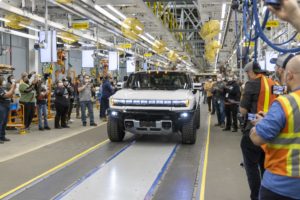 ion of our EV manufacturing," Barra wrote. For example, more than 110,000 Silverado EVs had been reserved as of Feb. 1 and more than 25,000 BrightDrop cargo vans have been reserved including by FedEx Express, Merchants Fleet, and Walmart.
GM boasted the Chevrolet Equinox EV as "highly anticipated" based on a recent preview of it to consumers, which is tagged as affordable with an estimated starting MSRP of $30,000.
As discussed by a panel of GM, Lucid Motors, and Rivian executives during the Nov. 4 OEM Collision Repair Technology Summit session on EVs at the 2021 SEMA Show, collision center preparation for what is coming with EVs is consistent with what automakers have been communicating for years – adherence to OEM procedures and investment in training and the proper equipment is what it will take to repair the vehicles correctly.
Barra went on to say that GM isn't just focusing on EVs, but is also "investing aggressively in growth platforms, and changing our business model to increase recurring revenue streams over the life of each vehicle we build." Those plans include building up the Ultifi software platform alongside Ultium as well as CarBravo, GM's new all-brand used-vehicle platform; OnStar Insurance; and GM Defense with the goal of doubling annual revenue by 2030. "Big steps" are also being made in commercializing the Cruise autonomous rideshare service, including inviting San Franciscans to sign up for driverless rides through an online waitlist, Barra wrote.
Barra envisions "strong results" this year based on record 2021 results and said "GM's strategy stands apart" by going "all-in to build an EV and AV [autonomous vehicle] ecosystem."
"With an improving outlook for semiconductors in the U.S. and China, we expect our 2022 results will remain strong," Barra wrote. "In fact, we expect our EBIT-adjusted earnings to remain at or near record levels in the range of $13 billion-$15 billion, all while investing more year over year in our growth businesses like Cruise, BrightDrop and our rapidly accelerating portfolio of electric vehicles."
IMAGES
Featured image credit: jonathanfilskov-photography/iStock
Ford F-150 Lightning (Ford Motor Co.) 
The first 2022 GMC HUMMER EV Pickup Edition 1 exits Factory ZERO in Detroit and Hamtramck, Michigan. (Photo by Jeffrey Sauger for General Motors)
Share This: