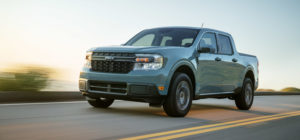 Ford on Tuesday revealed the 2022 Maverick, a hybrid "truck for people who never knew they wanted a truck."
The vehicle is smaller than the Ranger and features a unibody structure instead of the Ranger's body-on-frame setup. The base XL model starts at $19,995 when sales begin this fall, Ford said.
It appears repairers might also notice less aluminum than the Ranger, which itself used less of the nonferrous metal than the F-150.
The F-150 since the 2015 model year has featured an aluminum body over a steel frame. But Ford only built the 2019-present Ranger's fenders, hood and at least part of the tailgate out of aluminum and left the rest of the smaller truck steel.
Asked about materials, Ford spokeswoman Hannah Ooms confirmed the Maverick's hood was aluminum. She indicated other parts were aluminum, but didn't identify them.
"Maverick uses mostly steel throughout its frame and body, with the hood and various parts and subassemblies made from aluminum," Ooms wrote in an email Tuesday. "We treat each vehicle on a case-by(-)case basis – strategically applying the right materials at the right place for the right vehicle to improve efficiency, capability and performance."
A spec sheet describes the vehicle as "High-strength steel spaceframe, mild steel body panels."
Ooms said Ford built the Maverick using the "rugged" C2 unibody platform found on the Bronco Sport and Ford Escape.
"One thing that's non-negotiable is that Maverick is Built Ford Tough," Maverick chief engineer Chris Mazur said in a statement. "Our engineers were unrelenting, putting it through a battery of vicious on-road, off-road, environmental and simulated customer use testing until we were satisfied. Ford trucks are Ford trucks – through and through."
The vehicle is apparently also light enough that Ford seeks to reach 40 mpg in the city and 500 miles a tank with the standard hybrid powertrain. Ford called the Maverick the first truck in the country to come standard as a hybrid. A 2.0-liter EcoBoost gas engine is available as an option and can boost the vehicle's capability beyond the hybrid's 2,000 pounds of towing and 191 horsepower.
"The Maverick product proposition is like nothing else out there. It's a great-looking truck featuring four doors with room for five adults, a standard full-hybrid engine with city fuel economy that beats a Honda Civic, plenty of towing and hauling for weekend trips or do-it-yourself projects, and it starts under $20,000," Ford truck group marketing manager Todd Eckert said in a statement. "Maverick challenges the status quo and the stereotypes of what a pickup truck can be. We believe it will be compelling to a lot of people who never before considered a truck."
The hybrid setup may pose its own considerations to repairers. Besides the obvious precautions necessary when working on a high-voltage device, Ford has cautioned against exposing high-voltage hybrid and fully electric vehicle batteries to certain paint booth temperature conditions.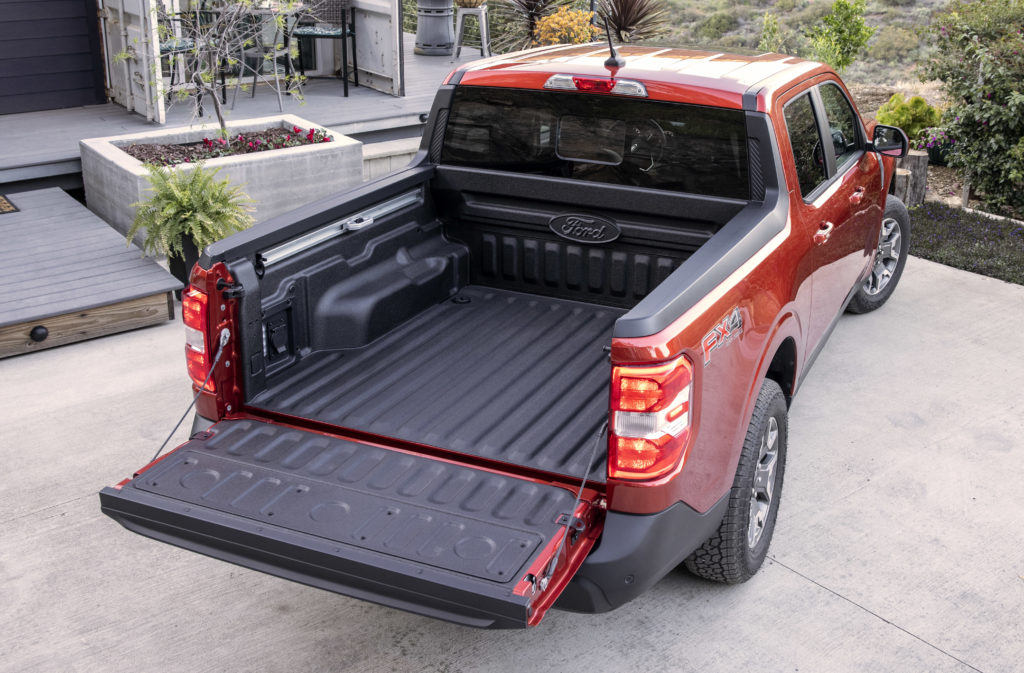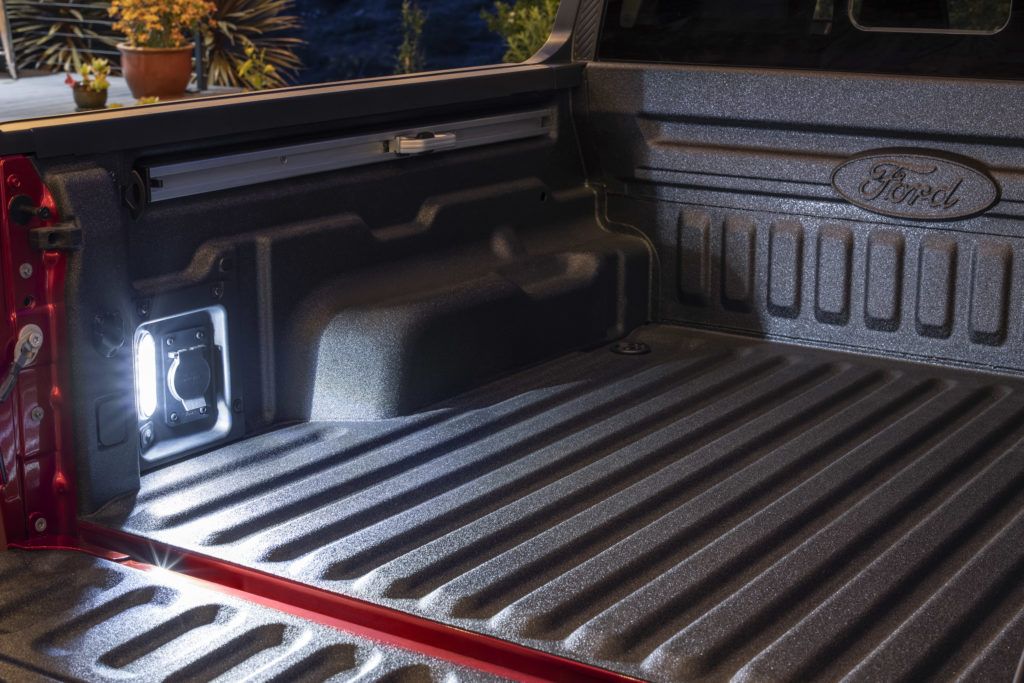 Shops and customers will note a variety of features within what Ford calls the 4.5-foot-long "FLEXBED." It has slots to accommodate the motorist using 2x4s and 2x6s to divide the bed. It also has threaded holes, two tie-downs and four D-rings. The tailgate can hold 500 pounds. Payload capacity for the truck itself is 1,500 pounds.
"The whole bed is a DIY fan's paradise," truck box developer Keith Daugherty said in a statement. "You can buy the bolt-in Ford cargo management system and we're happy to sell it to you, but if you're a bit more creative, you can also just go to the hardware store and get some C-channel and bolt it to the bed to make your own solutions."
Repairers might have an easier time handling the wiring on the truck. Ford will deter willy-nilly splicing projects which could affect the vehicle electrical system by just giving Maverick owners standard 12-volt power "prewired to an easily removable cover on either side of the back of the bed to support DIY electrical projects."
"People have forever been hacking into their wiring harness to run things like lighting, air pumps and other useful accessories," Maverick electrical engineer Gaby Grajales said in a statement. "This is a better solution – we're enabling customer needs while protecting the taillamp wiring and creating a fused circuit to avoid compromising the overall electrical system. With this, you have the option to select the factory-available box lighting or install your own home-built lighting setup, or even invent a whole new use for the 12-volt access points."
110-volt, 400-watt outlets in the bed and cabin are also available.
Ford said the bed rail caps rise up and "go vertical," running up the side of the back of the cab.
"It's designed this way to offer greater dent and ding protection, knowing people will load and unload the bed from the sides more frequently," Ford wrote in the news release. (The bed sides and floor are low to the ground for easier access.)
There's also no gap between the cab and bed, according to Ford.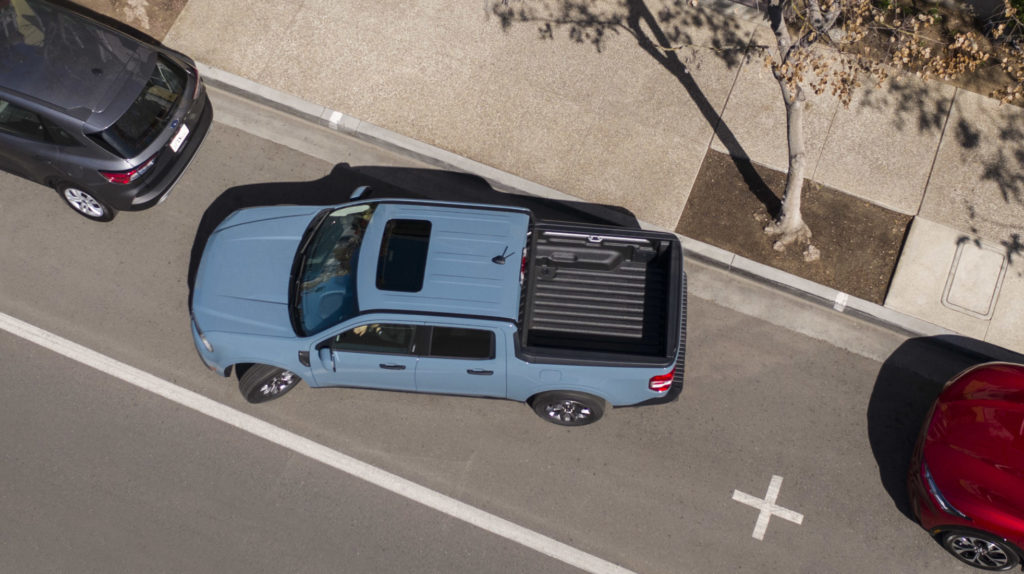 Other details potentially of interest to shops:
• The driver and passenger seat have dual-stage front airbags, and the driver has a knee airbag.
• LED headlights are standard. Automatic high beams are also standard.
• The Ford Co-Pilot360 advanced driver assistance systems suite is an option, but autobraking will come standard on all three trims, as will post-collision braking. Ironically, basic cruise control won't be standard until the XLT trim.
• A "spacious" storage bin sits under the rear seats.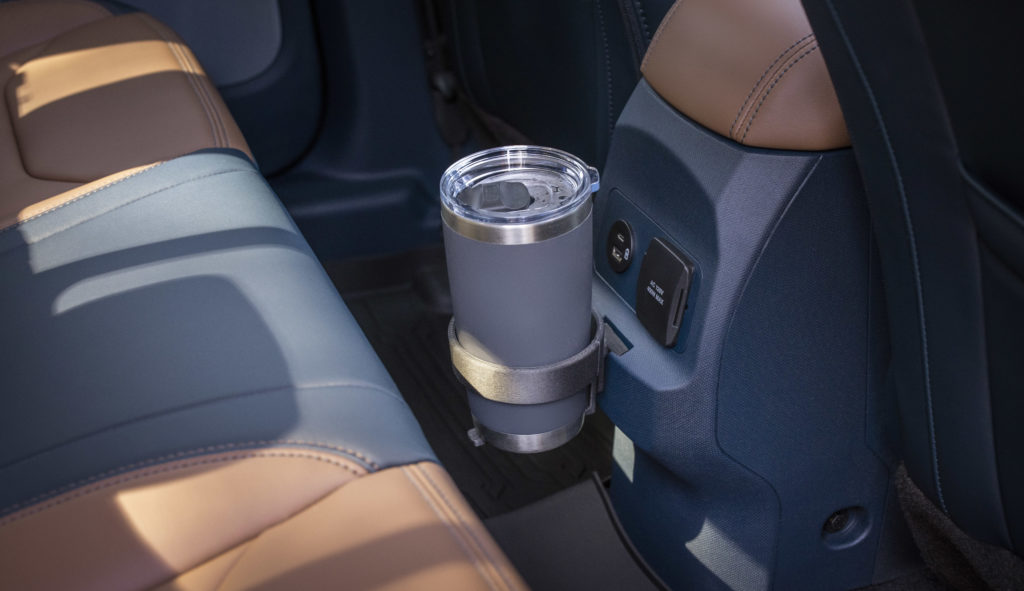 • Ford has a slot behind the center console designed for a system it calls "Ford Integrated Tether System," or "FITS." The OEM plans on creating and helping customers 3D print gadgets to fit in the structure, which ought to give the SEMA folks a field day and potentially give repairers a variety of gadgets to remove from the back.
"An available accessory package includes cupholders, a storage or trash bin, cord organizer, double hook for grocery bags and purses, and under-seat storage dividers," Ford wrote. "More FITS slot creations are in development and Ford is working to publish the slot geometry so people can 3D-print DIY solutions to further fit their lifestyle. Those accessories can be stored in multiple slots under the rear seats, which could also be used for novel applications on their own."
• An optional FX4 package on the all-wheel drive XLT and Lariat (all-wheel drive only appears to be available on the gas-engine versions) adds underbody protection.
• A Maverick First Edition package will be available for the 2022 model year. It includes a high-gloss black roof and high-gloss black skull caps, body-color door handles, and Carbonized Gray, Area 51 and Rapid Red paint colors. The Rapid Red paint job will be unique to this version; it's unclear from Ford's news release if the other two colors are similarly unique.
More information:
"40 MPG CITY. STANDARD HYBRID. SEATS FIVE. STARTS UNDER $20K. ALL-NEW 2022 FORD MAVERICK: DID WE MENTION IT'S A TRUCK?"
Ford, June 8, 2021
Images:
The 2022 Ford Maverick XLT. (Provided by Ford)
A 2022 Ford Maverick FLEXBED is shown with optional equipment. (Provided by Ford)
A 2022 Ford Maverick Hybrid XLT is shown. The truck can turn in "40 feet, curb to curb," according to Ford.
The "FITS" slot holds a cup holder in a 2022 Ford Maverick Lariat carrying all-wheel drive and the optional EcoBoost engine is shown. Ford plans to publicly release the geometry of the FITS slot so owners can 3D-print structures to fit in there. (Provided by Ford)
Share This: