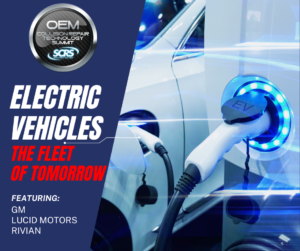 As collision repair becomes increasingly complex because of new sensor and camera system technologies, car manufacturers want to ensure collision repair technicians have the proper training and tools to safely and correctly carry out repairs.
During the Nov. 4 OEM Collision Repair Technology Summit session on EVs at the 2021 SEMA Show, a panel of General Motors, Lucid Motors and Rivian executives shared what collision centers can expect from them as more electric vehicles (EVs) hit the market. The event served as one of the first panels and interactive opportunities the industry has had with both Lucid and Rivian.
(Registration for the digital delivery of the entire 2021 Repairer Driven Education (RDE) series has been opened by the Society of Collision Repair Specialists. It can be accessed at https://rde.scrs.com.)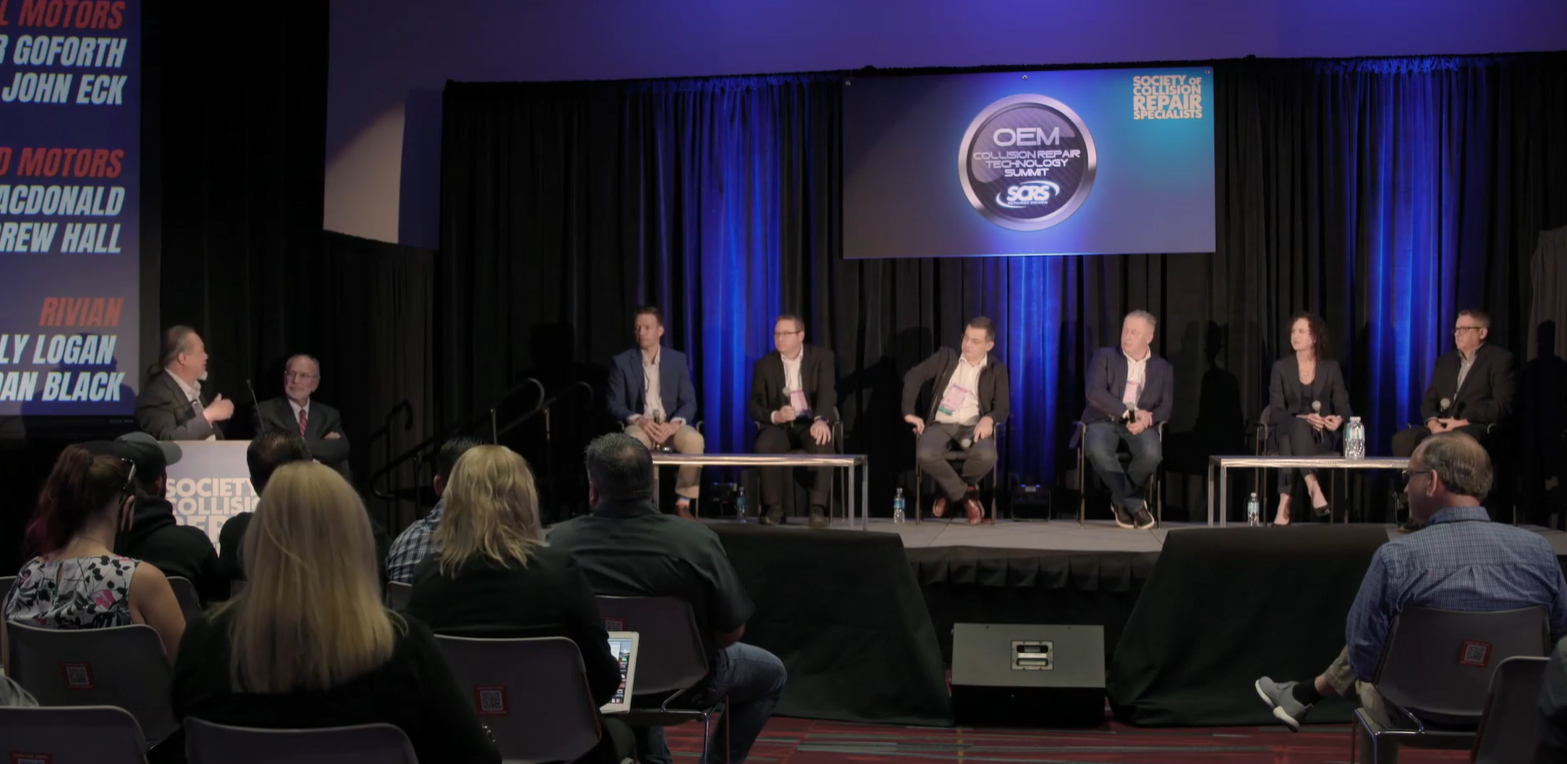 While the overarching focus of the session was on preparation for what is coming with EVs, the messaging felt very consistent and familiar with what automakers have now been communicating to the repair industry for years – adherence to the OEM procedures, and investment in training and the proper equipment is what it will take to repair these vehicles correctly.
Panelists agreed that training and step-by-step instructions from OEMs will be key. They recommended collision centers start investing soon in educating their technicians and ensuring they have the proper equipment specified by the automaker, including a high-quality resistance spot welder, pulse MIG welder, and recognized riveting tools.
GM Global Aftersales Mechanical Engineering Director Jennifer Goforth said the company plans to launch 30 new EVs by 2025, but internal combustion engines will continue to be an essential part of the fleet for at least 20-30 years.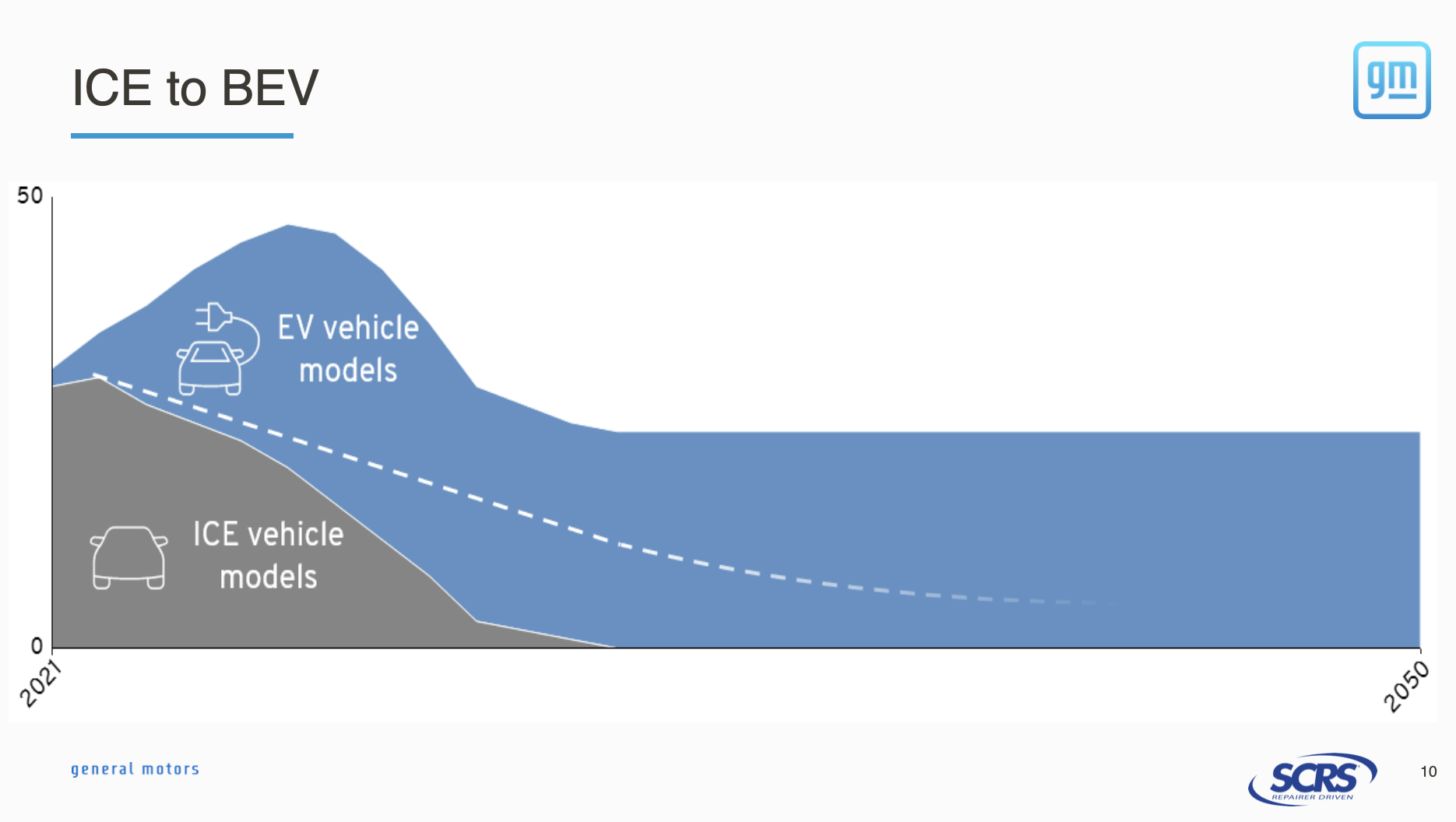 GM is always evolving their repair procedures and the same is true for EVs. Repairers will find that procedures may adjust as they post nightly updates of their training materials online, which will require a subscription, according to John Eck, customer care and after sales collision manager. Eck urged repairers to always pull the procedure.
Lucid Global Body Repair Program Senior Manager Andy MacDonald said the company's body repair program is currently by invitation only. About 50 shops in the U.S. are part of the program, and Lucid will add about 50 more by next year, he said. High repair quality and excellent customer service are musts.
Lucid will provide videos taken during crash testing after tests are complete, Lucid's Head of Vehicle Safety Andy Hall said. Ten days' worth of structural repair training and 15 days of mechanical repair training will also be available, according to MacDonald. He didn't specify if training will be online or in person.
"The biggest challenge for the shops is not so much the structural aluminum repair or the bonding or welding," MacDonald said. "It's the mechanical side of the business – the recalibration; dealing with all the mechanical systems."
Lucid's structural aluminum, safety system and high voltage parts will be released only to body shops that have completed the training. It won't be as simple as taking the courses and making repairs. Repairers will have to prove to Lucid that repairs were done correctly by meeting quality points including pre- and post-measurement reports and diagnostic scans.
"There is no simple repair anymore," MacDonald said. "The days of doing a quick spot repair on a front end of a bumper or rear end have gone now."
Sensors on both ends of the vehicles eliminate the possibility of a simple repair, he said. An example of one of Lucid's advanced sensor systems is lidar – a high resolution laser scanner that works with the vehicle's entire sensor suite to accurately and safely detect objects. Lucid is poised to be the first OEM in the North American market to offer on-board lidar as part of its Advanced Driver Assistance System (ADAS) with its new DreamDrive technology.
Panelists said it's not just the collision centers that need information on proper repairs. Insurers and consumers should also be informed so that everyone is on the same page with their expectations.
OEMs are learning what they can do to ensure repairs in the after-market meet factory strength and safety standards. Rivian will offer diagnostic support and have people out in the field to help collision centers, according to Dan Black, Rivian's service engineering manager.
Methodologies may vary from what was done originally in the factory because of access limitations, but the expectation will remain to restore the vehicles to their "pre-accident state," Black said.
"At the assembly plant, we can do so many different things that totally doesn't exist in the aftermarket," Black said. "We're always coming up with solutions in what we can provide you to repair that vehicle correctly and to restore the strength of that vehicle to ultimately perform correctly the second time around."
Rivian never joins parts together with riveting or welding alone; either is always in conjunction with structural adhesives, Black said.
Panelists said the OEMs realize it's important for insurance adjusters and repair technicians to know where sensors and cameras are located to determine when parts should be replaced rather than repaired. Rivian's standard will be the Driver+ system, which will require frequent ADAS calibrations during repairs, according to Collision Repair Program Senior Manager Kelly Logan.
"There's blurred lines now," Logan said. "A collision center needs to know just as much as the service center needs to know to be able to repair these vehicles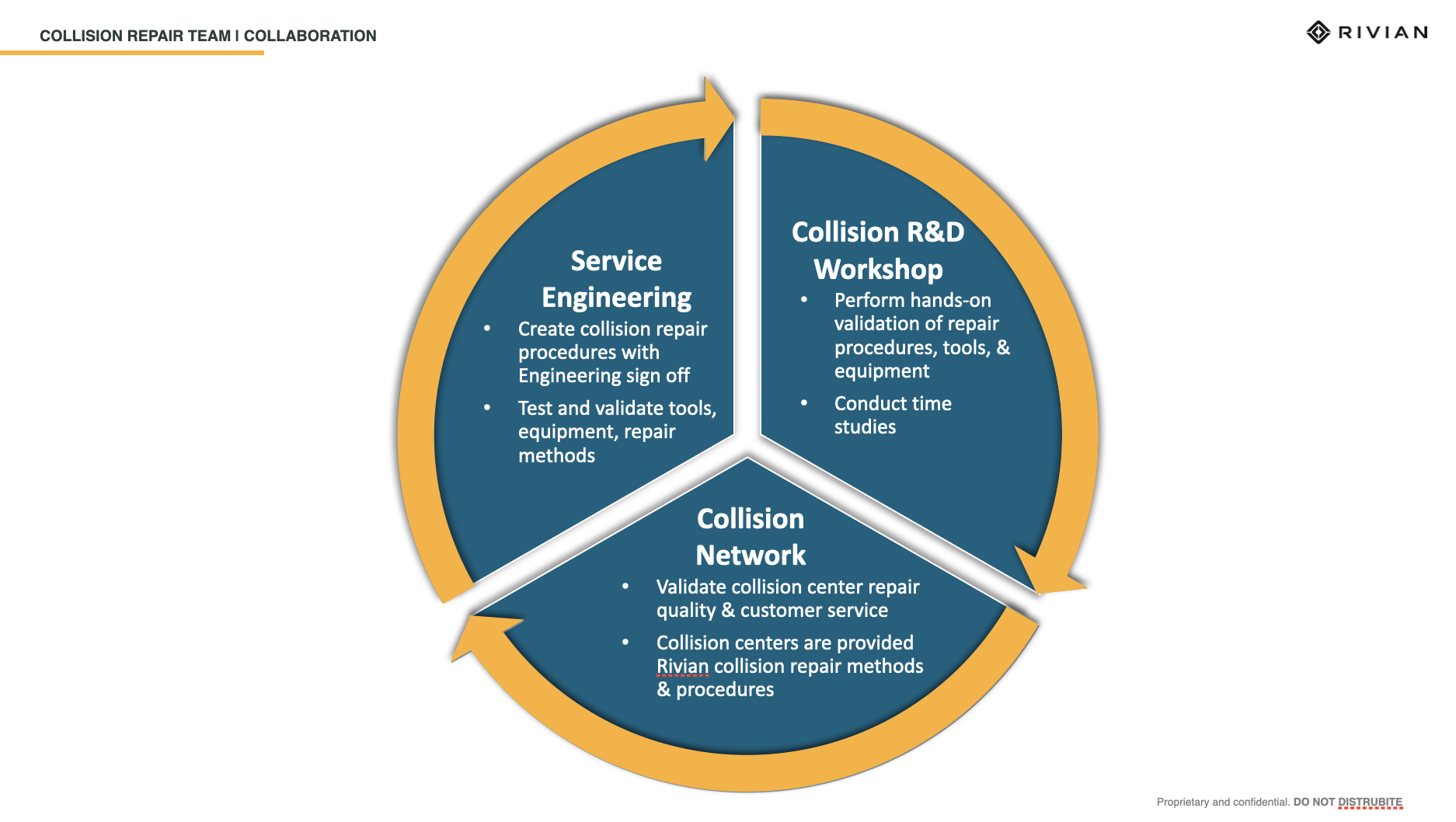 properly."
Black echoed Logan, stating that obstructing sensors in any way can make them inoperable or lead to erratic performance. This includes too much material buildup around sensors. Panelists said it will be important to use a paint mil gauge to measure paint thickness to prevent sensor and ADAS obstruction.
During a Q&A session at the end of the summit, all three OEMs said structural pulling won't be possible on their EVs while welding options vary.
Goforth said some GM components on the chassis platform can be repaired. MacDonald said only surface welding can be done on the Lucid Air. Rivian's skateboard frame is high-strength steel with sectioning procedures that will require welding, and tool vendors that have been approved for that that will align with other OEM programs, Logan said.
Looking toward the future, MacDonald said Lucid will launch an apprenticeship program for technicians that will cover all new body builds as well as mechanical and paint procedures.
Shops that are already doing structural aluminum repair probably have 90-95 percent of the equipment needed to work on Lucid EVs, MacDonald said. Essential pieces of equipment are ADAS calibration and alignment machines, he said.
It's important to note that while GM said their EVs don't require an isolated clean room, Hall made a distinct point of the future seeing a shift from mechanical vehicles to a software platform. He elaborated that when technicians work on electrical systems or ADAS, it's not necessarily the sensor itself, but rather the whole system. "So any contamination you introduce in the process will come down to 'debugging,'" a term typically more synonymous with tech.
When asked by moderator Ron Reichen with Precision Body & Paint about battery safety and technology maintaining electrical systems during repairs, Goforth said there will be instances when it's best to send EVs to the dealership.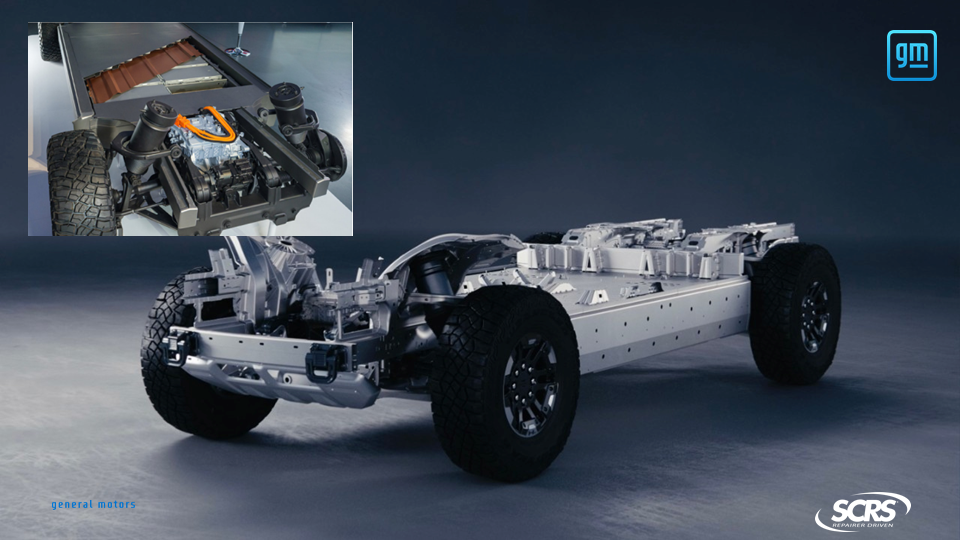 "We're going to walk you through what you need to do systematically to keep yourself safe, your team safe, and make sure that you can do the right repairs," Goforth said. "… As you go through the training, there will be some indications on when you can do the repair and when it needs to go to the dealership. If there are any infringements in the battery casement those are the situations where you're best off to not do the repair because it's really difficult to tell how the system may have been compromised."
When asked if parts from total loss vehicles will be sold to the salvage market and tracked, Logan said it's important to Rivian for battery packs and components to be properly disposed of to protect the environment. Rivian is discussing how they can get high-voltage components back to ensure they're recycled responsibly. Lucid plans to track what battery packs are put back into the fleet, but if they're taken for other uses there's nothing the company can do about that, Hall said.
The OEMs believe consumers shouldn't worry about being stranded because of not being able to find a charging station. Rivian's will be standard universal plugs. GM is working with other companies to establish a charging infrastructure network and Lucid has partnered with the Electrify America network.
Although EVs can typically last multiple days without charging, depending on miles traveled, Logan said it's best to charge them every night just like most people do with their cell phones.
More Information
Find this and other sessions available at https://rde.scrs.com.
Images
Featured image: The OEM Collision Repair Technology Summit took place on Nov. 4 at the 2021 SEMA Show. (Provided by SCRS)

Participants in the OEM Collision Repair Technology Summit session on EVs included, from left, Moderators Kye Yeung, European Motor Car Works and Ron Reichen, Precision Body & Paint. On Stage Dan Black and Kelly Logan, from Rivian; Andrew Hall and Andy MacDonald, from Lucid; and Jennifer Goforth and John Eck, from General Motors. (Provided by SCRS)

General Motors' projection of its own EV and internal combustion engine (ICE) production over time. (Provided by GM)

A diagram showing the relationship among Rivian's Collision Repair Team members. (Provided by Rivian)

GM EV Chassis (Provided by GM)
Share This: