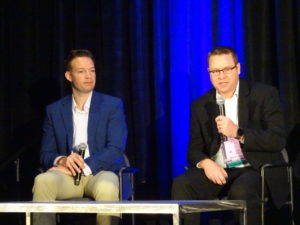 The Society of Collision Repair Specialists (SCRS) served up its third OEM Collision Repair Technology Summit during the SEMA Show in the Las Vegas Convention Center on Thursday.
Kicking off the three 90-minute sessions was the presentation on Electric Vehicles (EVs) by two representatives each from General Motors, Lucid Motors and Rivian.
After brief remarks, the panel took a deep dive into their unique platforms, EV histories and construction and repair guidance.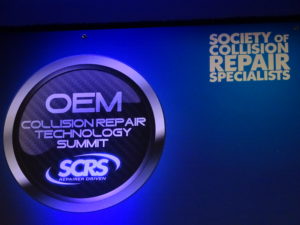 The panel members then took questions from moderators Ron Reichen, a past chairman of SCRS and the founder of Precision Body & Paint, which has locations throughout Oregon; and past chairman Kye Yeung, president of European Motor Car Works Inc. in California.
Audience members were encouraged to ask questions via cards that were issued to the panel – Jennifer Goforth (Director of Global Aftersales Mechanical Engineering) and John Eck (Manager, Collision) of GM; Andy MacDonald (Senior Manager, Global Repair Program) and Andrew Hall (Director of Vehicle Safety) of Lucid; and Kelly Logan (Global Body Repair Program Senior Manager) and Dan Black (Manager, Service Engineering) of Rivian.
The last question of the session came from an audience member wanting to know how universal or unique the EV charging station plug connectors are and will be in the future.
Apparently, adapting to those charging stations – home (yours or a friend or relative's) or road – won't be a big problem in the U.S.
The representatives of all three automakers said they use the J1772 – also known as the J plug – which is the standard in North America. In fact, every EV manufacturer in North America except Tesla uses the J plug for Level 1 (120 volt) and Level 2 (240 volt) charging, according to Enel X, a leading provider of smart EV charging stations.
Tesla strongly urges its customers to install one of their Wall Connectors in their home garages and it supplies a 20-foot Mobile Connector and NEMA 5-15 adapter that will plug into any standard three-prong 120 volt outlet as found all over homes.
That won't work for public charging stations, so Tesla sells an adapter bundle that can be used.
"All OEMs offer a mobile charging cord which you can plug in to a 220 volt outlet," Logan said. "You can also get an adapter and plug into a 110, but it's very, very slow."
A replacement cable with the J plug connector apparently doesn't have to come from an OEM.
"There are aftermarket charging cables out there as well that can do the same thing," Logan said. "And I think, for the most part, those aftermarket ones work."
All EV Level 1 and Level 2 public charging stations in North America utilize the J plug adapter.
"From our perspective, using that standard plug adapter allows for an easy charge routine," Logan said.
GM's Goforth nodded and said her company realizes customers want the charging process to be as simple and easy and standard as possible.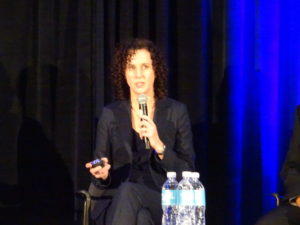 The Lucid representatives agreed.
Perhaps the most important component of charging is the habit of the buyer.
Black said customers should get in the routine of nightly charging for their EVs just like they undoubtedly do with their cell phones and other daily use electrical devices.
"You can drive our vehicle multiple days without charging, but in reality, really, plug it in every night," Black said.
Black then brought up an interesting thought.
"Over the years, one thing we hear is a customer goes to a collision center and gets a rental car and he's upset because he has to go to a gas station," Black said.
A recent J.D. Power U.S. Electric Vehicle Experience Home Charging Study showed 80 percent of American EV owners charge their rides at home, almost always overnight or while parked during a workday.
According to the U.S. Department of Energy, there are almost 43,000 public EV charging stations and about 120,000 charging ports in the country.
"One thing that's great is charging stations are popping up all over," Logan said. "They are everywhere and you probably don't even notice them."
Images:
Featured: Kelly Logan (right) and Dan Black of Rivian discuss EV technology and its future during Thursday's third OEM Collision Repair Technology Summit hosted by the Society of Collision Repair Specialists. (Dana Caldwell/Repairer Driven News)
Other images: OEM Collision Repair Technology Summit banner; Jennifer Goforth of General Motors (Dana Caldwell/Repairer Driven News)
Share This: