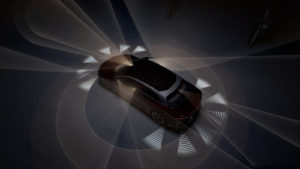 Lucid is poised to be the first OEM in the North American market to offer on-board lidar as part of its advanced driver assistance system (ADAS), the company said in offering its first detailed look at its new DreamDrive technology.
DreamDrive will incorporate 32 on-board sensors to power more than 30 driver-assistance features, Lucid said in an Oct. 12 statement. The higher-spec DreamDrive Pro system, which will be standard in the $169,000 Air Dream Edition and $139,000 Air Grand Touring and optional in other Air models, will incorporate lidar, Lucid said.
A Lucid spokesperson confirmed Monday that deliveries of DreamDrive Pro-enabled EVs are planned to begin this month. The company on Monday posted to its Twitter account a photo of five sedans sitting on a trailer, presumably awaiting delivery.
The lidar unit will be in addition to 14 visible-light cameras, five radar units, four surround view cameras and ultrasonic sensors throughout the vehicle exterior, Lucid said. "This solid-state LIDAR sensor will deliver high-resolution data with an ultra-wide field of view. Together, these sensors enable DreamDrive to detect what a human driver cannot, and act as an invisible co-pilot to help drivers get to their destination safely," the company said.
DreamDrive will also incorporate a sophisticated driver-monitoring system and on-board Ethernet Ring networking, with a "computer gateway" at each corner of the vehicle, Lucid said.
General Motors has also announced its intention to produce a lidar-equipped vehicle for the North American market, with its new Ultra Cruise system. However, that system is not expected to debut until 2023, with Cadillac going first. GM has not yet identified which specific models will get the technology.
Lidar use has yet to be widely embraced by OEMs for a number of reasons. The units are expensive, and there have been technical issues to work through, as well. Until now, their use has been limited to experimental self-driving cars, or in extreme high-end vehicles, such as the European-market Mercedes-Maybach S Class, or the limited-edition, Japan-market Honda Legend, whose Honda Sensing Elite system incorporates five lidar units.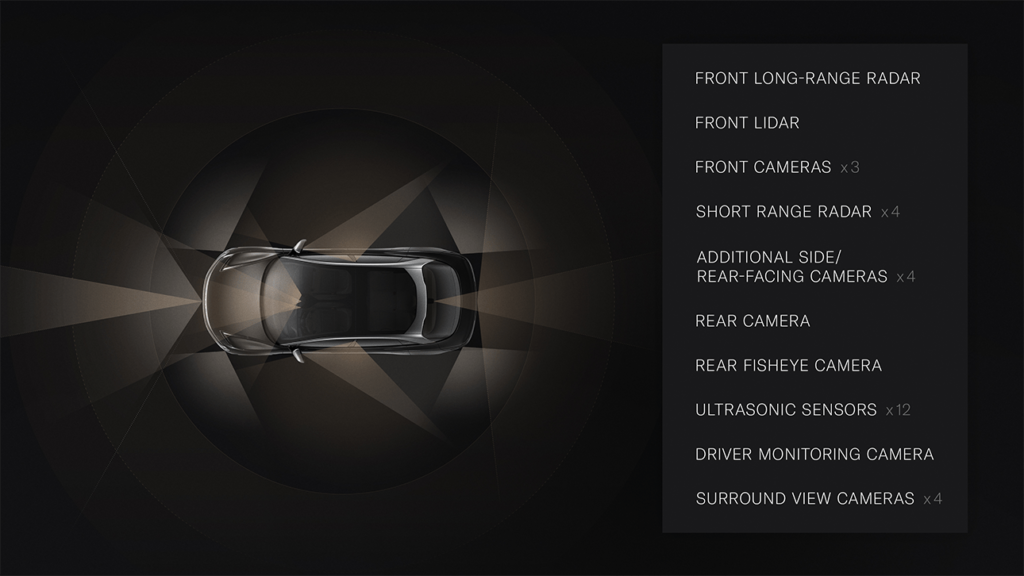 Lidar (light detection and ranging) units measure distance by illuminating a target with laser light and measuring the reflected light with a sensor. Differences in laser return times and wavelengths give a picture of what object lies ahead, how far away it is, and how fast it might be moving in any particular direction.
Lucid on Monday declined to identify the supplier of its lidar units.
DreamDrive, which the OEM calls "the most technically sophisticated advanced driver-assistance system," incorporates more than 30 driver-assistance features, including collision avoidance, Traffic Jam assist, and Highway Assist.
Lucid said DreamDrive will be equipped with additional computing and sensing hardware to allow "major new functions" to be delivered through over-the-air software updates.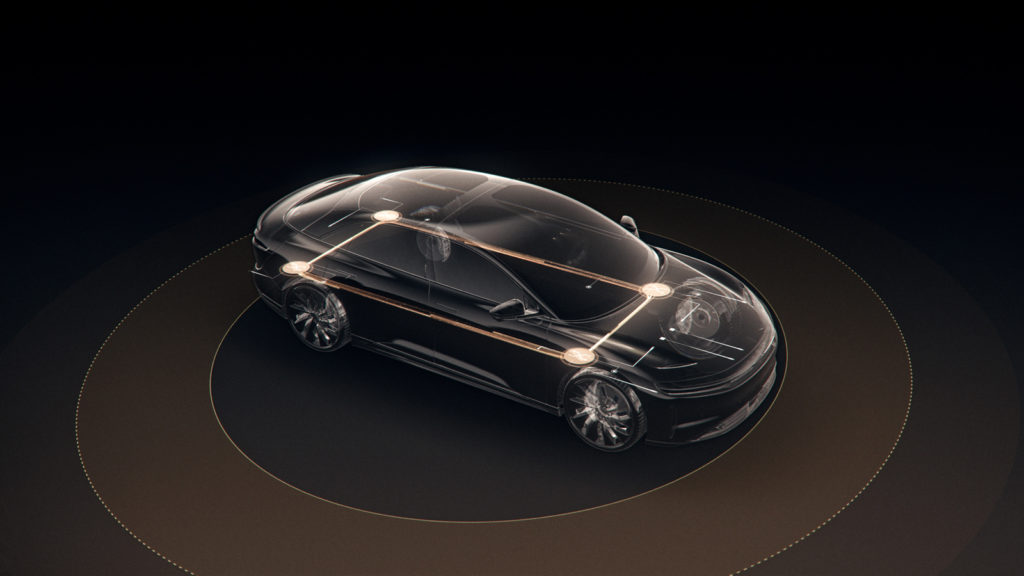 "DreamDrive Pro has been designed to grow in capability, thanks to our ability to deliver software over-the-air and key equipment already in place in the vehicle," Eugene Lee, senior director for ADAS and autonomous driving, Lucid Motors, said in a statement.
"Thanks to highly integrated hardware and software teams, Lucid has the ability to develop new functionality for DreamDrive Pro in-house. This can benefit every facet of the DreamDrive Pro experience, from the frequency of updates to the planned rollout of the Highway Pilot system for conditional automated driving on select roadways in the coming years," Lee said.
Lucid has invested some major work into DreamDrive's driver interface, which it ways will use text, color, and shapes to provide drivers with clear information. On DreamDrive Pro-equipped Airs, a 21-speaker Surreal Sound system will deliver  directional audio alerts for such safety features like Front and Rear Cross Traffic Protection and Autonomous Emergency Braking.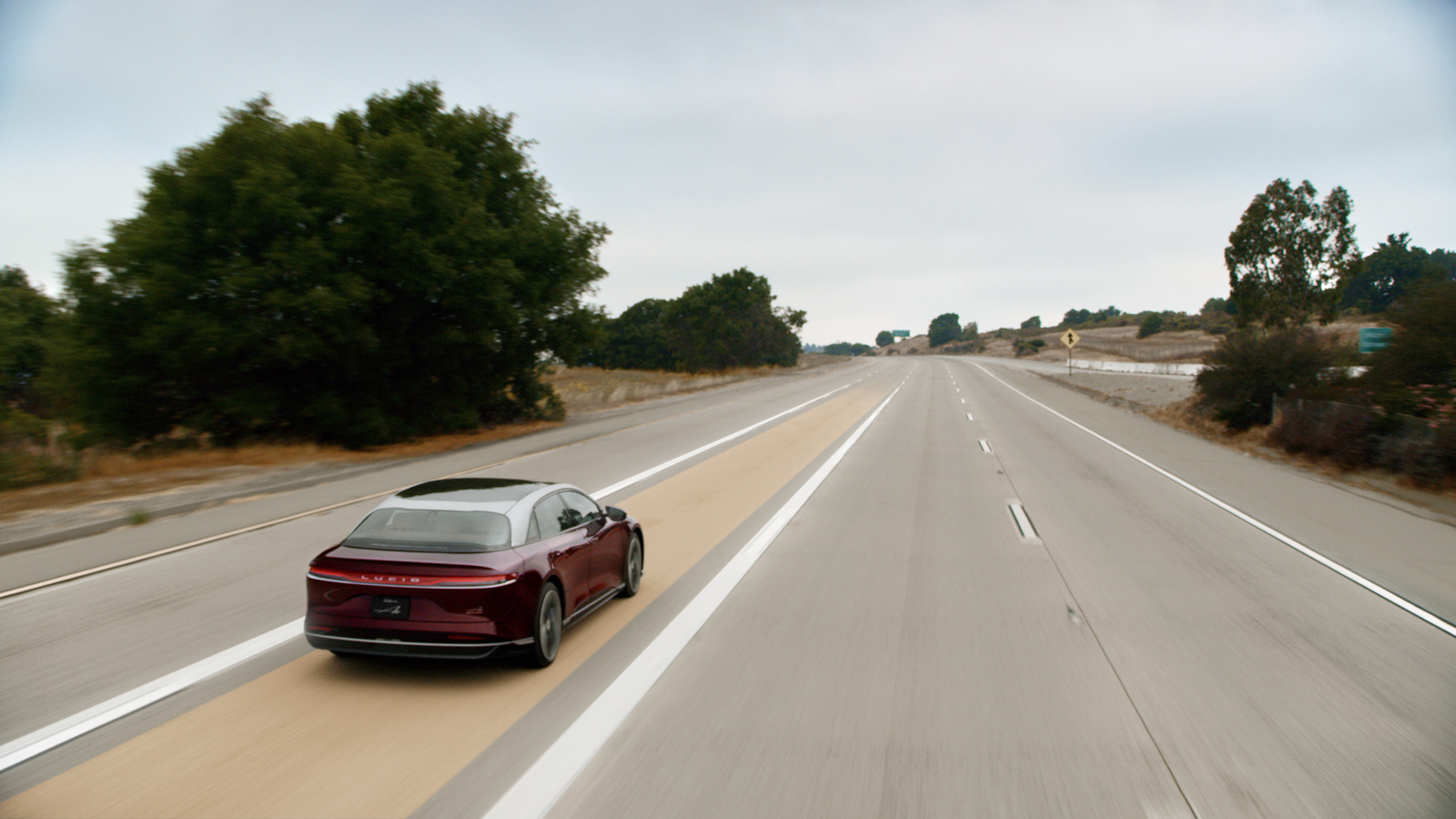 Because "hands-off, eyes-off" driving still lies in the future, DreamDrive incorporates a driver monitoring system, using an infrared driver camera to track head position, eye gaze, and blinking.
The system may prompt the driver to put their hands back on the wheel; if the driver does not comply, the system will slow the vehicle to a complete stop, apply the emergency brake, turn on hazard lights, emit a high-pitched beep, and unlock the doors so that emergency responders can access the occupants, if necessary.
Production of the Lucid Air began in late September at the company's Casa Grande, Arizona, Advanced Manufacturing Plant. The EPA has rated the car's range at 520 miles on a single charge, more than 100 miles over its closest competitor.
Learn more at the SEMA Show
A Collision Industry Conference panel discussion on parts and materials during the 2021 SEMA Show will focus on the new technology of lidar, and how materials used in repairs can affect the effectiveness of systems and sensors. The session is scheduled for 2 p.m. on Tuesday, Nov. 2, and will be moderated by Aaron Schulenburg, executive director of the Society of Collision Repair Specialists (SCRS).
Taking part in person will be Josh Center, Senior Associate SME, ADAS/EV, with I-CAR, and Jason (Buck) Zeise, mechanical operations manager for Lamettry's Collision Centers. Appearing virtually will be  Daniel Ferris, PhD., a scientist with OEM Coatings at BASF, and Cibby Pulikkaseril, CTO and co-founder of Baraja, a producer of lidar units.
In addition, representatives from Lucid Motors will take part in the OEM Collision Repair Summit on Electric Vehicles during the SEMA Show, SCRS has announced. The session on EVs, which also includes representatives from General Motors and Rivian, will take place in the Upper South Hall of the Las Vegas Convention Center, just down the hall from the Collision Repair & Refinish section of the SEMA show, from 9 to 10:30 a.m. on Thursday, Nov. 4.
Representing Lucid will be Andy MacDonald, global body repair program senior manager, and Andy Hall, head of vehicle safety.
More information
"DreamDrive: Lucid's Proprietary Advanced Driver Assistance Platform That's User-Friendly and Future-Ready"
https://www.lucidmotors.com/media-room/dreamdrive-advanced-driver-assistance-platform
AEye continues to find success testing lidar behind windshield
Velodyne announces $100 lidar; Vayyar teams up with AISIN on affordable radar
Images
Featured image: an artist's representation of the lidar units that will work in conjunction with Lucid's DreamDrive Pro system. (Lucid Motors)
The DreamDrive reveal, from Lucid's FaceBook channel. (Lucid via FaceBook)
A diagram showing the 32-on-board sensors that DreamDrive Pro will incorporate. (Lucid Motors)
Lucid Airs will incorporate on-board Ethernet Ring networking, with a "computer gateway" at each corner of the vehicle. (Lucid Motors)
Lucid's Highway Assist feature blends adaptive cruise control and lane centering control to help keep the Lucid Air positioned properly on the highway. (Lucid Motors)
Share This: