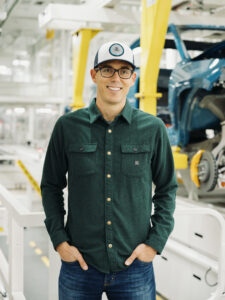 In a Monday letter to employees, Rivian CEO RJ Scaringe said the company is "prioritizing certain programs" while stopping others, "halting certain non-manufacturing hiring" and is taking on "major" cost cuts to lower material spending and operating expenses. And he didn't deny reportedly potential layoffs.
The letter was shared with Repairer Driven News by Rivian on Tuesday.
According to Bloomberg, the letter was the result of its Monday report that the automaker was considering hundreds of layoffs across nonmanufacturing positions. In reference to what he called unofficial news reports, Scaringe said in his letter that, "This is not how we intended for you to hear about this."
"The hardest part of this process has been working through our organization to assess the size and structure of our teams and how well this aligns with our strategic plan. Our team is the core of Rivian and we are working to be as thoughtful as possible as we consider any reductions. We will always be focused on growth, however, Rivian is not immune to the current economic circumstances and we need to make sure we can grow sustainably. Every decision about our team is being assessed through the lens of our strategic priorities, not as a mechanism to simply reduce costs. Our team will continue to grow in support of our production ramp and product roadmap."
According to Scaringe, the automaker has been working to focus its business "in order to stay ahead of the changing economic landscape."
"We are financially well positioned and our outlook remains strong, but to fully realize our objectives it is critical that our strategy supports our sustainable growth as we ramp towards profitability. Earlier this year, we outlined our core strategic priorities for the next 18 months:
Ramping and enhancing R1 and EDV
Accelerating R2 development
Continuing to ramp our go-to-market capabilities, including our charging and service infrastructure
Optimizing costs and operating expenses across the business."
Scaringe also said Rivian has begun the process of ensuring the company is "focused, nimble and efficient as possible to achieve our priorities and objectives."
Scaringe concluded the letter by promising to share more during a scheduled "All-Hands" meeting on Friday. A Rivian spokesperson told RDN they couldn't provide any more details past what was stated by Scaringe in his letter.
Rivian just recently opened three fast-charging sites in Colorado and California, which are the first deployments of its nationwide "Rivian Adventure Network." The plan is to initially open 600 charging sites, with a total of 3,500 fast chargers, across North America.
According to InsideEVs, Tesla also recently hinted at job cuts — 10% of the salaried workforce — and also not in manufacturing.
"This is because demand for existing electric vehicles remains high, but production is the main bottleneck," the article states. "Future projects or auxiliary tasks might be delayed, especially because the production of new things is limited anyway. With backing from Amazon and Ford, almost $17 billion in cash, and restricted cash as of the end of March, Rivian does not seem endangered, but adjustments might be necessary to limit losses until reaching high volume production."
IMAGES
Featured image: Rivian CEO RJ Scaringe (Credit: Rivian)
Share This: