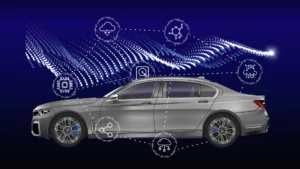 BMW begins offering vehicle features by subscription in some markets
By on
Technology
BMW is making some vehicle features available through paid subscriptions, giving customers the option of adding such creature comforts as heated seats, or advanced driver assistance (ADAS) features like High Beam Assistant, at any time.
The vehicles are equipped with the necessary hardware at the factory with a software block preventing them from being functional. That block can be removed over the air once the monthly or annual subscription fee has been paid.
BMW did not respond to a request for more details from Repairer Driven News on Tuesday, but took to social media on Thursday to clarify that "Drivers in the US do NOT have to pay a subscription for heated seats or for any other options ordered at time of purchase."
"BMW Functions on Demand is a program that DOES offer premium options, like BMW Drive Recorder and Remote Engine Start, via software updates," the BMW USA said in a tweet. "Based on vehicle compatibility, customers can purchase a trial of these features, then decide if they want to purchase a feature outright."
The company said that Function on Demand features will vary from market-to-market. Available features for the US can be found in the ConnectedDrive store at MyBMW.com or on the My BMW App, BMW said.
The OEM has begun making certain features available through its digital stores in the United Kingdom, Germany, New Zealand, South Africa, and other countries, as well as the US.
Jalopnik reported Monday that BMW has now introduced its digital after-sales approach in South Korea where the heated seat option will cost $18 a month, $180 for a year, $300 for three years, or $415 for "unlimited" access. High Beam Assist, which brightens or dims the headlights depending on traffic, will cost $8 a month, $84 for a year, $122 for three years, or $183 for unlimited use.
BMW is not alone. Consumer Reports reported last fall that at least five OEMs – Audi, BMW, Cadillac, Porsche, and Tesla – were rolling out a subscription model for certain options in certain markets.
For repairers, the technology raises some interesting questions. If an ADAS feature isn't working, for example, is it because it's faulty, or because the owner hasn't paid the fee to unblock it? Alternatively, could this lead to greater simplification, with every vehicle equipped with every available component at the factory?
The technology "offers the possibility for customers to purchase and install optional equipment features even after the car was customized and built," BMW explains on its website. "Interested in 'downloading' the High Beam Assistant or the BMW Drive Recorder? With Remote Software Upgrade, this becomes as easy as installing a new app on your phone, as long as the required hardware has been installed in the vehicle."
The OEM said the technology builds on Remote Software Upgrade, a free service currently available for more than 30 BMW models, including nearly all BMW models with BMW Operating Systems 7 and 8.
The availability and content of Remote Software Upgrades depend on the country, model, equipment, and installed software version, BMW said. Available updates include enhancements for existing features, such as BMW Parking Assistant or BMW Intelligent Personal Assistant, or entirely new features, such as Dangerous Curve Assistant.
According to a 2020 BMW press release, High Beam Assistant, Active Cruise Control (ACC) driver assistance system with Stop & Go function, BMW Driver Recorder, BMW IconicSounds Sport, and Adaptive M Suspension are available in certain markets.
"In the near future, additional functions will be added that can access the vehicle's existing hardware and software, such as certain comfort functions or driver assistance systems," the OEM said.
The country pages of the BMW website provide information on the relevant content and prerequisites for Remote Software Upgrade in each market. Instructions and tips for Remote Software Upgrade can be found in a corresponding how-to video.
Consumer Reports points out that "under some of the subscription model scenarios suggested by automakers, certain features might disappear as soon as the monthly or yearly payment stops, in the same way your streaming or phone services stop when you cancel your subscription or fail to pay. On the upside, analysts say that subscriptions may encourage automakers to provide software updates that help features evolve after purchase—especially when it comes to vehicles with cutting-edge technology."
The publication suggests that the subscription model could bring down the price of some features while offering consumers more choice. However, it draws the line at "proven, effective, well-functioning safety systems" that it says should be standard equipment regardless of trim level, and never deactivated. These include automatic emergency braking (AEB) with pedestrian detection, forward collision warning (FCW), and blind spot warning (BSW), CR says.
This article was revised on July 14, 2022.
Images
BMW's Remote Software Upgrade allows owners to upgrade their vehicles' operating systems for free, and to add options for a monthly, annual or lifetime fee. (Provided by BMW)
Share This: