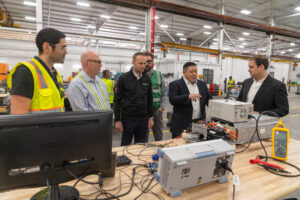 Toyota is working on a project to recycle its hybrid vehicle batteries into raw materials to reuse as part of its goal to reach carbon neutrality by 2050 and Rivian has opened the first three of its U.S. charging sites.
Toyota, along with Redwood Materials, will "explore a series of end-of-life battery solutions for Toyota's proposed battery ecosystem," according to a joint news release from the companies. The first phase of the project will focus on the collection, testing, and recycling of batteries then the companies plan to conduct battery health screening and data management, remanufacturing, and battery material supply throughout North America.
"We are excited to be working with Redwood Materials to identify solutions for our electrified powertrains at the end-of-life that contributes to our vision of creating a sustainable, circular battery ecosystem," said Christopher Yang, group vice president of Business Development at Toyota, in the release. "We are committed to developing sustainable solutions that allow our batteries to provide value beyond the initial lifecycle in an electrified vehicle. This also contributes to our carbon neutrality goals and our mission to build a more sustainable world for all."
Redwood Materials is driving down the environmental footprint and cost of lithium-ion batteries by offering large-scale sources of domestic anode and cathode materials produced from recycled batteries, according to the release. Redwood receives more than 6 GWh of end-of-life batteries annually for recycling, which are then refined and remanufactured into critical battery materials.
Other automakers have been prepping for a possible shortage of electric vehicle (EV) battery materials. In April, Rivian CEO RJ Scaringe told the Wall Street Journal "the auto industry could soon face a shortage of battery supplies for electric vehicles" that could surpass the continued semiconductor chip shortage. And according to Reuters, Tesla is building a plant in Texas that will convert spodumene concentrate, which is processed rock containing lithium, into lithium hydroxide – "a key building block for EV batteries." General Motors signed a multi-year sourcing agreement with Glencore to supply them with cobalt for battery production and has an agreement with Controlled Thermal Resources (CTR) to supply battery-grade lithium.
Toyota plans to ramp up production of anode and cathode components in the U.S. to 100 GWh annually by 2025, which would be enough to produce more than 1 million EVs a year. The OEM and Redwood plan to investigate ways to "seamlessly incorporate battery recycling through domestic battery materials manufacturing into Toyota's battery production strategy."
"Toyota helped pave the way for clean transportation with the introduction of the Toyota Prius more than 20 years ago," said Redwood Materials founder and CEO JB Straubel, in the release. "Their commitment not only to sell millions of electrified vehicles this decade but to ensure their circularity into the future is a critical step for electrification. Redwood and Toyota's shared vision to drive down the environmental footprint and cost of transportation will continue to accelerate the adoption and access to electric vehicles."
Toyota's production plans include new and increased automotive battery production in the U.S. The automaker recently announced an investment of $1.29 billion in a new North American battery plant, Toyota Battery Manufacturing, North Carolina (TBMNC). When completed, TBMNC is anticipated to produce battery packs for 1.2 million electrified vehicles every year. Toyota expects to sell 8 million electrified vehicles globally by 2030 and invest $70 billion in their development.
In other recent EV news, Rivian now has three fast-charging sites in Colorado and California, which are the first deployments of its nationwide "Rivian Adventure Network."
The Level 3 DC chargers will initially provide more than 200 kilowatts of power or up to 140 miles of range in 20 minutes of charging time.
Charging sites are located in Salida, Colorado, and in Inyokern and Bishop in California. The Salida site also has four Level 2 Rivian Waypoints chargers, which can be used by any EV through the Rivian app. All three sites are near parks or recreational areas.
"We designed Rivian charging to support electrified adventure, and these first sites demonstrate how we're enabling drivers to responsibly reach some of the nation's most breathtaking natural spaces," said Trent Warnke, Rivian's Senior Director of Energy and Charging Solutions, in a news release. "In addition to scenic or off-the-beaten-path destinations, our fast charging rollout is designed to ensure travelers have places to charge along major transportation corridors coast to coast."
Rivian plans to initially open 600 charging sites, with a total of 3,500 fast chargers, across North America.
The automaker is also building a portfolio of "high-impact" renewable projects around the country that balance technology, location, and energy solutions toward its goal of net-zero carbon emissions.
IMAGES
Featured image: Toyota and Redwood Materials are collaborating to recycle the automaker's hybrid vehicle batteries into raw materials to reuse as part of its goal to reach carbon neutrality by 2050. (Credit: Toyota)
Share This: