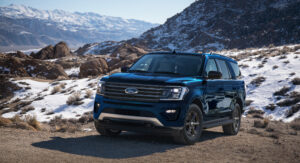 Ford announces repair for recalled Expeditions & Navigators, expands recall population
By on
Announcements
Ford has identified a remedy for recalled 2021 Ford Expeditions and Lincoln Navigators that are at risk for underhood fires. The OEM also increased the number of recalled vehicles from 39,000 to 66,221.
Ford has communicated repair procedures to dealers and is working quickly to make parts available as soon as possible, according to a news release from the automaker.
Owners are still advised to park their vehicles outside and away from structures until after they're serviced by a dealer due to the risk of fire, even while the vehicle is parked and turned off. When Repairer Driven News asked if there are any other ways collision repairers or owners can prevent the potential fires, Ford spokesperson Karl Henkel reiterated what was issued in the news release — that all vehicles affected by the recall should be parked outside and away from structures until the remedy is performed.
Dealers will first inspect the battery junction box for melting damage, and if melting is present, will replace the entire component then remove the engine fan ground wire from the battery junction box in affected vehicles with an 800-watt cooling fan system. According to Ford, about one-third of the recall population have that cooling fan system for which the repair can be done immediately.
The remaining affected vehicles, which have a 700-watt cooling fan system, will undergo the same repair except for the installation of an auxiliary box with a wire jumper. Parts for this repair are expected to be available beginning in early September. Customers will be notified via FordPass with follow-up communication to 700-watt system customers when parts are available.
Ford has received 21 reports of underhood fires, including five since the recall was announced in May. Eighteen were owned by rental companies. The expanded recall includes Expeditions and Navigators built between July 27, 2020 and Aug. 31, 2021. Ford learned of the fires in March and, at that time, opened an investigation into the cause.
"Ford believes the cause of these vehicle fires can be traced to a change in manufacturing location by a supplier during the COVID-19 pandemic," the July 8 release states. "Printed circuit boards produced at this facility are uniquely susceptible to a high-current short and were supplied to Ford and installed in Expedition and Navigator SUVs produced during the recall window."
Ford has not issued instructions to stop driving the affected vehicles and isn't aware of any accidents related to the issue. One injury has been reported.
A class action lawsuit was filed June 7 against Ford in the U.S. District Court for the Eastern District of Michigan over engine fires in the same model year Expeditions and Navigators. The complaint alleges Ford breached its duties "to provide consumers with a safe car" by selling the SUVs "that were dangerously defective and prone to catching fire, including while driving, while parked but on, and while parked and off." It also claims Ford failed "to promptly warn consumers and fix or replace" the vehicles.
Henkel told RDN the company has no comment on the active litigation and that Ford has been focused on finding a remedy to the recall issue. A July 6 court order states the plaintiffs intend to file an amended complaint by July 11, which extends Ford's deadline to respond to the suit to Sept. 9.
IMAGES
Featured image: 2021 Ford Expedition STX (Credit: Ford Motor Co.)
Share This: