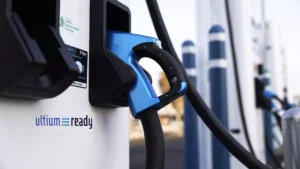 General Motors has announced the launch of a project that will add 2,000 electric vehicle (EV) fast-charging stalls across the U.S., intending to accelerate the adoption of EVs and enable long-distance electric travel.
GM is partnering on the project with the Pilot Company, whose Pilot and Flying J travel center network includes more than 750 locations in 44 states and five Canadian provinces. Up to 500 of those locations will be included in the project.
The stalls will be installed, operated, and maintained by EVgo, the nation's largest public fast charging network, through its eXtend offering, GM said. They will be capable of delivering up to 350kW, which industry sources say is sufficient to provide up to 215 miles of range to an EV in 10 minutes or less.
Stations included in the first phase of the project, shown in the map below, are expected to be operational by 2023, GM said.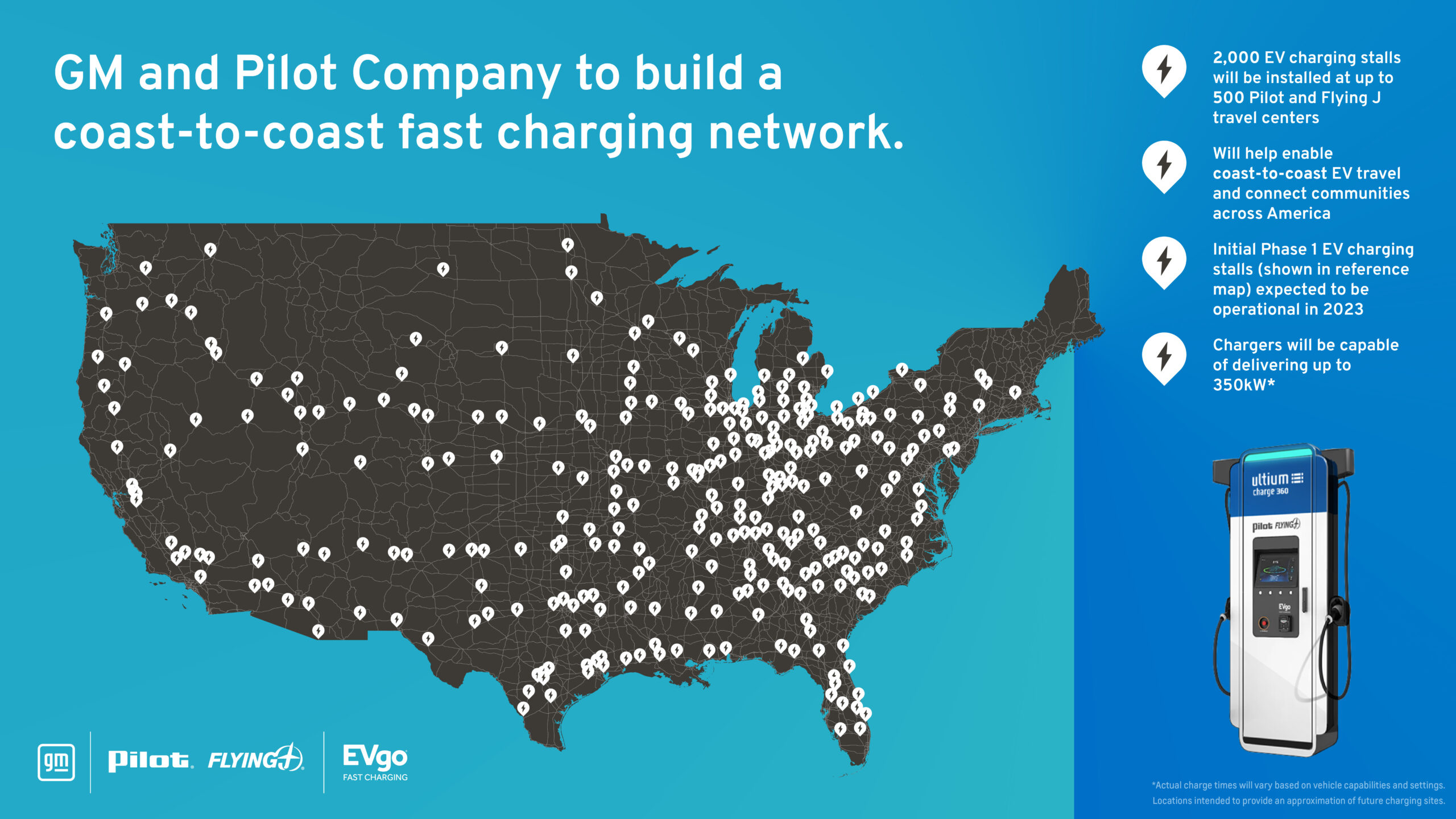 GM said the charging stalls, to be co-branded "Pilot Flying J" and "Ultium Charge 360," will be available for all brands of EVs. Drivers of GM vehicles will get special benefits, such as exclusive reservations, discounts on charging, a streamlined charging process through Plug and Charge, and integration into GM's vehicle brand apps.
Many of the sites will feature canopies to help protect customers from the elements, GM said, as well as pull-through capability to make charging convenient for EVs pulling trailers.
The OEM is already working with EVgo on the installation of more than 3,250 fast chargers in 52 metropolitan areas across the U.S. by the end of 2025.
The project with Pilot "demonstrates how public and private entities can come together to build out the nation's charging infrastructure, particularly along American highways, connecting urban and rural communities, the East and West Coasts and different metropolitan areas," GM said in a statement.
GM is "committed to an all-electric, zero-emissions future, and ensuring that the right charging infrastructure is in place is a key piece of the puzzle," Mary Barra, GM Chair and CEO, said. "With travel centers across North America, Pilot Company is an ideal collaborator to reach a broad audience of EV drivers."
Shameek Konar, CEO of Pilot, said his company's travel centers are well equipped to accommodate EV charging, with 24-hour amenities and proximity to major highways across the country.
"We look forward to collaborating with GM and the U.S. Department of Transportation to make convenient coast-to-coast EV travel a reality through our national network of travel centers," Konar said.
Last month, the Federal Highway Administration (FHWA) released an 82-page Notice of Proposed Rulemaking on minimum standards and requirements for projects funded under the National Electric Vehicle Infrastructure (NEVI) Formula Program.
The proposal is FHWA's plan to support President Joe Biden's build-out of the first national network of 500,000 electric vehicle EV chargers, which are to be built 50 miles apart along designated alternate fuel corridors.
Third-party research shows that widespread access to highway charging, particularly in underserved urban and rural areas, is one of the biggest barriers to widespread EV adoption.
GM has committed to investing nearly $750 million in EV charging infrastructure, with a goal of enabling access to more than 100,000 charge points in the US and Canada through its Ultium Charge 360 project.
In addition, as many as 40,000 charging stalls are to be installed in local dealer communities, focusing on underserved rural and urban areas.
For its part, Pilot Company has announced a $1 billion project to upgrade its travel centers with more premium amenities and offerings that aren't typically available at existing EV charging locations. This includes free Wi-Fi, expanded seating and lounge areas, and onsite dining and shopping.
More information
Feds propose new rules for creating national network of 500K EV charging stations
Images
A map shows the locations included in the first phase of the nationwide EV charging network to be built by GM and Pilot Company. (Provided by GM)
An EVgo charger. (Provided by GM)
Share This:
Related