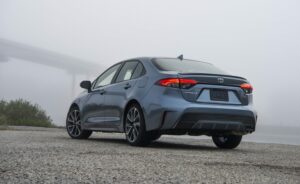 Toyota has provided guidance to help repairers determine when a bumper cover on a vehicle with advanced driver assistance system (ADAS) features can be repaired, and when it must be replaced.
In an article published on the Toyota Genuine Parts website, the OEM notes that a collision might damage not only the bumper, but the sensors behind the bumper, potentially affecting their future performance.
Toyota vehicles equipped with Toyota's Safety Sense ADAS "have inherent restrictions and guidelines that apply when a vehicle has been in an accident," the article states. "Therefore, when a newer Toyota comes into your shop, you need to be familiar with Toyota Safety Sense (TSS) features on that vehicle and how your repairs may or may not affect the performance of those systems."
To determine which specific safety vehicles are on a particular model year, Toyota recommends checking the New Car Features (NCF) manual found on Toyota's Technical Information System (TIS) website, techinfo.toyota.com/, or contacting a Toyota dealer.
Repairers should keep in mind that, according to Database Enhancement Gateway Administrator Danny Gredinberg, researching repair procedures is a not-included operation in all three estimating systems — CCC, Audatex, and Mitchell.
The TIS also provides the model-specific charts that are important in diagnosing the damage to a Toyota vehicle that has been in a collision involving the front or rear bumper. The article offers the following steps to access the charts:
Go to the TIS website and log in
Click on the TIS tab
Enter:

Division: Toyota

Model
Year
Service Category
Section: leave as "ALL"
Keyword: Type in "Damage Diagnosis"

Hit "Search"
Select the "CR" tab – for Collision Repairs – there, you will find the Damage Diagnosis document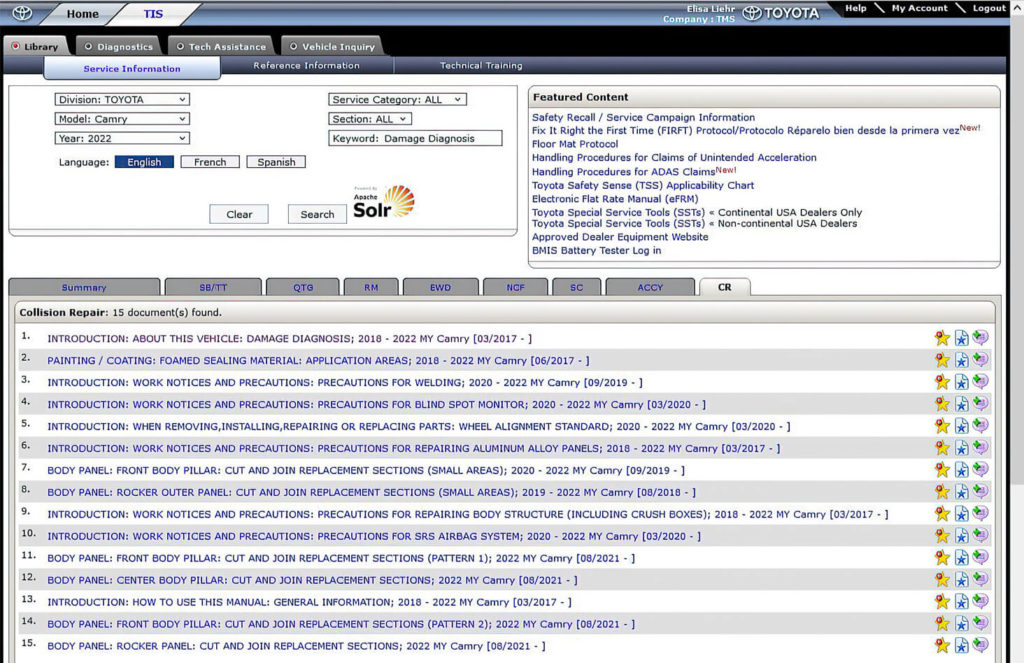 Repairers will want to check Toyota's latest Collision Damage Repair Precautions (TIS-CRIB-161), which includes a collection of precautions that communicate Toyota's position on some key collision repair topics.
Toyota reminds repairers that TIS is also a source for specific model documents that provide instructions on removing, installing, repairing, or replacing components related to bumpers.
The document "Exterior Resin Parts and Resin Characteristics," also found on TIS, will help repairers determine what material they're working with, and how the extent of the damage affects whether the bumper cover can be repaired.
The article offers two examples of Toyota's guidelines:
For example, a bumper with a hole less than 1.97-in. in diameter (50mm), could be repaired if it is not near a sensor.
If the rear bumper around the Blind Spot Monitoring System (BSM) control module is damaged, replace the bumper.
Once a bumper cover is damaged near a sensor for the BSM or Rear Cross Traffic Alert system, "the repair of the cover can affect the performance of those systems. Additionally, subletting the repair out for reconditioning, using repair filler material and primers, or even repainting the damaged area multiple times will add thickness, which can compromise the performance of how the sensor detects objects," Toyota advises. "Any cracks or holes in the irradiation area mean the bumper must be replaced."
Finding and following the correct procedure is important to the safety of a vehicle's passengers, the OEM points out. "Getting any of the bumper repair wrong near or on the sensors may result in failure to alert the driver to threats in the vehicle's blind spot areas."
Toyota recommends that repairers read its Precautions for Blind Spot Monitor document if they opt to repair a bumper cover on a vehicle that's equipped with that feature.
Repairers should also check for ancillary damage, Toyota says, by following these documents on TIS:
Precautions for Front Side Radar Sensor
Bumper Bracket
Cut and Join Replacement Sections
Radiator Support Assembly
Crush Box (note that repair of bumper reinforcement is prohibited)
For more information, visit the Toyota Technical Information System (TIS).
More information
Toyota bumper repair with ADAS: Repair or replace it?
https://www.toyotapartsandservice.com/collision_pros_pub/toyota-bumper-repair-with-adas#footnote
I-CAR: How to Find Toyota/Lexus CRIBs 
https://rts.i-car.com/collision-repair-news/how-to-find-toyota-lexus-cribs.html
Images
Featured image: a 2020 Toyota Corolla. (Provided by Toyota)
Share This: