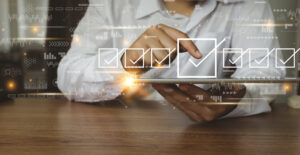 Among the not-included operations covered in Collision Advice's latest "Who Pays For What?" Survey are post-collision cleanup, such as airbag residue cleanup, vehicle fluids, and old urethane, as well as pre-washing vehicles and cutting into vehicles to complete damage assessments or repairs. Seatbelt inspections and repairs to electric vehicles (EVs) were also covered.
The survey is the latest in a quarterly series conducted by Mike Anderson of Collision Advice in conjunction with CRASH Network that shows which not-included operations the nation's eight largest insurers — State Farm, Farmers, Nationwide, Allstate, USAA, Liberty Mutual, Progressive, and GEICO — typically pay for. The survey was conducted in April and 683 shops responded to the questions. Results were released earlier this week.
State Farm and USAA are the top two insurers to pay for airbag residue cleanup with 26.8% and 25% of shops who asked for payment, respectively, saying they always pay. Overall, 39% of shops said they're always paid or paid most of the time for the operation. That's about the same compared to last year at a 0.1% increase.
Shops that are part of State Farm and USAA's direct repair programs (DRPs) are even more likely to be reimbursed with 51.8% and 36.8% of shops, respectively, to always be paid. That's compared to 18.1% (State Farm) and 23.1% (USAA) for non-DRP shops.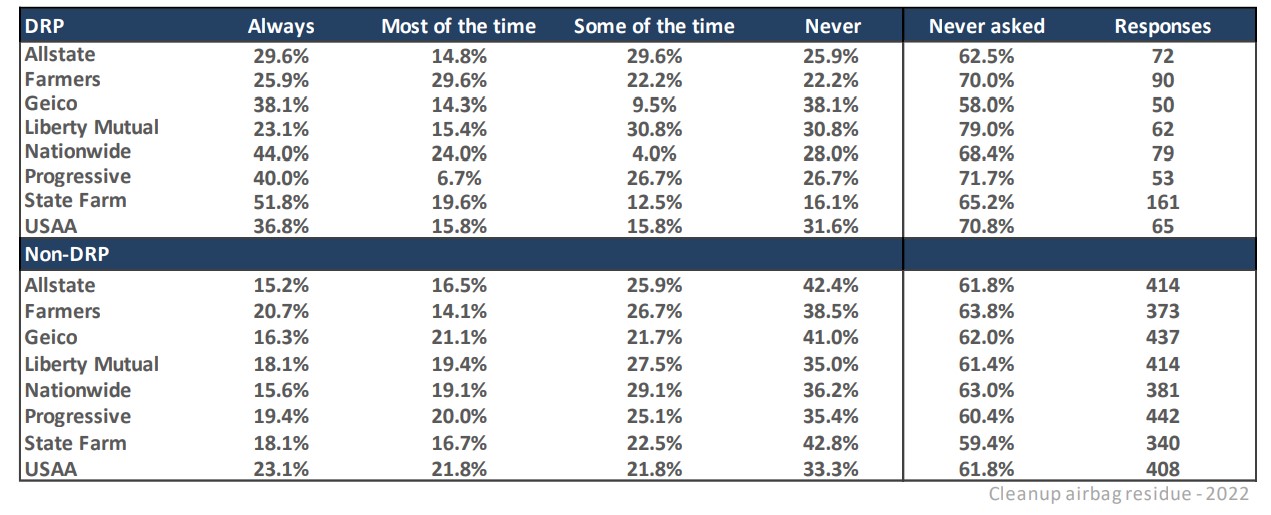 Of those that negotiate for cleanup of vehicle fluids, 38% of shops overall are paid "always" or "most of the time" with State Farm (24.1%) and USAA (22.5%) again leading the pack on the percentage of shops who said they're reimbursed by the carriers for the operation. At DRP shops, however, State Farm (40.6%) and Progressive (33.3%) tend to always pay, according to the survey respondents. USAA (21.9%) and Nationwide (21.3%) are nearly tied for always covering the operation at non-DRP shops.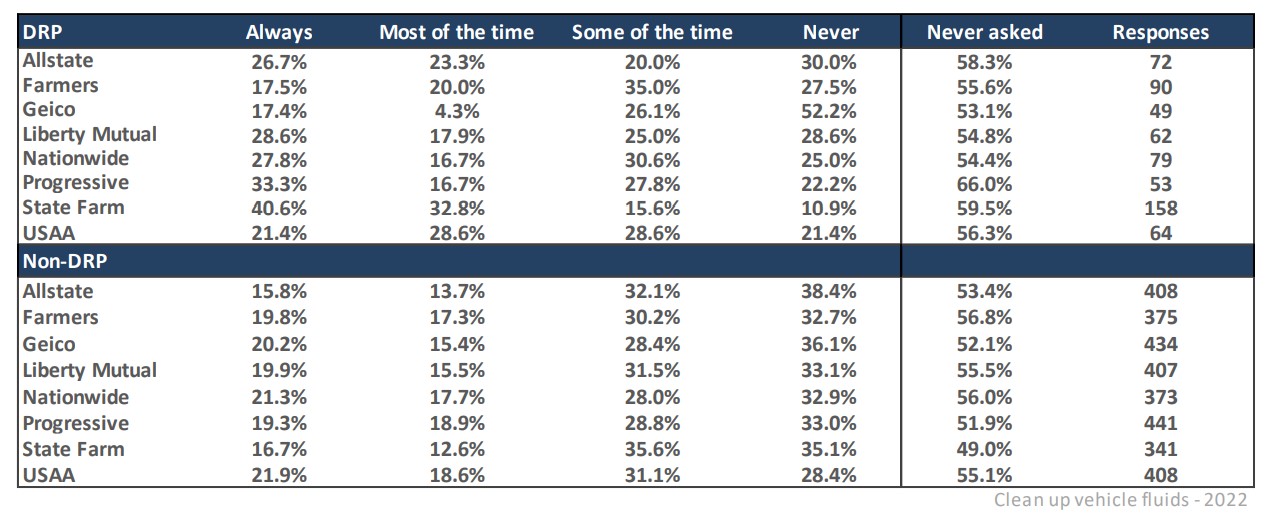 Anderson noted on this operation that, "It is not uncommon for tow truck drivers to itemize on their invoices clean-up of fluids or debris at the accident scene. This is applicable to our industry as well if a vehicle brought to our facility leaks fluids on the parking lot or inside the shop."
When it comes to coverage of additional labor to remove or level old urethane adhesive residue after glass is taken out, 36% of respondents overall said they're paid "always" or "most of the time," most commonly always by State Farm (22.3%) and USAA (21.6%). Both carriers typically are more likely to always pay DRP shops over non-DRP by a nearly 26% difference for State Farm and 5% by USAA.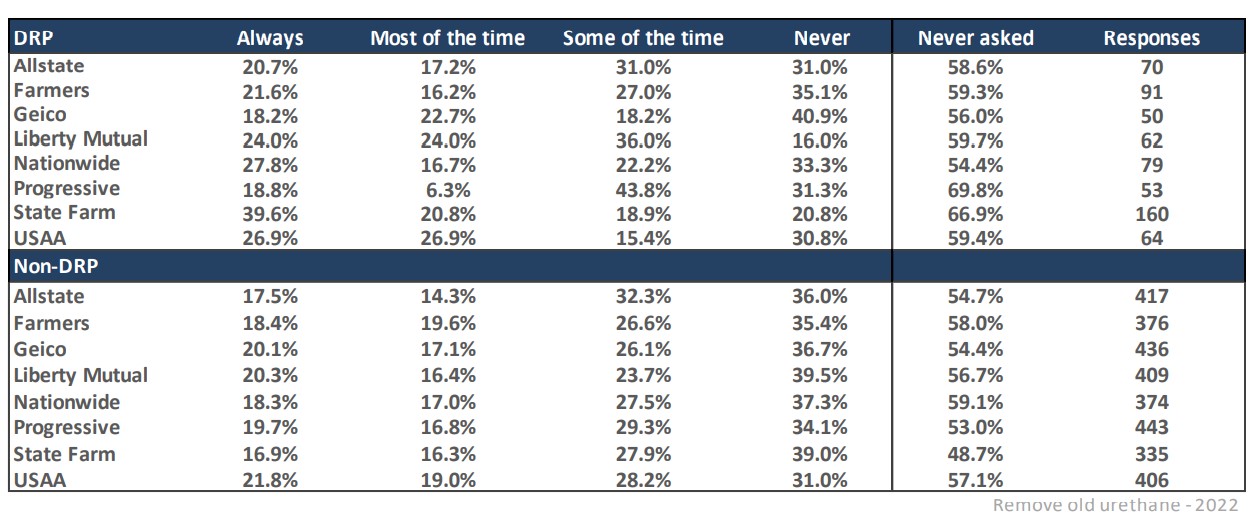 "Although the removal of a rear window or quarter glass may be included in the quarter panel replacement labor time, additional labor may be required to clean or level the old urethane prior to reinstalling the glass, and this is not included," Anderson wrote.
The aforementioned operations saw little increase in payment compared to last year but coverage of washing vehicles before repairs are made is up 3.1% this year with 14% of shops saying they're paid "always" or "most of the time" for it. Coverage by each of the eight carriers fell between 6.2% and 8% of shops with USAA being No. 1 in the "always" paid category.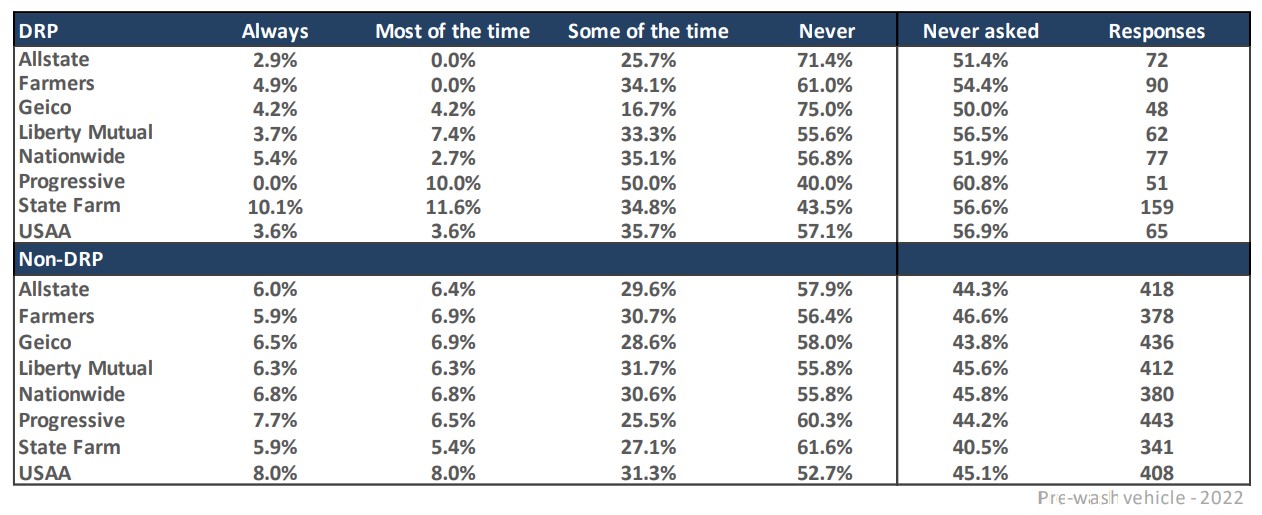 Interestingly, none of the DRP shops that responded who said they negotiated for reimbursement on the operation were always paid by Progressive while 7.7% of non-DRP shops said they were always paid by the carrier. State Farm, at 10.1%, leads the pack for always paying its DRP shops. USAA is No. 1 at always paying 8% of non-DRP shops.
"The paint manufacturers state that a best practice is to pre-wash a vehicle before repairs," Anderson wrote. "Vehicles may be covered in salt, snow, mud, road tar or other contaminants that need to be removed prior to the repair process. It is also often necessary to clean the vehicle prior to inspecting for damage during repair planning. That's often stated in PDR matrixes from paintless dent repair companies."
Also up higher than 1%, at nearly 2% over last year, is coverage of labor to gain collision access — when a door or hood, for example, has to be cut for access to complete damage assessments or repairs. Fifty-six percent of shops, overall, said shops pay for the operation always or most of the time.
State Farm (48.7%), Farmers (42.6%), and USAA (41.2%) are the top three carriers to cover the operation for their DRP shops. USAA (27.4%), Progressive (26.8%), and Nationwide (26.4%) are the top three to cover it for non-DRP shops.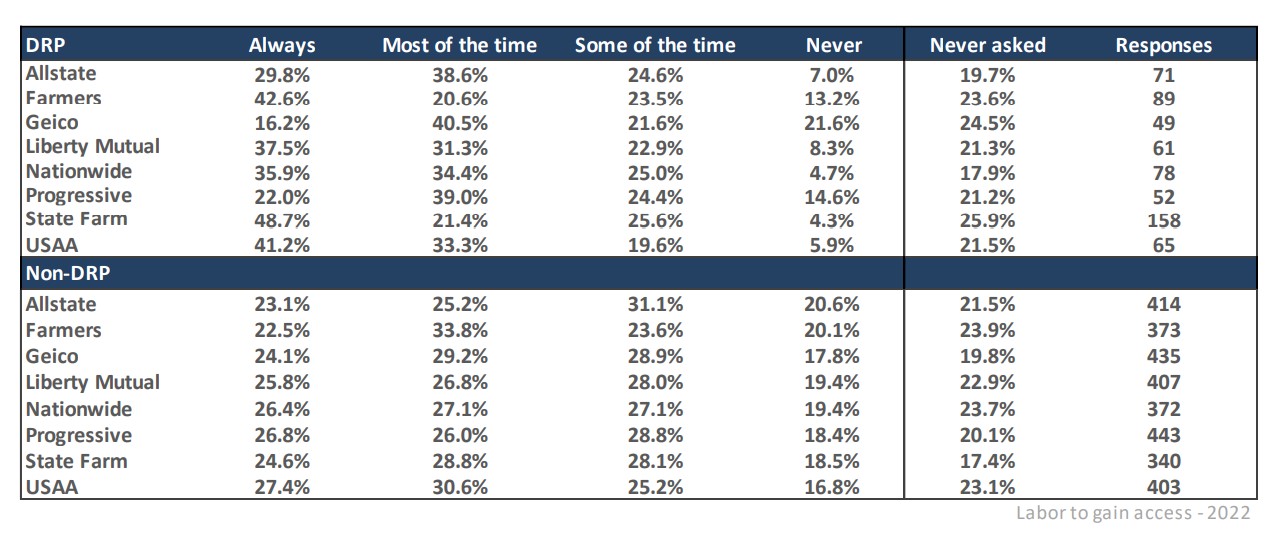 "It is very surprising to me that, in some regions, as many as 30% of shops have not sought to be paid for this. It has been my experience that it is not uncommon for a collision technician to need to cut an access hole to remove components from a damaged door, for example, or to get the latch open when the hood is damaged," Anderson wrote.

Payment of labor for seatbelt inspections — an often overlooked but recommended post-collision procedure by every automaker — is up 3% this year to 37% of shops overall who asked for payment receiving it.
"Of all the procedures, this is the one that keeps me awake at night," Anderson wrote. "Every OEM has a very specific procedure for how to inspect seatbelts. The response to this question is very concerning because it indicates to me that too few shops are researching OEM repair procedures and are thus not aware of this requirement. As an industry, we must accept responsibility for researching and following the requirements for this on every vehicle.
"You often can use just the vehicle owner's manual to prove that this is a necessary procedure. Those manuals often indicate that a seatbelt inspection is needed after a collision. Check the 'Resources' section at the end of this report for an excellent list of links to vehicle owner's manuals, put together by the Database Enhancement Gateway (DEG). In some cases, the inspection procedure may require the use of a diagnostic scan tool to check the pre-tensioners (on some Honda and Acura vehicles, for example, a deployed pre-tensioner does NOT trigger a DTC, so other 'live data' from the scan must be checked), as well as a visual inspection. There may be additional steps if a seatbelt is reinstalled to verify it is installed properly."
According to nearly 40% of DRP shops, GEICO never pays for the operation and State Farm is the most likely to not pay for non-DRP shops for it.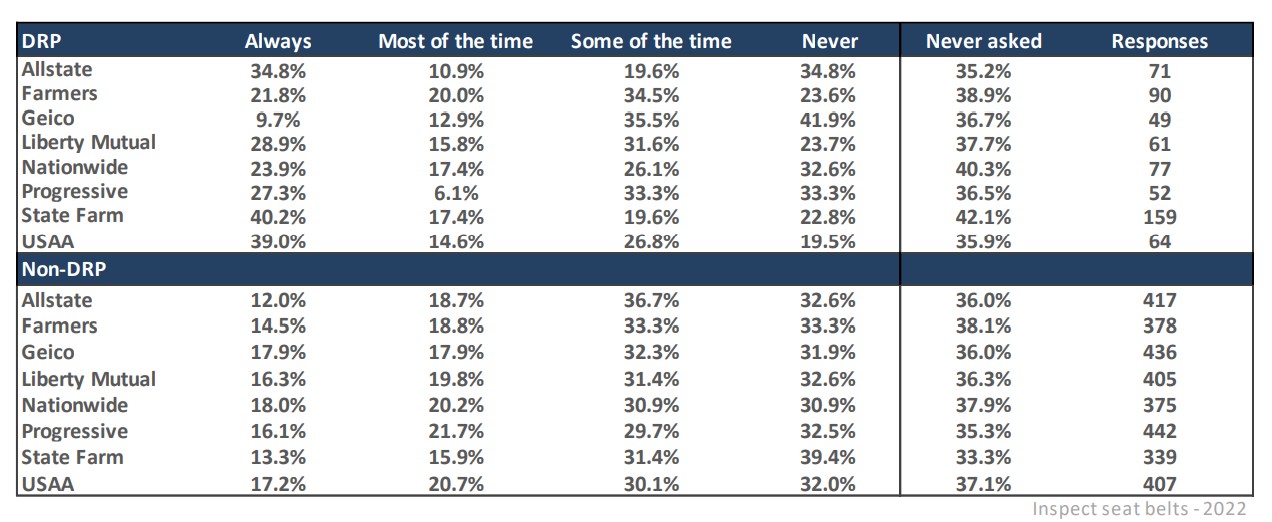 Repairs to electric vehicles often require the removal of seats and other interior parts that need to be protected during repairs but many other jobs also require protecting the vehicle interior or parts from welding or grinding sparks, and more, according to Collision Advice. The "Who Pays for What?" surveys over the past seven years continue to find an increasing percentage of shops are billing for – and being paid – for this procedure by the eight largest auto insurers.

"Back in 2016 when Collision Advice and CRASH Network first asked in their 'Who Pays for What?' survey about the labor to protect the vehicle interior or parts during repairs, nearly a third of shops (32 percent) said they had never billed for it. This year, that percentage has been cut nearly in half, with only 18 percent of shops reporting they have not charged for the labor for this step."

Among those shops that have billed for it, more than half — 55%, up from 43% in 2016 — say they are paid for that procedure always or most of the time, and more than 1 in 4 others (28 percent) say they are paid at least some of the time, the release states.
Within the survey results, the Database Enhancement Gateway (DEG) provided inquiries that Collision Advice says should prove useful to repairers.
Collision Advice this week also launched its next survey, which will focus on not-included frame and mechanical labor operations. Shops can take the survey through the end of July at www.surveymonkey.com/r/3X7FDBP.
Survey participants receive a free report with complete survey findings along with analysis and resources "to help shops better understand and use the information presented," according to the release.
Anderson said the survey, which has been streamlined to require less than 15 minutes, can be completed by anyone in a shop familiar with its billing practices and the payment practices of at least some of the largest national insurers. Only aggregated data is released.
The results of previous surveys are also available online at www.crashnetwork.com/collisionadvice.
IMAGES
Featured image credit: Chattrawutt/iStock
All survey results images provided by Collision Advice and CRASH Network.
Share This: