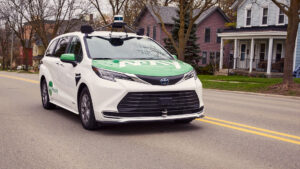 State Farm Ventures, a wholly-owned subsidiary of the nation's largest auto insurer, has made an investment in May Mobility, becoming one of the first US-based insurers to put money into autonomous vehicles (AVs).
The Ann Arbor, Michigan-based autonomous ride-hail and shuttle startup announced on Tuesday that it had closed a $111 million Series C round of funding, with State Farm Ventures among the investors. It did not place a dollar amount on the carrier's investment, but State Farm Ventures says its limit is $5 million.
"The insurance industry sees the future of mobility and is recognizing the importance of helping to design the way insurance will support autonomous vehicles in the future," Ryan Green, CFO of May Mobility, said in a statement. "Having partners like Tokio Marine and State Farm Ventures helps expedite that vision for the future of mobility."
The company, in a press release, said that that improving road safety is a "key goal" for May Mobility, and that State Farm's investment "indicates the insurance industry's growing support for AV operations to reduce road accidents."
Michael Remmes, Vice President, State Farm Ventures, said in a statement, "May Mobility's technology is a potential compelling advancement in the evolution of autonomous driving and may help to reduce accidents and improve road safety."
May Mobility has been partnering with Toyota on its autonomous Toyota Sienna vehicle platform, called the Sienna Autono-MaaS. The new funding will allow the expansion of vehicle deployment, as well as preliminary development of another vehicle design centered around mobility, Toyota's electric e-Palette.
The company operates low-speed AVs designed to augment public transportation in four Michigan cities — Arlington, Ann Arbor, Grand Rapids, and Fishers — and in Hiroshima, Japan. The Sienna Autono-MaaS vehicles have been used for testing and demonstrations in Ann Arbor, modified to serve as a vehicle platform compatible with third-party autonomous driving kits and sensors.
State Farm Ventures announced in January that it had expanded its venture capital investment fund to $200 million, double the original commitment, with the intent of fostering start-ups "that align with the strategic goals of State Farm."
Remmes said in January, "Throughout our 100-year history, continuous innovation and adaptation has positioned State Farm as the leader in a highly competitive industry. We recognize that investing in innovation is key to our continued success of serving our customers, and we look forward to discovering additional opportunities for investment in diverse and creative start-up companies that promote safety and security in our communities."
One of the fund's focus areas, according to materials on its website, is investment in "technologies, services and capabilities that improve vehicle/pedestrian safety, enhance our ability to underwrite and handle claims more efficiently, and allow us to enter new markets, including connected vehicles, cyber-security, and payments."
State Farm Ventures was established in 2018 and has made 21 investments to date.
More information
May Mobility closes $111 million Series C funding, begins preliminary development on Toyota's next generation mobility platform
Images
Featured image: A Toyota Sienna Autono-MaaS vehicle, developed by May Mobility in partnership with Toyota. (Provided by May Mobility)
Share This: