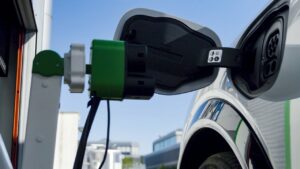 Ford tests prototype robot EV charging station
By on
Technology
Ford has developed a prototype robot electric vehicle (EV) charging station, and has begun testing the technology in real-life situations.
The charger, which drivers operate via their smartphone from inside the EV, could help disabled drivers to stay in the car while charging, or to leave the car while the robot does the work, Ford said.
Ultimately, the robot could charge driverless vehicles, Ford said.
According to the OEM, 61% of disabled drivers surveyed in the UK said they would consider buying an electric vehicle only if charging was made more accessible. Ford said it is testing the station "as part of a research project to develop hands-free charging solutions for electric vehicles and fully automatic charging for autonomous vehicles."
"I stopped filling up my car myself years ago, because it became very strenuous. My husband does it for me. The introduction of a robot charging station would offer me a much greater level of independence," said Angela Aben, a Ford of Europe employee who uses a power-assisted wheelchair to gain more mobility and independence.
The robot charging station, custom built by Dortmund University in Germany, has undergone initial lab testing, and is now being put to the test in real-life situations, Ford said.
It described how the robot charger works: "Once activated, the station cover slides open and the charging arm extends towards the inlet with the help of a tiny camera. For the trial, drivers were able to monitor the charge status via the FordPass app. After charging, the arm retracts back into place."
Ford suggests that the station could be deployed at disabled parking spaces, in parking lots, or at private homes. It could also be used to charge vehicle fleets more quickly and efficiently, it said.
A Ford Pro survey of U.S. fleet purchasing decision makers conducted this spring revealed that nearly three-quarters of these commercial customers from small businesses to large fleets feel pressure to adopt electric vehicles, while more than 60% considering electric vehicles planning to adopt the technology within two years.
Ford said it will continue to develop the robot charging station in a followup project with Ionity, a company that operates a network of high-power charging stations along highways in 24 European countries.
For EV drivers in the US, Ford offers its growing BlueOval Charge Network, composed of over 19,500 charging stations with 63,000 plugs and growing. The network includes charging providers Greenlots, Electrify America, EV Connect, ChargePoint, SemaCharge, FLO, and EVgo. In Europe, the BlueOval network provides access to a network of more than 300,000 chargers.
The OEM said it is also conducting research into robot charging solutions in combination with Automated Valet Parking, as demonstrated at the Munich auto show (IAA) in Munich, Germany, last year.
Ford recently joined 27 companies in a petition to ensure all new cars and vans in Europe are zero emission from 2035 and called for targets to grow electric vehicle charging infrastructure in Europe to keep pace with electric vehicle growth rates.
Images
Featured image: A robot charging station undergoes real-world testing. (Provided by Ford)
Share This: