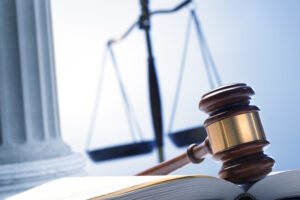 Report finds State Farm, Allstate most hit by insurance litigation in 2021
By on
Insurance | Legal
State Farm, the nation's largest auto insurer, is also far and away the most sued, according to a recently-released report by data provider Lex Machina.
According to the 2022 Insurance Litigation Report, State Farm was a defendant in 4,831 cases between 2017 and 2021, with 2,681 of those cases involving auto coverage, and 2,194 involving uninsured motorist/underinsured motorist (UM/UIM) coverage. Allstate was a distant second, defending itself against 2,688 complaints, 1,180 of which were for auto, and 847 for UM/UIM.
"Despite the fact that State Farm breaks apart its automobile coverage and fire and casualty coverage into two separate companies, both companies are far and away the most active defendants, each with over 1000 cases more than the next most active defendant," the report says.
Between their various companies, State Farm and Allstate occupied five of the top 10 spots on the most-sued list. Also on the list are Safeco, a defendant in 880 cases; Scottsdale Insurance Company, 855; Liberty Mutual, 831; GeoVera Speciaty Insurance Company, 687; and Lexington Insurance Company, 585. The bulk of the claims against Scottsdale, GeoVera and Lexington were for homeowners coverage.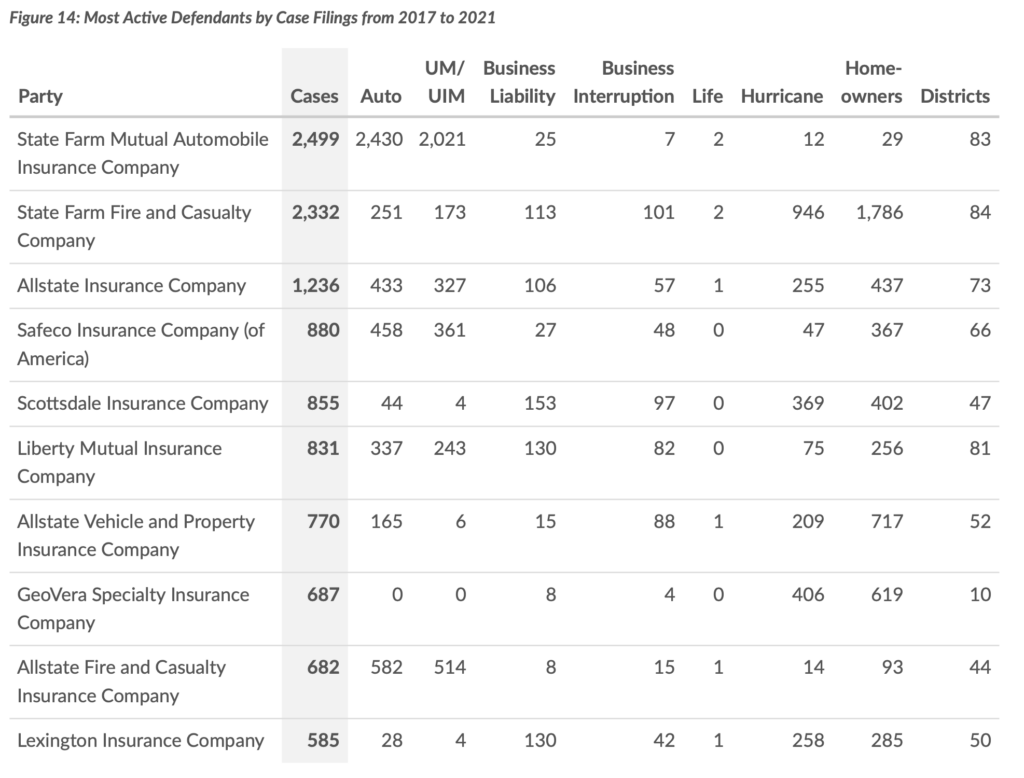 Looking strictly at auto claims among the top 10 defendants, the totals are State Farm, 2,681; Allstate, 1,180; Safeco, 458; Liberty Mutual, 337; Scottsdale, 44; Lexington, 28; and GeoVera, zero.
The report does not take carriers' market share into account.
"Overall, insurers tend to be defendants more often than plaintiffs. However, insurers may appear as plaintiffs when litigating against each other to allocate responsibility for a loss," the report says. "Insurers also appear as plaintiffs in declaratory judgment actions against insureds or against other insurers."
State Farm entities also ranked first among plaintiffs, with 368 cases filed. Again, Allstate was second, with 166, followed by Evanston Insurance Company, with 156; Scottsdale with 155; Travelers with 146; Nautilus and Zurich American Insurance Company, each with 143; Auto-Owners Insurance Company, with 140; and Owners Insurance Company, with 129. The majority of the Evanston, Scottsdale, Travelers, Nautilus and Zurich American cases involved business liability coverage.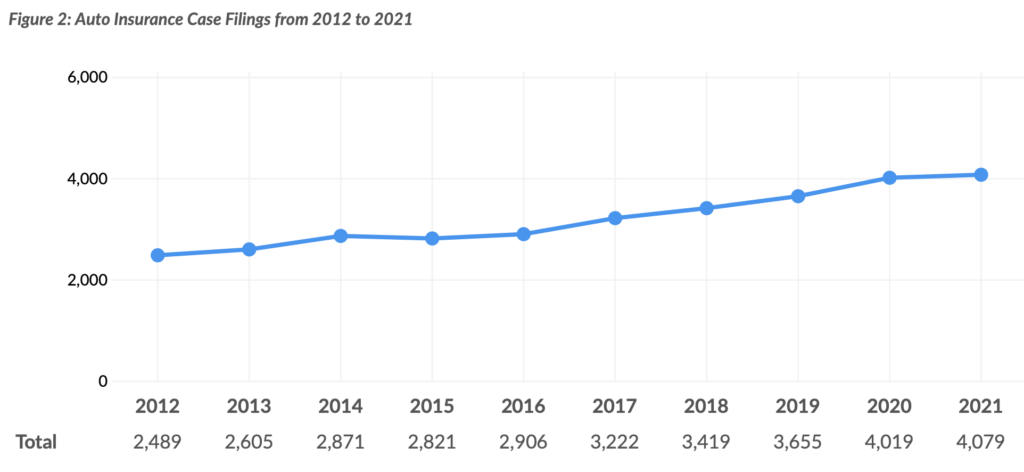 Lex Machina said that auto insurance cases increased steadily between 2012 and 2021. "With 4,079 cases filed in 2021, there was a 64% increase since 2012. One reason more insurance claims are making their way to federal court may be that the amount in controversy increasingly meets the $75,000 threshold for diversity jurisdiction," the report said.
Meanwhile, UM/UIM cases saw a drop in case filings in 2021, the first decrease of the decade. "This may be a result of less driving that occurred in 2020 during the early part of the pandemic, given the delay between an accident and a case making its way to federal court," the report says.
The report also looks at the disposition of all cases involving insurers between 2017 and 2021. At the district court level, 73% of cases ended in a likely settlement, while plaintiffs won in 2% of cases, and defendants in 9%. In 15% of cases, there was a procedural resolution, with most of those dismissals.
"As this figure looks at the way cases were terminated, claim defendants were likely to have more cases resolved at judgments on the pleadings and summary judgments due to the nature of those proceedings. In comparison, if the claimant wins at those stages of trial, the cases often do not terminate and instead proceed onward," the report says. "However, the large number of summary judgments in favor of insurers [5% of all cases], compared to judgments on the pleadings and trials, is significant compared to other practice areas."
At the appeals court level, appellants won 16% of the time, while the original judgment was upheld 46% of the time. In 27% of cases, the parties likely reached a settlement, the report says.
Overall, in 2021, insurance case filings reached a record 14,793 cases, part of an upswing in nearly all kinds of insurance cases, Lex Machina said. This was a 47% increase in case filings since 2017, and a 19% increase in filings between 2020 and 2021. The report found a significant increase in hurricane-related case filings, while auto insurance and business liability cases also saw increased case filings in 2021.
Lex Machina's report encompasses the 106,416 insurance cases that were filed in the U.S. District Courts from 2012 to 2021, as well as the 6,305 insurance cases that were appealed to the federal courts of appeals from 2012 to 2021.
The report includes data-driven insights into the behavior of courts, judges, parties, and law firms, and is meant to be used for planning, forecasting, and litigation strategy.
More information
To obtain a copy of the full report, visit Lex Machina's website.
Images
Featured image by DNY59/iStock
Graphs provided by Lex Machina
Share This: