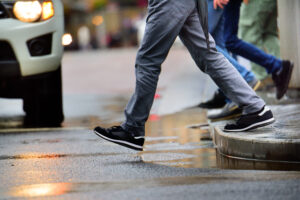 NHTSA rejects driver-selectable pedestrian alert sounds for hybrid, electric vehicles
By on
Legal | Technology
The National Highway Traffic Safety Administration (NHTSA) has issued a final rule on minimum sound requirements for hybrid and electric vehicles (EVs), which rejects the use of driver-selectable alert sounds.
The proposal was considered as a safety measure to help prevent injuries to the blind, pedestrians, and cyclists who may not hear hybrids and EVs approaching since they make less noise when traveling than internal combustion engine (ICE) vehicles. NHTSA concluded from a study it conducted, the results of which were released in 2017, that "the incidence and the odds of an HE [hybrid and electric] vehicle being involved in a pedestrian crash are 1.20 times (20% higher) as the corresponding incidence and odds of an ICE vehicle being involved in a similar crash."
According to the most recent data from NHTSA, released in December 2020, a pedestrian was killed every 85 minutes in a traffic crash in 2019. More than 6,200 pedestrians were killed nationwide in 2019 and 76,000 injured.
"The driver-selectable alert sounds proposal is not being adopted because of a lack of supporting data," NHTSA states. "…As a result, the agency has concluded that the existing requirement—that HEVs of the same make, model, model year, body style, and trim level, must have the same alert sound—should remain in effect, and the provisions in S5.5 of FMVSS No. 141 should not be amended at this time."
This final rule, effective Aug. 12, amends a federal test procedure, known as the "quiet vehicles rule," as proposed in a Sept. 17, 2019 NPRM "to specify the single point in time that should be used when determining one-third octave band levels of ambient noise measurements used in compliance tests."
"The agency has chosen not to adopt the remaining portions of the NPRM, including a proposal which would have allowed manufacturers of hybrid and electric vehicles (HEVs) to install a number of driver-selectable pedestrian alert sounds in each HEV they manufacture."
The proposed rule would have removed a numerical limit on compliant sounds that a manufacturer can install in vehicles, according to NHTSA.
The September 2019 NPRM sought public comment on allowing "unlimited sounds on HEVs, provided the manufacturer certified that each sound complies with the requirements of FMVSS No. 141 [quiet vehicles rule], as well as related questions including whether the safety standard should be amended to allow only a limited number of sounds."
NHTSA says it reconsidered a 2017 joint petition from the Alliance of Automobile Manufacturers and Global Automakers, both of which took issue with the proposal stating that it "adopted an inflexible approach."
They stated in their petition, "Satisfying our customers is a primary concern for OEMs [Original Equipment Manufacturers]. Since 'one size does not fit all' neither will one alert sound for a given make, model, trim level and model year satisfy all those consumers purchasing all these same vehicles."
They also recommended that no more than five driver-selectable sounds be allowed per vehicle. In response, NHTSA proposed amending the rule to allow an unlimited number of pedestrian alert sounds per vehicle for any operating condition, which the Alliance and Global Automakers both later supported.
In its summary of comments it received on the proposed amended rule, NHTSA states, "The great majority of the comments on the NPRM, including those submitted by organizations and people who are blind or who have low vision, did not favor the proposal to allow HEVs to have an unlimited number of different pedestrian alert sounds. To the contrary, most of those comments were in favor of more uniformity, rather than less, in the number and types of alert sounds allowed on HEVs.
"In fact, while out-of-scope of the NPRM, at least one organization expressed a preference for permitting only a single, uniform sound for all HEVs regardless of vehicle make or model. These commenters stated that having greater uniformity makes it easier for sight-impaired pedestrians to recognize vehicles, and thus safer for them to navigate in traffic. Several comments from individuals included descriptions of unsafe encounters with quiet vehicles."
IMAGES
Featured image credit: olaser/iStock
More information
Alliance of OEMs, ICAM, government agencies & others hopes to decrease number of pedestrian deaths
Federal law to address vehicle safety standards, crash prevention & increased fatalities
Share This: