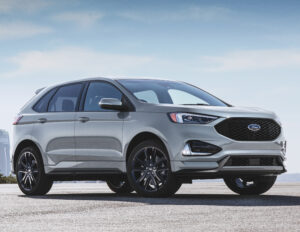 Ford has begun offering an optional advanced driver assistance system (ADAS) certification for members of its Ford Certified Collision Network (FCCN).
Although the certification is optional, Ford said, "having dedicated, in-house ADAS calibration technicians to maintain the highest level of certification available is recommended."
Collision repairers who are not ADAS-certified must work with FCCN-certified third-party providers who have completed the Ford ADAS requirements for their calibration and diagnostic needs, Ford said.
The certification "supports our customer-first philosophy of providing Ford and Lincoln vehicle owners with quality, safe collision repairs utilizing original equipment repair procedures and parts," the OEM said. "Ford is dedicated to delivering collision repair solutions that meet the complex needs of current vehicles through certification of proper equipment, trained professionals and necessary facility requirements."
To be ADAS-certified, Ford said, the following items are required:
A dedicated, in-house calibration technician
Completion of all 11 I-CAR training courses related to ADAS
Completion of all five Ford Motor Company training courses on ADAS and the Ford Diagnostic and Repair System (FDRS)
Completion of Ford's two-day, hands-on ADAS service and diagnosis training workshop
Access to Ford's official Workshop Manual (included in FCCN)
Proper tools and equipment, including Ford diagnostic hardware and software, and 360-degree camera calibration mats.
"Driver assistance systems will continue to grow and expand," said Ford Collision Network Manager Dean Bruce. "ADAS technology features highly-sensitive equipment and components integrated into many vehicle systems. Ford's new ADAS certification option helps to ensure technicians are able to recognize, diagnose and calibrate all ADAS features to ensure proper functionality of every vehicle system."
Successful completion of the 11 I-CAR and five Ford training courses is a prerequisite for the new, optional ADAS learning and certification path developed in collaboration with I-CAR. Included is a unique, Ford-specific, two-day ADAS hands-on skills development (HOSD) course at I-CAR's Chicago Technical Center, which features a state-of-the-art lab with all the proper Ford tools and equipment.
The new, 16-hour Ford ADAS HOSD course is focused on diagnostics and repairs specific to Ford ADAS. In a real-world shop environment, technicians will use Ford Service Information (PTS) and the Ford Diagnostic and Repair System (FDRS) to identify, investigate, diagnose, and repair various ADAS components on Ford vehicles. Technicians will apply a diagnostic process to understand ADAS operation, architecture, and features, and will learn about the relationships these systems have to one another and other vehicle systems.
In April, I-CAR announced that it had created an optional technician role for repairing ADAS technologies. The new role will create a new career path for repair professionals and help body shops create a new revenue stream by keeping their ADAS repair work in-house, I-CAR officials said in announcing the addition.
ADAS technician is the ninth role included in I-CAR's Automotive Collision Repair Industry Knowledge and Skills Protocol, along with such established industry roles as auto physical damage appraiser, estimator, refinish technician, and structural technician. The terminal and enabling objectives are detailed at the I-CAR website.
An article about the Ford ADAS certification is included in the most recent issue of On Target magazine. The issue also contains an in-depth walk-through of Ford's job aid on ADAS, including information on the new I-CAR training course; body construction updates on the Ford Bronco and Bronco Sport; detailed looks at the Ford BLIS system and proper diagnostic methods; a look Inside the Industry; and more.
This volume is available on both FordCrashParts.com and OEM1Stop.com, as well as RTS.i-car.com. Previous issues are currently up on all sites as well.
More information
Ford Certified Collision Network
https://collision.ford.com/fordcertifiedcollisionnetwork or 833-837-7694.
I-CAR training classes
CustomerCare@I-CAR.com or 800-422-7872
I-CAR creates ADAS technician role in response to growth, complexity of technology
Ford launches certified glass network focused on use of OEM procedures, parts
Images
Featured image: A 2021 Ford Edge. (Provided by Ford)
Share This: