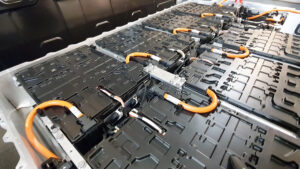 Two main points came out of an interview with four automakers during a July 20 Collision Industry Conference (CIC) special session — look up OEM repair procedures for every single repair and that electric vehicle (EV) body design, as well as body repairs, don't differ from internal combustion engine (ICE) vehicles as much as some repairers may think they do.
The panel, moderated by Precision Body & Paint's Ron Reichen, included Benito Cid, Mercedes-Benz USA collision manager; Mark Allen, Audi of America collision and equipment manager; Kelly Logan, Rivian collision repair program senior manager; Frank Phillips, Rivian collision repair program manager, and Jake Rodenroth, Lucid Motors North American body repair program operations manager.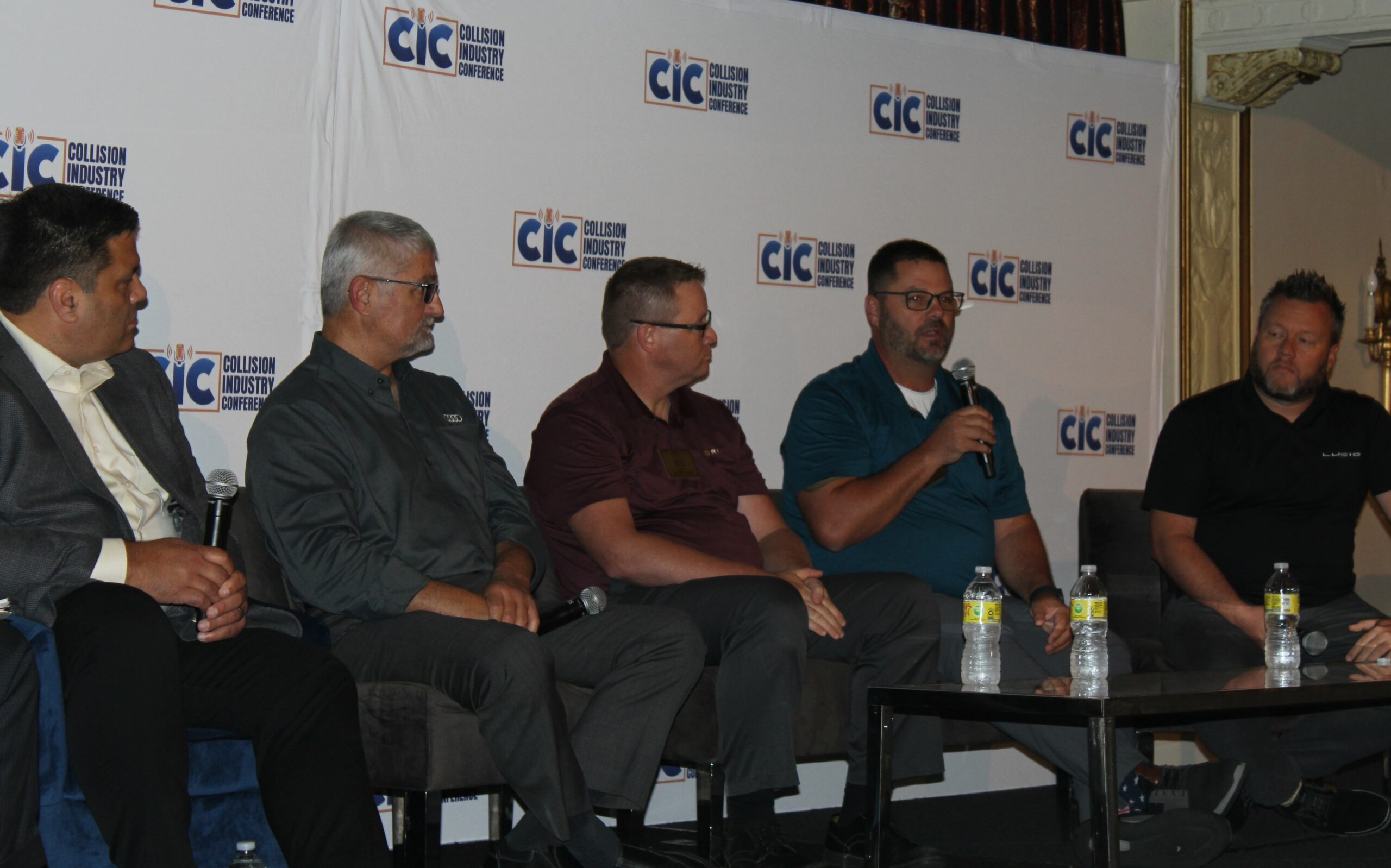 First off, Reichen asked Cid and Allen what collision repair shops need to do to become EV-certified. Cid said already being ICE-certified is "a great baseline" and both agreed there's not a whole lot of difference between their ICE vehicles and EVs.
"The repair process, straightening the metal – doing that kind of work – that's not really much of a difference," Cid said. "The issue… is understanding what's safe, what's not safe, what to do, what not to do. So, with that, we have set up our program to be a catalyst to our existing [program to gain an] understanding [of] the technologies of the vehicle."
There is a full set of EV training requirements for shops, which includes having at least one trained battery specialist on staff, he added. Becoming a Mercedes battery specialist requires 16 training days.
Allen added, that for Audi, "When you're dealing with body structure and physical repairs, there's nothing different between those structures and an ICE vehicle."
Audi's more than 200 OEM-certified shops have complete awareness training to know what they need to about electric repairs, including pitfalls, but the OEM doesn't allow repairs of high voltage battery systems outside of dealerships, Allen said.
In the same vein, Reichen asked the Rivian and Lucid panelists – Logan, Phillips, and Rodenroth – what they look for when selecting shops for certification. Logan said Rivian wants to work with shops that care and are following OEM procedures. When he and Phillips visit shops to consider them for OE-certification, they look at the tooling they have and make sure that welders, frame machines, and special equipment "aren't sitting in the corner covered in dust."
The first thing Rodenroth says he looks at before he even considers setting foot in a shop is their online presence and accessibility, including weekend shop hours. He noted that having a Facebook business page isn't good enough because he wants to know more about that shop, such as current OEM certifications, and if that's important enough for shops to have it on their homepages.
Welding, pulling, battery handling, and more 
When it comes to welding Lucid and Rivian's vehicles, as well as Mercedes' and Audi's EVs, mostly only spot welds, are allowed. Lucid only allows small exterior panel tear welds. The OEM's vehicles have aluminum body shells that are rivet bonded with panel adhesive.
Logan, Allen, and Cid said Rivian, Audi, and Mercedes allow only spot welds. Logan noted that, similar to most cars, Rivian's control modules need to be pulled back out of the way if they're in an area where repairers are working, which is like isolating ICE vehicle electronics systems. Rivian vehicles also are similar to traditional ICE vehicles in body structure by having a lot of high-strength steel mixed in with aluminum and aluminum closure panel bolts, he said.
As for pulling, Rivian doesn't allow any, and Allen said Audi only allows minor pulling because most of their vehicles' bodies are made from advanced and ultra-advanced high-strength steel. Pulling isn't allowed by Rivian because of the unique way the top half of the body structure bolts to the skateboard frame, Logan said. Rivian's collision engineering team is currently developing frame sectioning procedures to avoid changing the frames but "as all repairers know out there, frame replacements happen," Logan said, so repairs have to keep in mind that the vehicles aren't just protecting people, they're also protecting the battery.
"These are things where [it's] absolutely critical that the OEM procedures are followed because… we don't want the frame to react differently in a subsequent accident where it possibly could harm the person or the HV battery," Logan said.
Cid said Mercedes' EVs, the EQs, have a substructure of advanced steel keyed with aluminum outer panels so there are some differences in carrying out repairs, but all of that is covered in the OEM's repair procedures. For a quick check of where high voltage and high current lines are located in the vehicle as well as the high voltage battery, Mercedes EQs have QR codes on the driver-side door and fuel flap that can be scanned.
Rodenroth noted Lucid vehicles have extruded frame rails that are cast in the center so they have very limited repairability and that he's currently working on another bumper repair position statement. Rivian is currently involved in the processes after every crash including transport but is "looking at opportunities to create repair methods… to introduce more serviceability into the car," he said.
When asked if repairers should have any concerns about the location of the battery in EVs, Logan made a good point when it comes to how the repair procedures can differ among OEMs.
"The biggest thing with high voltage vehicles is everyone is specific — how you disable it, how you work around it. High voltage safety is the same across the board but as far as how you work on the vehicles and how you disable them and how you are safe around them — the OE procedures are critical."
As Allen always says, and reiterated during the Q&A, "look with your eyes, not with your hands" until you know for sure that an EV is fully powered down and ready to be worked on.
"When you're looking at a vehicle that's a hard front-end hit… there are things that you should not touch that have big orange cables on it. …In general, the difficulty factor has not gone through the roof. It really hasn't. Keeping people safe has become a major charge for us."
He also noted that for a collision to impact and damage where the battery sits the vehicles would likely be a total loss.
Another great point was made by Cid: "It is utterly important that the repairs are done correctly every time that they're being done because that makes a difference. If it's not done right the first time, it's almost impossible to do it right the second time."
For Mercedes and Audi EVs and Lucid and Rivian vehicles that need refinishing work including time in the paint booth, high temperature isn't a huge concern but there are some do's and don'ts.
Rodenroth said when masking a Lucid, be careful where you bag the front because improper bagging could make the fans come on and suffocate the car. The repairer's best bet is to follow Lucid's service manual and to not charge the EV while it's in the booth, he said.
Certain Mercedes technologies and features can be affected by high temperatures, Cid said, which is all the more reason to look up the repair procedures.
"Eventually, there will be more models out there than you'll be able to keep track of with different procedures so the conversation can't always be, 'You always do this,'" he said. "Or, 'You always do that.' Because you don't know. You have to look at the procedure for the vehicle that you're doing and the time that you're doing it."
Logan noted that Rivian has a position statement on baking its vehicles, but the OEM isn't concerned about paint booths because the temperature will likely only reach 160 degrees and vehicles are more likely to reach their maximum temperatures in desert climates on hot pavement.
"Today's downdraft paint booths move air very efficiently and the good thing is the battery is on the bottom side of the car," he said.
And, in general, Rodenroth stressed the importance of properly bleeding Lucid EV cooling systems properly, which takes four commands with a scan tool, and if repairers miss the mark and mess up it's an expensive control module to replace, he said.
Tooling and training
When it comes to tooling and training, all four of the OEMs stressed the importance of training to not only properly work on EVs but to safely work on them.
If battery packs need to be removed during collision repairs, Lucid and Rivian require the battery packs to be left on battery tables during other repairs. Logan said the tables should be in an isolated and secure area with pillars around it to warn people there is a battery pack out of a vehicle. If a Rivian battery pack is damaged and needs to be replaced, the vehicle would go to a Rivian service center for a new battery pack and then back to the certified collision repair shop for other repairs.
Audi requires their EVs to go to dealers to have the battery taken out because of safety concerns.
Rodenroth said Lucid requires structural, mechanical, electrical, and high voltage battery power-down training.
Allen and Cid said powering the HV batteries down typically takes 15 to 30 minutes but Allen said there are other high voltage systems in the vehicles that repairers should also be aware of that can injure them just as badly if they're not powered down, including the air conditioning and heating systems, DC to AC voltage converters, and drive motors. Cid said it's best to give the EVs an hour to power down before conducting a final test.
And always assume the EVs are "hot," or pose the risk of electrocution when they arrive at the shop. In fact, the panel agreed it's best to talk to the tow truck drivers to find out how the vehicles were loaded, if they moved on their own power, and if there were any warning lights on the dash at the time of pickup.
Allen said if there aren't any warning lights on the dash, or any fluid leaks or fires, repairs are likely safe but it's always best to test first.
Rodenroth added, "EVs, at least in our case, have a flat bottom and you can't access anything to it. …They want you to grab the rear suspension but the rear suspension has to be inspected by the service center after the repairs."
Advanced driver assistance systems (ADAS) and recalibrations
In general, Cid said Mercedes' ADAS technologies are the same in ICE and electric vehicles so recalibrations are similar. Allen said Audi's are pretty much the same as well.
Logan noted that all connected cars, not just EVs, constantly have new features being added through over the air (OTA) updates but Phillips said Rivian's calibration process is unique and requires certain tools.
"Our vehicle is very sophisticated when it comes to those features [with] 29 cameras and sensors on the R1T and 30 on the commercial product," he said. "Calibrating those features correctly is critically important not only for safety but even if it's just a minor feature that's available, not having that calibrated can affect the customer experience."
And due to the high number of cameras and sensors, it's safe to say Rivian vehicles will likely have to be recalibrated after all repairs because the locations of the cameras are in many components, including the mirrors, the front fascia, and wheel flares.
Rodenroth said before calibrations are done repairers need to make sure the EV charger that came with the car is inside it because its weight is included in proper calibration.
Cid again noted pulling repair procedures is a must for repairers at every step, including calibrations. Allen echoed that sentiment but also said repairers need to consider documentation as being just as important, such as taking note of the failure code they saw, what corrective actions were taken, and the labor time, and part(s) that were required.
Final steps before delivery
Lastly, the panel covered the steps repairers should take right before customers come to pick up their vehicles. Much of it is the same as any vehicle – make sure it's clean, tools are removed, and it's ready to hit the road. Of course, that means charging EVs just as ICE vehicles would be topped off with gas.
But the OEM panel also said it's important to walk customers through what repair processes occurred.
"Be a salesperson," Allen said. "Change the perception of what we do. …Explain to the customer the level that you've gone to to show that, 'Hey, this is craftsmanship. This is professionalism. This is what we did to ensure that you are safe and we have repaired it back to manufacturer specifications like you bought it from the factory.'"
Phillips added, "Remind that customer why they chose to have you fix their car. Be sensitive to the situation that they were in. …They're not just there to pick their vehicle up. They want to understand the entire process. Take the time. It's not just that, 'It's Friday at five and we've got five to get out the door.' Give that customer the respect that you would expect to get if you were going to pick up a big purchase."
For Lucid, Rodenroth said it's a bit different since the automaker diesn't have dealerships. "Our collision business partners are customer-facing for us; you're a reflection of us," he said. "And when things go downhill, our digital-native customers do not hesitate to social media or phones and call customer service. …I can't stress enough the proper knowledge. You need to be educated on that car, more so than the owner so you can have a healthy conversation. Because I'll tell you, EV owners, in particular, they know all the bells and whistles."
IMAGE
Featured image: Close-up of an electric vehicle battery on a table in a shop. (Credit: Aranga87/iStock)
(Left to right) Benito Cid, Mercedes-Benz; Mark Allen, Audi; Kelly Logan and Frank Phillips, Rivian, and Jake Rodenroth, Lucid.
Share This: