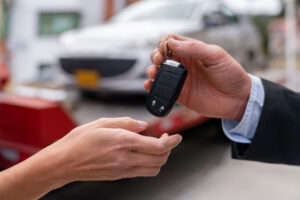 Progressive predicts shift to more online car buying
By on
Market Trends
A recent survey by Progressive of 501 car buyers found that the respondents were "highly satisfied" with their online buying and trade-in experience, and predicted that more buyers will purchase their vehicles online.
There were 501 respondents to the January survey, all of whom had purchased a vehicle online within the last two years. Respondents included a mix of online and in-person shoppers with the majority (250) completing their purchases entirely at a dealership. Half of them bought a car online, either through a dealership (19%) or a vehicle delivery website (31%), and the other half bought in person.
"Before the pandemic, most Americans expressed interest in purchasing cars online, but few did so," Progressive said. "…Fast forward five years to 2022, and online car buying has become an increasingly viable option that more and more Americans are embracing. With online car buyers finding satisfaction with the experience, it seems likely that more consumers will look to the web when it's time to buy their next vehicle."
Seventy-eight of respondents said they found the online experience highly satisfying, 80% said they were highly satisfied with the trade-in process, and only 3% said they wouldn't buy online again.
As for why buyers bought online, cost and time savings were the top reasons for buying a car online while in-person buyers liked that they got to test drive a car. Twenty-five percent of online buyers ranked being able to find the car they wanted online as their No. 1 reason for shopping online while price was No. 1 for 21% of buyers. Fourteen percent ranked COVID-19 restrictions and comfort levels as their most important reason for shopping online.
Sixty-two percent of online buyers had previously purchased a car online.
"…[O]nly 58% of those who purchased from a dealership found their experience highly satisfying — 57% reported being highly satisfied with the trade-in process, and 53% were highly satisfied with the financing experience," Progressive said. "Our survey occurs at a time when car buying has changed dramatically. The pandemic brought unforeseen supply chain issues and microchip shortages that reduced vehicle inventory. Consumers flocked to sites that touted nationwide inventory and a contactless process, while major automakers like Ford and Nissan promoted custom online ordering."
Progressive also found that the shift in online car buying is led by millennials. According to the survey results, buyers under 40 were more likely to buy a car online than those over age 57. Twenty-six percent of those ages 25-40 said they bought a car from a dealership and 23% ages 18-24 went the traditional dealership route. Nearly 80% of respondents over age 57 bought their vehicle at a dealership and middle-aged buyers were close to 50/50 between online and in-person buying.
Most in-person shoppers (70%) bought used vehicles while the majority of online shoppers bought new (73%). And a higher percentage of people who bought online (67%) traded in a vehicle, compared to 50% who bought at a dealership.
"While online car shopping still represents a small percentage of overall car sales, online car sales companies are posting remarkable growth," Progressive said. "Carvana recently announced that it had sold one million cars since it started selling online in 2012, with 400,000 vehicles sold in 2021 alone. Vroom's unit sales were up 123% year over year in their 2021 third-quarter report."
According to an IBIS World report, the 2022 online car market is valued at $45.1 billion as of May 31 and is expected to grow by 4.7% this year.
IMAGES
Featured image credit: Hispanolistic/iStock
Share This: